These gingerbread cupcakes are the perfect sweet treat for the Holidays! Each moist gingerbread cake is topped with cinnamon cream cheese frosting and adorned with a mini homemade gingerbread cookie. They're festive, adorable, and taste so delicious.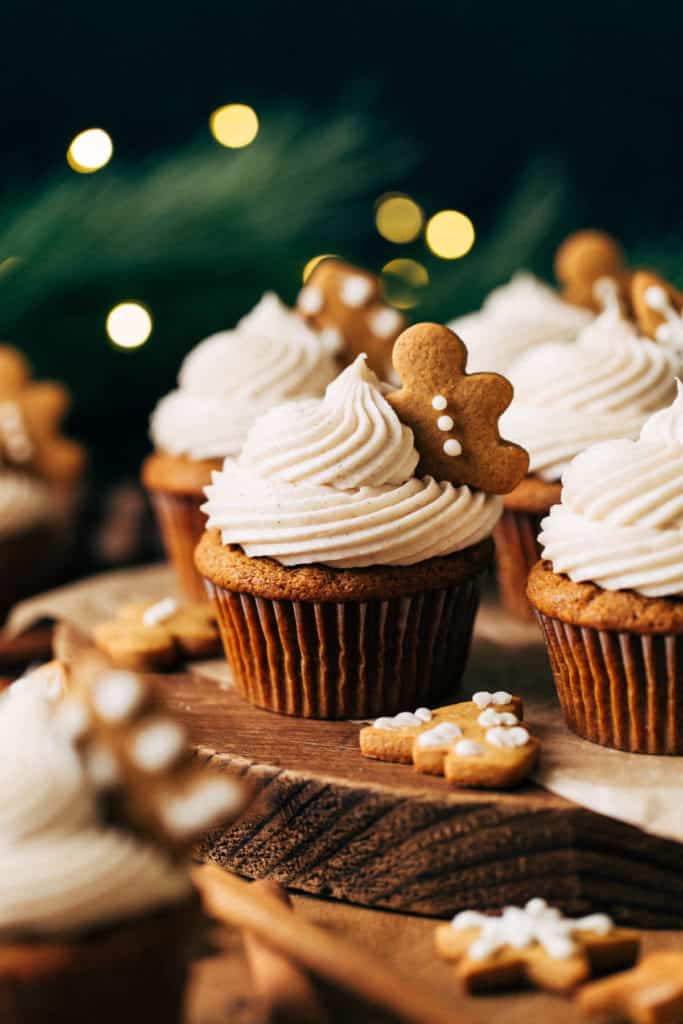 What makes these gingerbread cupcakes so good?
Without a doubt, this is one of the hardest recipes I've ever had to develop. I went through 8 different batches and each one sank right in the middle. But through a few strategic tweaks, I finally landed on the perfect gingerbread cupcake recipe.
The trickiest part about adding molasses to cake batter is its weight and its high sugar content. Both want to weigh the cake down, making it hard to fully puff up in the oven. You may be tempted to add more flour or baking powder, but doing so will leave you with a dry cupcake.
The difference with this recipe is that these gingerbread cupcakes are actually MOIST! Because I didn't rely on excess flour to give these cupcakes some lift, the inside is tender and soft with evenly domed tops.
The trick was to add just a tad less molasses and use buttermilk instead of regular milk. Buttermilk has much more acidity than regular milk, so it helps to activate the baking soda in the batter. Once activated, it helps gives these cupcakes a boost when baking in the oven.
In the end, you're left with a super delicious gingerbread cupcake with bold molasses flavor, accompanied by sweet and warm spices.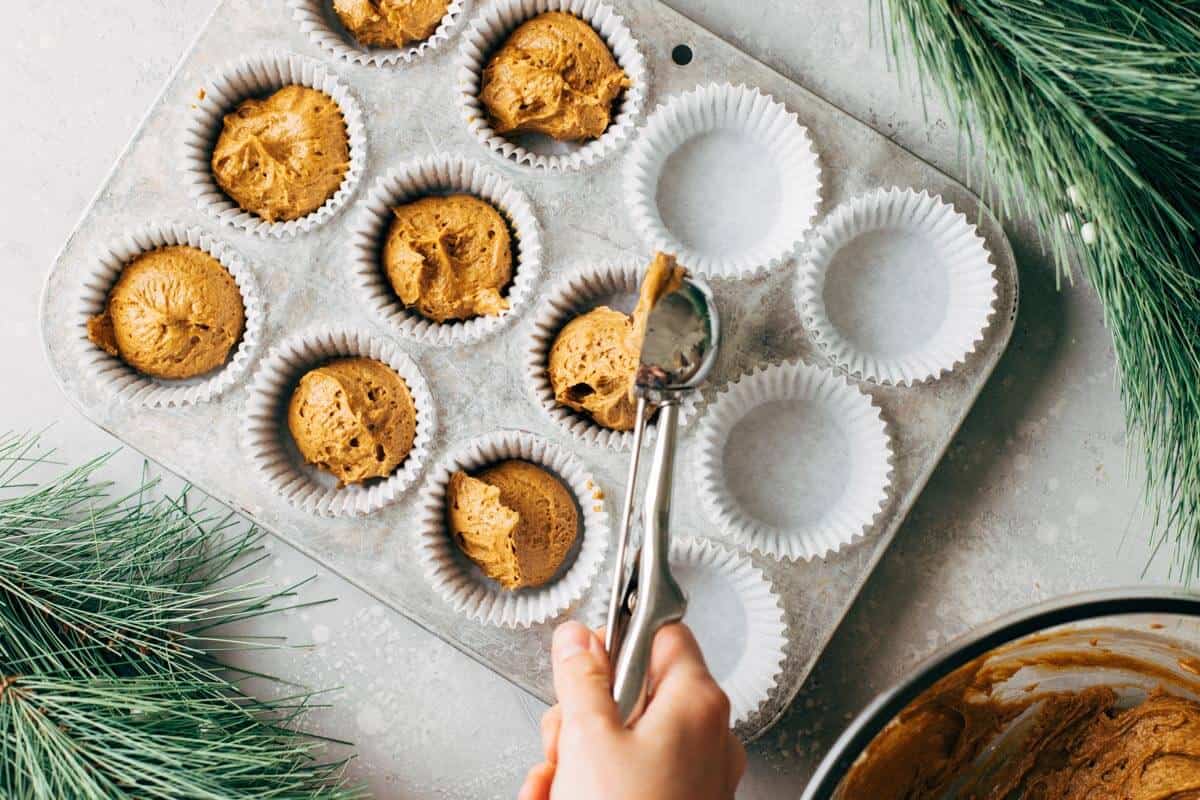 Tips to prevent your cupcakes from sinking
Like I said, it's very easy to have gingerbread cupcakes that sink right down in the middle. To prevent this from happening to you, here are a few baking tips to keep in mind:
Carefully measure your ingredients – This may go without saying, but a touch too much sugar or flour and the cupcakes can turn out completely different. Make sure to always level off your cups, and when measuring flour you want to spoon it into your measuring cups without shaking or packing it down into the cup. This will leave you with WAY too much flour, and also very dry cakes.
Fully whip the butter and sugar – Make sure the butter and sugar are pale and fluffy before moving on to the next step. This process whips air into the butter, giving these cakes a bit of a lift.
Alternate wet and dry ingredients – To not overwhelm the batter, the dry ingredients and buttermilk are added in a very strategic way. First half of the dry ingredients, then the buttermilk, and then the rest of the dry ingredients. This gives the batter a chance to slowly thicken, otherwise you could deflate some of the air that was whipped into the butter.
Look for the right texture – In the end, the batter should mimic the consistency of dense mousse – light and airy but still rich and creamy.
Don't overfill – This batter should be enough to give you exactly 12 cupcakes, but if you have a smaller pan make sure you only fill the cupcakes 3/4 full. If they're filled too high they will deflate.
Now pop them in the oven! While they're baking, resist the urge to open the oven door. Just let them bake up until the 15 minute mark and then check them. If you open the door too soon, the oven temperature will drop. This will make it hard for the heat to fully penetrate the center of the cupcake, thus creating a sunken enter.
How to make mini gingerbread cookies
This is a completely optional step, but these mini homemade gingerbread cookies are so dang cute! And also so easy to make. If you choose to make your own, this will be the very first step in the recipe.
The cookie dough is made just like any other, but make sure your butter is a room temperature before starting. If it's too cold or too warm, the dough could either turn out too crumbly or too sticky.
In the end, you should be left with a sturdy but soft dough that doesn't stick to your fingers.
Although, the dough does still need to chill before baking. If not, the cookies will bake into a puddle. But to speed up this process, the dough is rolled out first and then chilled. This not only speeds up the cooling time, but it's also much easier to roll out the room temperature dough rather than firm chilled dough.
After the cupcakes have baked, that should have been enough time for the dough to chill. It should be firm to the touch. This is when you stamp out your mini cookies and bake while the cupcakes cool.
The exact cookie cutters I used are actually from World Market, but if you can't find them there you can use this similar option from Amazon.
The cookies are ready when they're a nice and even shade of caramel brown. If you bake them too long the edges will darken too much. It's best to pull them out if they look a bit underdone, as they'll set and firm up as they cool.
Once cool, all that's left to do is decorate!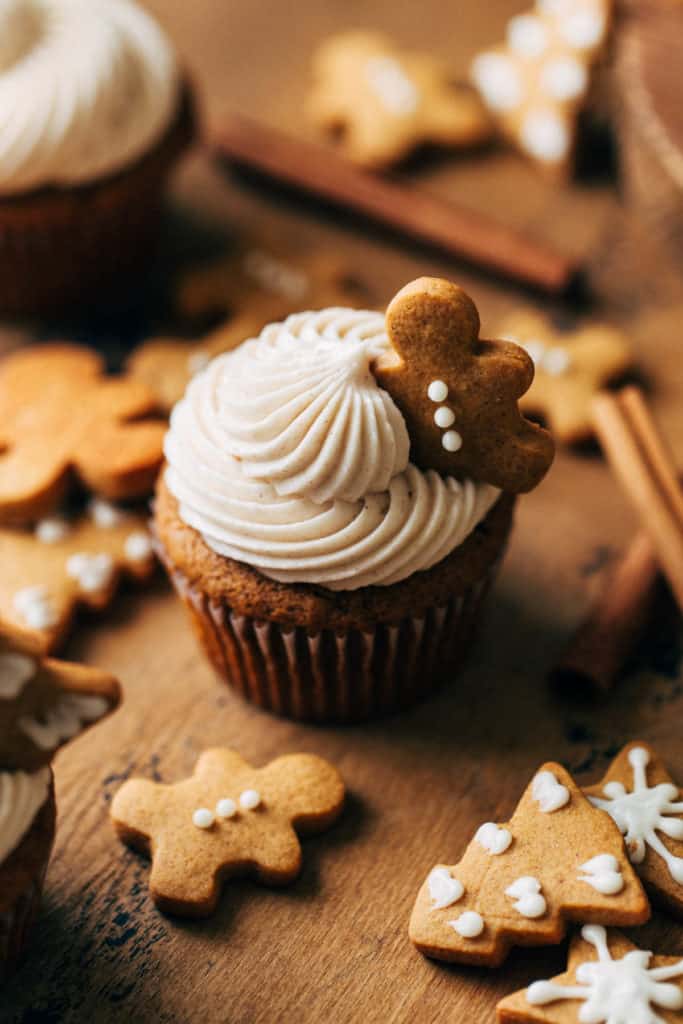 Decorating your gingerbread cupcakes
To prevent the decorative cookie icing from smudging or sticking, I used a quick and easy royal icing that sets up firm. The trick is to use meringue powder, as this takes the place of egg whiles in a typical royal icing recipe.
Meringue powder is what allows the icing to set, and luckily it can be found in most chain grocery stores. But if you don't have meringue powder or can't find it in stores, you can also use corn syrup as a secondary option.
With the royal icing, I used a tiny round Wilton piping tip. For the gingerbread men and made three dots for their buttons. If the dots lift to a point, just moisten your finger with a damp paper towel and tap it down. For the stars, I pipped small dots in the corners then pulled it into the center. For the trees, I piped a tiny amount along the tree line then pulled up with the piping tip lighting brushing the cookie.
The cookie dough makes quick a few mini cookies, so I recommend practicing on a few before going in for the final cookies. It takes a few tries, but the designs on these cookies are few simple so once you get the hang of it you can just start churning them out.
Troubleshooting your cream cheese frosting
Each cupcake is topped with a silky cinnamon cream cheese frosting that pairs perfectly with these warm and rich cupcakes. But I also know that cream cheese frosting can be tricky for some, as it doesn't thicken like your standard buttercream recipe. Here are a few things you can do to ensure your frosting stays put:
If the buttercream is too thin once you've added all of the ingredients, place the bowl in the refrigerator to chill for 30 minutes – 1 hour. This allows the cream cheese to firm up and thicken the buttercream
If you know the buttercream is cold enough, add a couple tablespoons of the meringue powder. Just like royal icing, it will help stabilize the buttercream.
Keep your cupcakes cold as your piping on the buttercream. Leave a plate in the refrigerator and place your cupcakes inside right after they've been topped with buttercream. This will prevent the cream cheese frosting from losing its shape.
How long do the cupcakes keep?
Store the cupcakes in an air tight container in the refrigerator where they should keep for up to 5 days.
Can I chill the cookie dough overnight?
Yes, if you make the gingerbread cookie dough you can leave the rolled dough in the refrigerator overnight. Just make sure it's covered to prevent it from drying out.
For more Holiday recipes, check out my:
Make sure to tag me @butternutbakery on Instagram and comment below if you make these Gingerbread Cupcakes. To pin this recipe and save it for later, you can use the button on the recipe card or on any of the photos above. Happy baking!
Print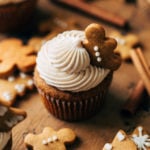 Gingerbread Cupcakes
---
Author: Jenna Barnard
Total Time: 2 hours 15 minutes
Yield: 12 cupcakes 1x
Description
These adorable gingerbread cupcakes are the perfect Holiday dessert recipe! They're full of flavor and topped with a delicious cinnamon cream cheese frosting.
---
Gingerbread Cookies*
2 1/4 cups (280g) all-purpose flour, spooned and leveled
1 tsp baking powder
2 heaping tsp ground ginger
1 tsp cinnamon
Pinch of salt
1/4 cup (90g) unsulfured molasses
1 large egg
1/2 cup (110g) unsalted butter, room temperature
3/4 cup (150g) light brown sugar, packed
Royal Icing
2 cups (240g) powdered sugar
2 tbsp meringue powder
2–3 tbsp milk
Gingerbread Cupcakes
1 1/2 cups + 2 tbsp (205g) all-purpose flour, spooned and leveled
1/2 tsp baking soda
1/2 tsp baking powder
2 tsp ground ginger
1 tsp ground cinnamon
1/2 tsp ground nutmeg
1/4 tsp ground cloves
1/4 tsp salt
1/3 cup (125g) unsulfured molasses
1/2 cup (120ml) buttermilk*
1/2 cup (100g) packed dark brown sugar
1/2 cup (110g) unsalted butter, room temp
2 large eggs
1 tsp vanilla extract
Cream Cheese Frosting
8 oz Philadelphia full fat cream cheese, room temp
1/2 cup (100g) unsalted butter, room temp
4 cups (450g) powdered sugar
1 tsp vanilla extract
1/2 tsp cinnamon
Pinch of salt
---
Instructions
Gingerbread Cookies
Mix together all of your dry ingredients (flour, baking powder, ginger, cinnamon, and salt) and set aside.
In a small bowl, lightly beat together the molasses and egg. Set aside.
Using an electric mixer, cream together the butter and sugar until pale and fluffy.
Mix in your molasses mixture until smooth and then gradually mix in the dry ingredients.
Split the dough in half. Roll out each half on two separate sheets of parchment paper that have been lightly floured. Roll to 1/4 inch thick. Lightly flour your rolling pin if the dough is sticking.
Stack the rolled out sheets of dough and place on a large baking sheet. Place in the refrigerator to chill while you make the cupcakes
Gingerbread Cupcakes
Preheat your oven to 350F and line a cupcake tin with 12 cupcake liners.
In a large bowl, whisk together the dry ingredients (flour, baking powder, baking soda, salt, and spices) and set aside.
In a measuring glass, mix together the buttermilk and molasses. Set aside.
With an electric mixer using the paddle attachment, cream together the butter and brown sugar until light and fluffy.
Mix in the eggs, one at a time, and then the vanilla.
Alternatively mix in half of the dry ingredients, then the entire milk/molasses mixture, then the rest of the dry ingredients.
Evenly distribute your batter among the 12 cups, filling them 3/4 of the way. Bake for 15-18 minutes or until a toothpick comes out with a few moist crumbs.
Let the cupcakes cool completely before frosting.
While the cupcakes cool, check on the cookie dough. If it's firm to the dough, it's ready. If it's still too soft it will need to continue to chill.
When ready, stamp our your cookies and place on a baking sheet lined with parchment paper. Bake at 350F for 8-10 minutes, or until they're evenly darkened.
Royal Icing
In a large bowl, whisk together the powdered sugar and meringue powder. Mix in 1 tablespoon of milk at a time until you reach a glue-like consistency.
Place your icing into a piping bag fitted with a small piping tip to decorate your cookies. The icing will harden when it's completely dry.
Cream Cheese Frosting
Cream together the cream cheese and butter with an electric mixer. Make sure they're both room temperature so you get a smooth frosting.
Mix in the powdered sugar, one cup at a time, until fully combined.
Mix in the vanilla and salt.
Fill your piping bag fitted with a large French tip and decorate your cupcakes in a swirl motion. Top with your cooled and set gingerbread cookies.
Keep them in the fridge if you need to store them for more than a couple hours and eat at room temperature. Enjoy!
Notes
GINGERBREAD COOKIES – The cookies on top are totally optional. This recipe also makes plenty of dough so I recommend using half of the batch for the mini cookies and the other half for regular sized cookies. If making regular sized cookies, roll out the dough a little bit thicker than you would for the small ones. Keep it in the fridge for a week or in the freezer for up to a month.
BUTTERMILK – You can also make your own by mixing together 1/2 cup of whole milk with 1/2 teaspoon of white or AC vinegar. Let it sit for 5-10 minutes to curdle.
Prep Time: 2 hours
Cook Time: 15 minutes
Keywords: gingerbread cupcakes, gingerbread cookies
Recipe Card powered by