These simple Soft Chocolate Chip Cookies are just that! They have a tender but dense texture that's loaded with melty chocolate chips. They're also easy to make! You can have gooey and soft chocolate chip cookies in minutes that are bakery-worthy.
Why I love this no chill chocolate chip cookie recipe
If you've baked any of my other cookie recipes, then you know that I am a BIG proponent for chilling your dough overnight. But not everyone wants or has the time to let the dough sit in the fridge for hours and hours. You need cookies NOW. I understand. That's why I made these quick and easy chocolate chip cookies!
The reason for chilling cookie dough is to allow all of the ingredients to fully absorb… kind of like marinating. This leaves you with a delicious rich and chewy texture with bold flavor.
To learn more about why I typically chill cookie dough, check out my brown butter chocolate chip cookies.
For this recipe, I really wanted to create a cookie that was still SO delicious but without the wait time. In order to get the same rich texture that you would by chilling the dough, I had to sneak in a secret ingredient.
Ingredients
What I love about this recipe is that it requires a simple list of ingredients that you probably already have in your pantry. These include:
All purpose flour
Baking soda
Cornstarch
Salt
Granulated sugar
Butter, melted (but not too hot!)
Egg
Vanilla extract
Chocolate chips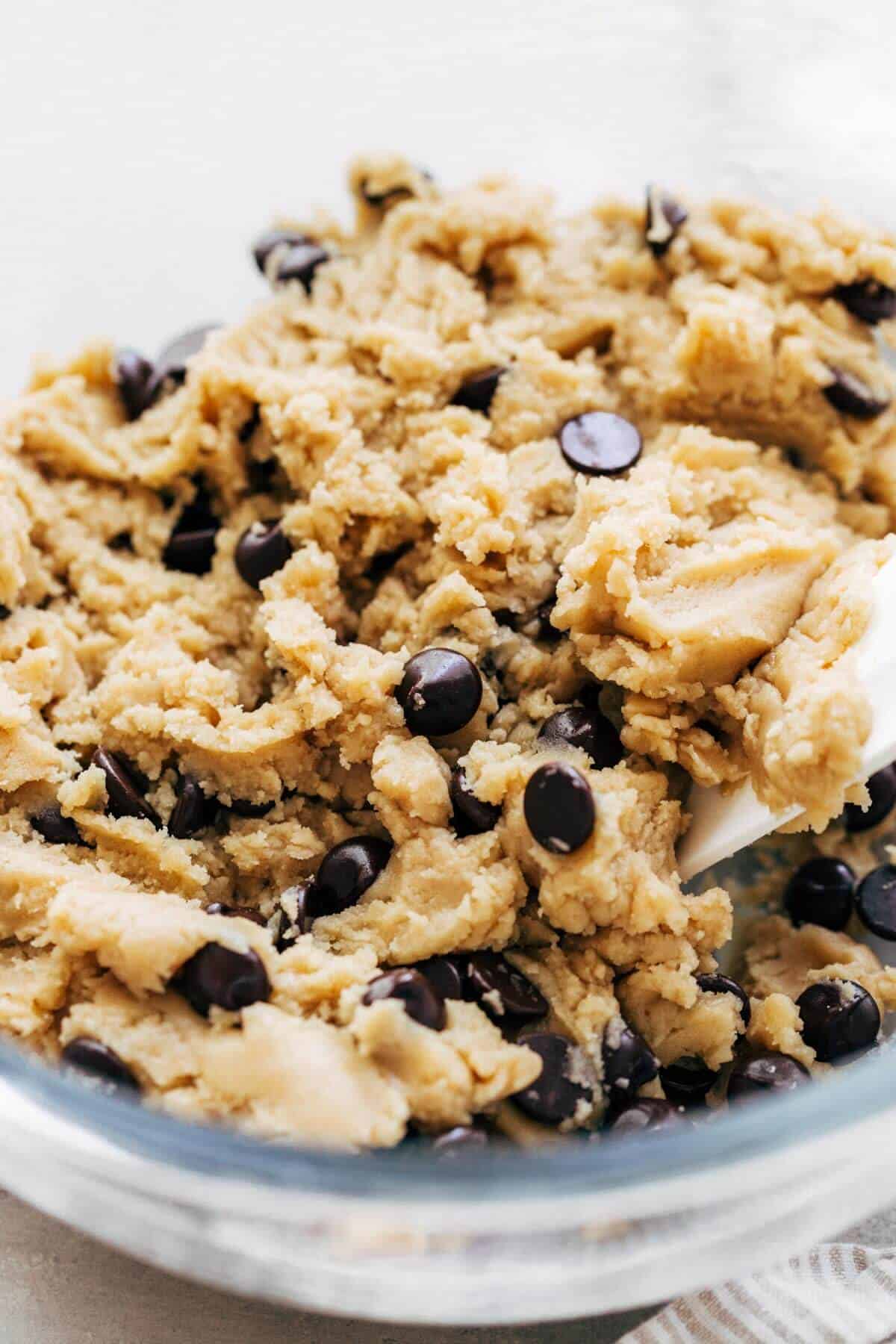 Tools needed to make these chocolate chip cookies
These cookies can also be made by hand or with an electric mixer. Yep, just THAT easy!
To make BIG chocolate chip cookies (like I always do), go for a 2oz cookie scoop. Using this makes 12 large cookies.
If you don't have a big scoop, use a regular cookie scoop to make 18-20 cookies.
I also recommend using a large baking sheet. You'll want to bake this dough ASAP to prevent it from drying out, so try to bake as many cookies as you can at once. BUT don't overcrowd the oven. Only bake with one baking sheet at a time. The goal is to bake the cookie dough in 2-3 batches.
Also place the cookies about 3 inches apart. Don't place more than 6 large cookies on a large baking sheet. If baking regular sized cookies, you can get away with 7-8 cookies at once.
Lastly, make sure to cover the baking sheet in parchment paper. This prevents the cookies from sticking while allowing them to spread evenly. Using foil or a silpat could flatten the cookies.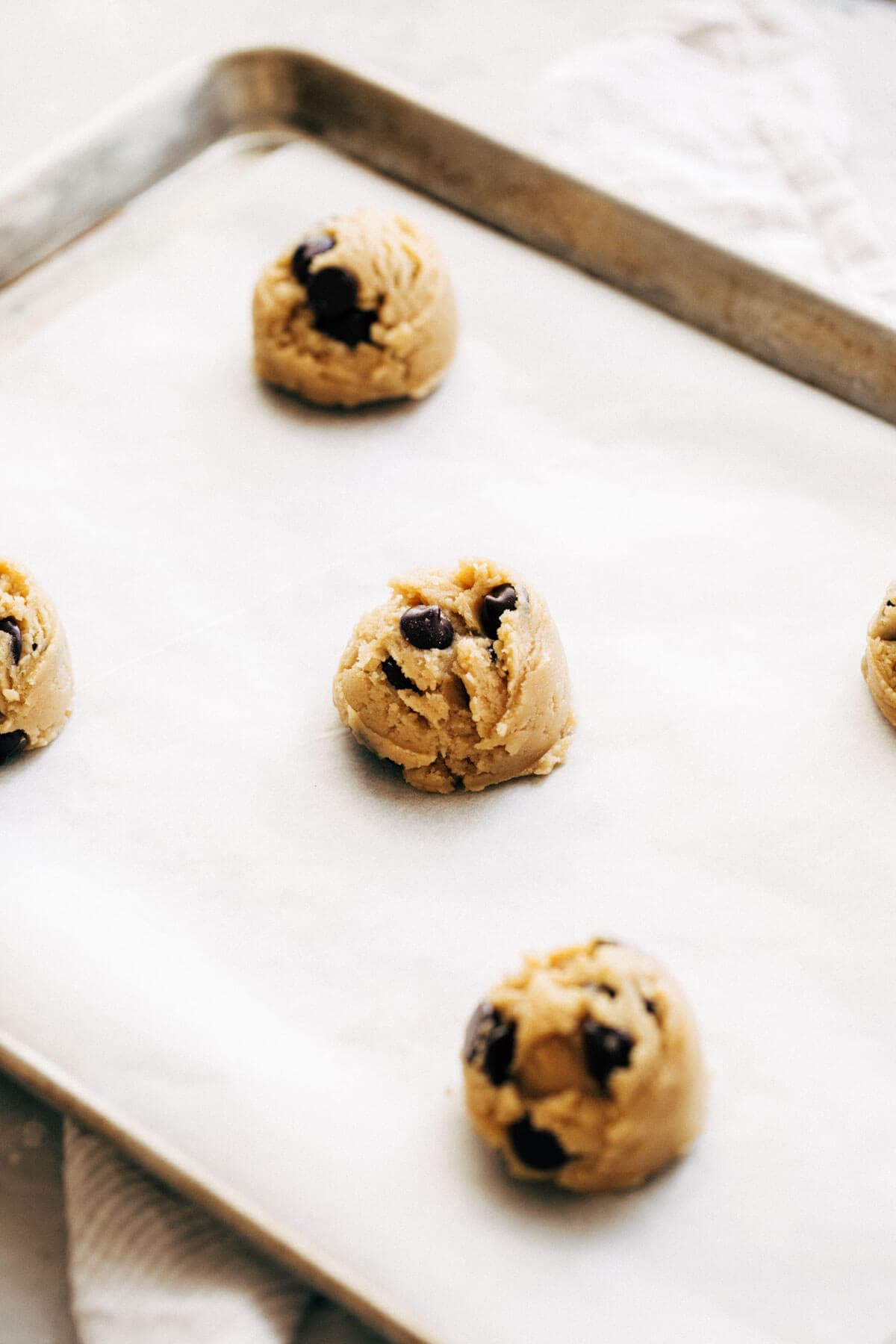 How to make your chocolate chip cookies look PERFECT
Here are a few tips to get your cookies photo ready, or just to look even more mouth watering than they already are!
Don't roll the dough balls. Just scoop and bake. This creates those ridges on top and adds a beautiful texture to the outside of the cookies.
When they're warm from the oven and still on the baking sheet, place a couple extra chocolate chips on top. I like to press mine underneath the ridges so it looks more organic…like they were just perfectly scooped that way.
If you have a couple cookies that don't bake perfectly round, use a spoon to press the sides back in. Do so while they're still warm on the baking sheet.
Sprinkle the tops with a little sea salt! This is totally optional, but makes these cookies go from homemade to gourmet.
FAQs
When is the best time to eat soft cookies?
These are best when they're still warm. At this point, the chocolate is gooey and the cookies are buttery and tender.
How can I reheat these cookies?
As the cookies cool, they will firm up just a bit. To revive that soft and gooey texture, you can either pop a cookie in the microwave for about 20 seconds or use the oven to reheat the entire batch.

Preheat the oven to 250F and place the cookies on a large baking sheet with parchment paper. The cookies shouldn't be touching, but you can place them side-by-side equality spaced out. Bake for 6-8 minutes or until completely warm. Now they're good as new!
How long do these cookies keep?
Store the cookies in an airtight container at room temperature. They will keep for up to 5 days, reheating when needed.
What does cornstarch do for cookies?
Cornstarch is known in baking for creating a soft and tender texture… whether you're baking a cake or whipping up some cookie dough. Adding just a little bit to the dry ingredients helps to soften the gluten strands in the flour. Gluten is what creates that chewy texture, so breaking those down will lend a more tender texture.
What can I use instead of cornstarch?
If you don't have cornstarch, you could also use the same amount of arrowroot, potato starch, or tapioca flour. Since we're using such a small amount in this recipe, using a different type of starch won't make or break these cookies. But please still use a starch! It's the secret to getting that soft and gooey texture.
Why is the cooking temperature different to normal cookie recipes?
We're using a lower temperature for this recipe because of the high flour content in the dough. Using a lower temperature prevents the cookies from over baking and drying out. Plus, a lower temperature helps the inside stay nice and soft.
For more of the best chocolate chip cookie recipes, check out my:
Make sure to tag me @butternutbakery on Instagram and leave a review below if you make these Soft Chocolate Chip Cookies. To pin this recipe and save it for later, you can use the button on the recipe card, the buttons above or below this post, or on any of the photos above. Happy baking!
Print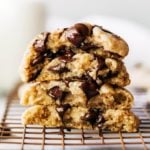 Soft Chocolate Chip Cookies
---
Author: Jenna Barnard
Total Time: 27 minutes
Yield: 12 large cookies
Description
These are the BEST soft chocolate chip cookies that are tender and gooey on the inside. They're mixed with a bit of cornstarch and baked low and slow, creating a super soft and doughy consistency. Plus, there's no refrigerating or waiting. Just mix up the dough and bake!
---
2 1/2 cups (330g) all purpose flour, spooned and leveled*
1/2 tsp baking soda
2 tsp cornstarch
1/4 tsp salt
3/4 cup (170g) light or dark brown sugar, packed
1/4 cup (55g) granulated sugar
3/4 cup (170g) unsalted butter, melted and cooled
1 large egg
1 tbsp vanilla extract
1 cup (180g) chocolate chips**
Flaky sea salt for sprinkling (optional)
---
Instructions
Preheat the oven to 325F and line a large cookie sheet with parchment paper.
Whisk together the flour, baking soda, cornstarch, and salt in a bowl and set aside. **Make sure to spoon and level the flour! Gently spoon the flour into the measuring cup and level it off with a flat edge. Don't shake it down or pack it in. 
Melt the butter in a microwave safe bowl and allow it to cool for 5 minutes. Using an electric mixer or whisk, mix together the melted butter and sugars. Mix until it comes together like a thin paste (about a minute or two).
Mix in the egg and vanilla until smooth.
Add in the dry ingredients one half at a time. If making by hand, switch to a rubber spatula to fold together. Just before the dough completely comes together, toss in the chocolate chips and fold/mix to fully combine. Careful not to over mix.
Use a large 2oz cookie scoop and place 5-6 scoops on your cookie sheet. Bake for 10-12 minutes. Start at 10 and go up from there. They will look pretty pale because of the low temperature but just keep an eye on the edges. They'll turn a very very light golden brown. If you're unsure, just take them out. It's better to be under than over baked!
Transfer the cookies to a cooling rack and sprinkle with some sea salt while they're still warm. Cool for about 10 minutes and dig in while they're still warm and gooey. Enjoy!
Equipment
Notes
*To measure flour properly, spoon it into your measuring cup and level it off with a butter knife.
**I prefer dark chocolate chips, but use whatever kind you like best!
Prep Time: 15 minutes
Cook Time: 12 minutes
Category: Dessert
Method: Baking
Cuisine: American
Keywords: chocolate chip cookies, easy chocolate chip cookies, cookie recipe, cookies
Recipe Card powered by