These are NEXT LEVEL chocolate chip cookies! Made with brown butter, milk chocolate, dark chocolate, toasted walnuts, toasted graham cracker, and oats, these graham cracker cookies are packed full of flavor. They're so chewy and buttery with crisp edges and a soft center…so basically perfection.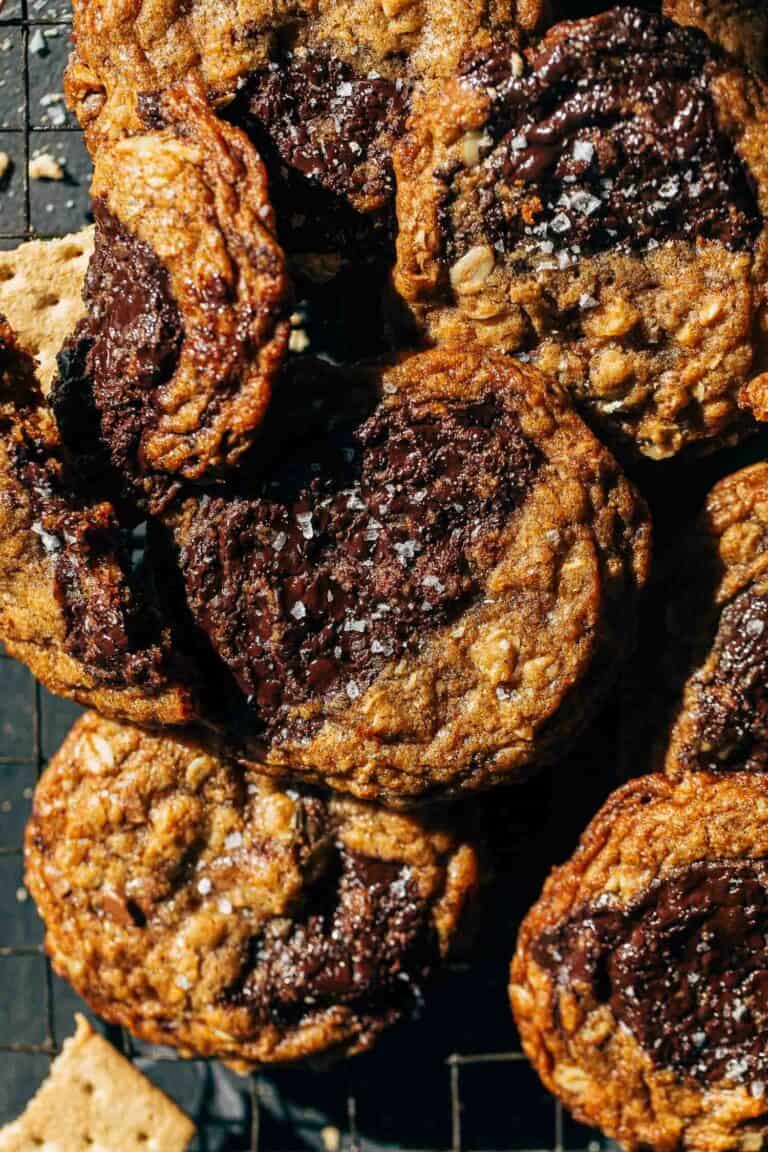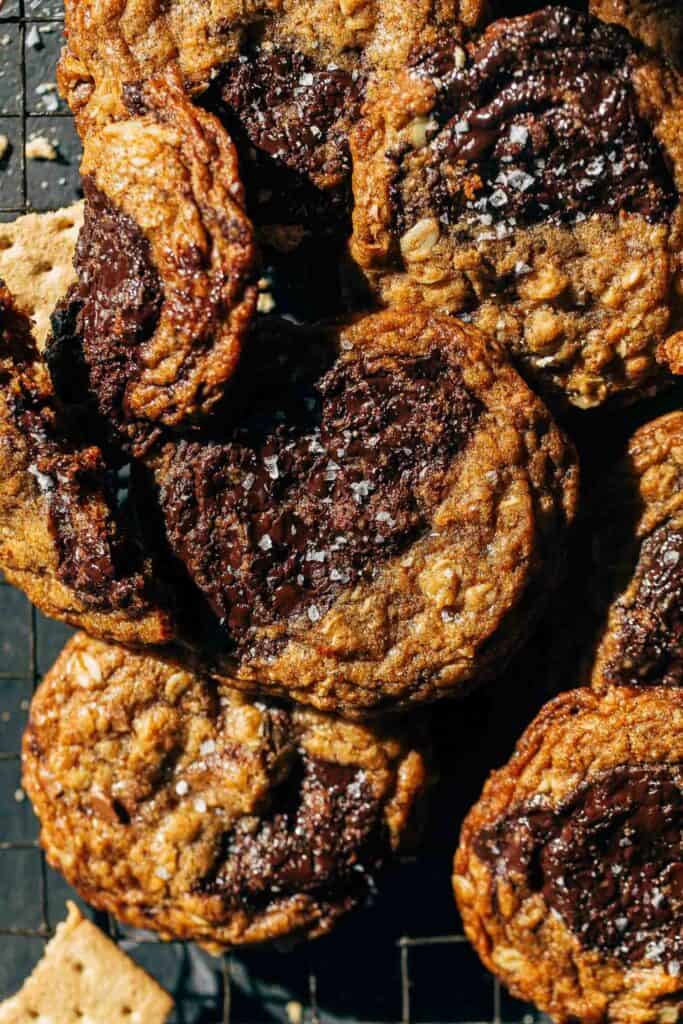 What goes in to graham cracker cookies
Ok…there's a lot going on with these cookies but I promise it all works together. Here's the break down:
Brown Butter – Liquid gold in the baking world, brown butter adds so much richness to these cookies and adds a slight toffee flavor. If you'd like to learn more about brown butter, click here.
Dark Chocolate – Extra dark chocolate is the secret to an incredible chocolate chip cookie. It melts into puddles and allows the cookie to spread nice and thin. It also helps balance out the sweet flavors in these cookies.
Milk Chocolate – Opposite dark chocolate, milk chocolate adds a smooth, sweet, and creamy element to these cookies.
Walnuts – For a savory layer, toasted walnuts are mixed in. If you don't like walnuts, you're in luck because you can't even taste them! They're really in there as a balancing ingredient against the brown butter and milk choocolate.
Toasted Graham Cracker – Graham crackers are ground and toasted in the same saucepan that the brown butter was made in. It helps liven up that graham cracker flavor and release a more buttery texture.
Oats – For an added chewy element, oats are mixed in to create an extra buttery cookie.
I felt like a mad scientist making this recipe and it was so much fun. I've never packed this many flavors in to one cookie, but it now has me thinking about so many other possibilities!
Double chocolate graham cracker cookie baking tips
Flour – I say this in every post, and for good reason. It's the number one reason why most recipes fail. If there's too much flour, these cookies will not spread properly. If possible, measure the flour with a food scale. Otherwise, gently spoon the flour into the measuring cup and level it off with a flat edge. If scooped directly into the flour container, the flour becomes packed down into the cup which could leave you with 1/4 cup or more of added flour.
Butter – For the biggest flavor payoff, use good quality butter like cultured or European style. Also make sure the butter isn't piping hot before mixing it in with the sugar. If it's too hot, the dough will end up too thin in the end.
Eggs – When the eggs are added, REALLY mix the dough. This creates a strong emulsification and a much more stable dough.
Chocolate – Instead of chips, use chocolate bars and chop accordingly. Milk chocolate should be chopped into small little bits while dark chocolate is chopped into rough chunks. The combination of the two makes each bite so well balanced.
Rest – Allow the dough to rest for about 15 minutes before scooping. This gives the oats a chance to absorb some of the water in the dough. You'll notice the dough will be much thicker after it rests.
Bake – Pull the cookies when the edges are golden brown and the center looks slightly underdone. As the cookies cool, that center will settle into the most perfect soft and chewy consistency.
Sea Salt – Use a light hand when sprinkling the sea salt. These cookies don't need much!
lkj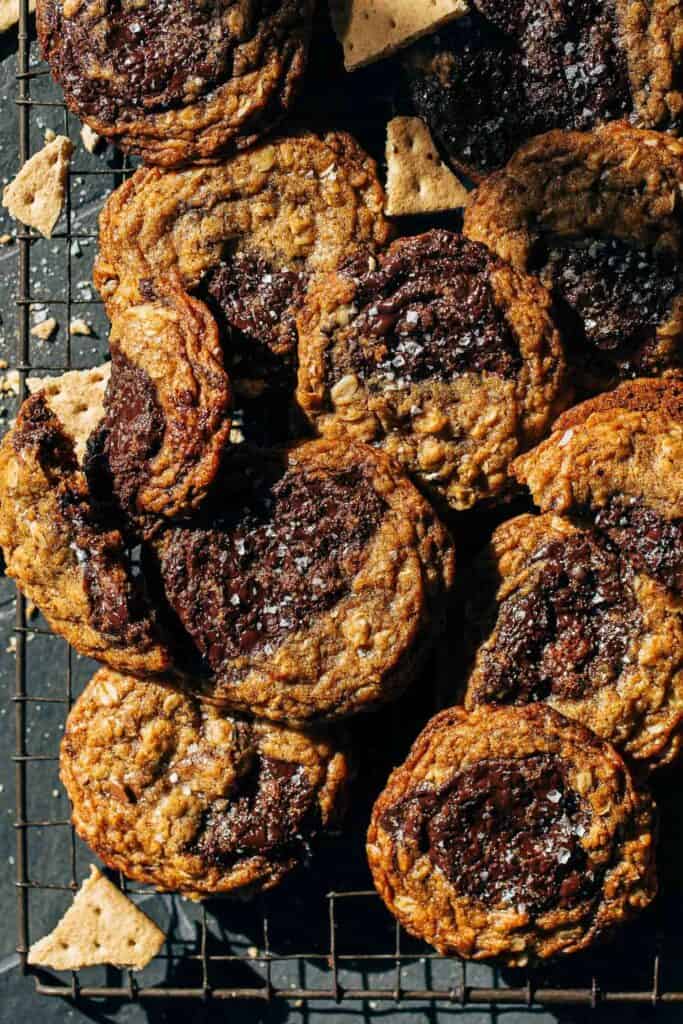 How to bake cookies with chocolate puddles
A big reason why the dark chocolate is very roughly chopped is because the bigger the chunks, the large the chocolate puddles.
To get those big melty puddles on top make sure there's a large chunk on top of the scooped dough. I like to pick out a big chunk from the dough and place it in the bottom of the cookie scooper before scooping out the dough. That way each scoop will have dark chocolate on top.
It's also important to use the right chocolate. Make sure your chocolate is at least 75% cacao or more. High cacao content = SUPER melty chocolate.
My favorite dark chocolate to bake with is Lindt dark chocolate bars which can be found in the candy aisle at your local grocery store.
Can the dough be chilled?
Yes, the dough can be scooped and chilled for up to 2 days. The longer the cookies chill, the more flavor they'll have when baked!
Can the dough be frozen?
I haven't frozen it myself, but I think it could work. Scoop the dough and chill until firm. Then drop into a freezer ziplock bag and freeze for a few months. To bake, thaw the dough and follow all the same instructions.
Can I use quick oats instead?
Make sure to use old fashioned oats and not quick oats. Both oats absorb water at different rates, so quick oats can change the consistency and spread of the dough.
Can I use pecans instead of walnuts?
Sure! Use whichever nut you prefer as long as it's toasted beforehand.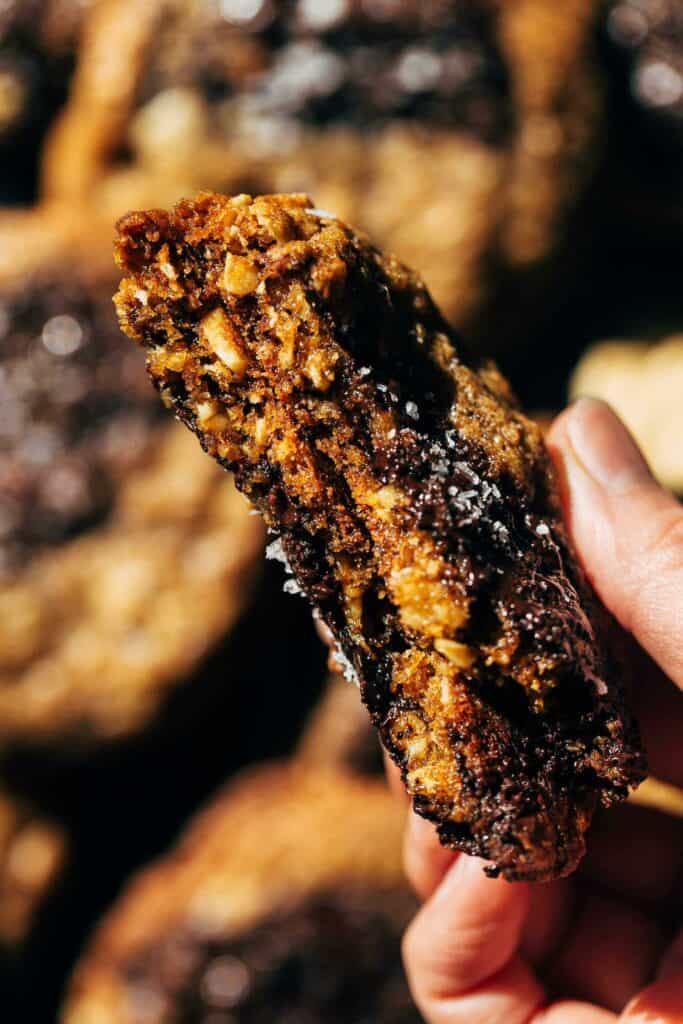 For more unique chocolate chip cookie recipes, check out my:
Make sure to tag me @butternutbakery on Instagram and comment below if you make these graham cracker cookies. To pin this recipe and save it for later, you can use the button on the recipe card or on any of the photos above. Happy baking!
Print
Double Chocolate Toasted Graham Cracker Cookies
---
Description
With brown butter, roasted walnuts, milk chocolate, dark chocolate, toasted graham cracker, and oats, these double chocolate graham cracker cookies are loaded with flavor! They're also so chewy with a soft and buttery center. It's a chocolate chip cookie recipe unlike any other!
---
1/2 cup walnuts
1 cup (220g) unsalted butter
3/4 cup (75g) ground graham crackers
1 1/2 cups (198g) all purpose flour
1 cup (100g) old fashioned rolled oats
1 tsp baking soda
3/4 tsp kosher salt
1/2 tsp ground cinnamon
3/4 cup (150g) dark brown sugar, packed
3/4 cup (150g) granulated sugar
2 large eggs
1 tsp vanilla extract
3 oz milk chocolate, finely chopped
3 oz 78% dark chocolate, roughly chopped
Flaky sea salt, for sprinkling
---
Instructions
Preheat the oven to 350F and line a small baking sheet with parchment paper.
Scatter the walnuts and bake for 8-10 minutes or until fragrant.
While those roast, add the butter to a saucepan over medium heat. Melt down and stir until it turns from yellow, loud, and bubbly to amber, quiet, and frothy.
Pour the brown butter into a measuring glass where it should measure between 3/4 cup and 1 cup. Place in the refrigerator to cool down.
Return the saucepan to medium heat and add the ground graham crackers. Stir until graham crackers are darkened and toasted, about 5 minutes.
Transfer the graham crackers to a small dish and set aside. Also chop the walnuts when they're done roasting.
In a medium bowl, whisk together the flour, oats, baking soda, salt, and cinnamon.
In a large mixing bowl, whisk together the sugars and cooled brown butter. It's OK if it's still a little warm, just not piping hot.
Mix in the eggs and vanilla. Whisk vigorously until the dough turns light and velvety.
Pour in the graham crackers and dry ingredients. Switch to a rubber spatula and fold the dough to combine.
Right before the dough fully comes together, dump in the chopped chocolate and walnuts and fold to bring the dough together.
Let the dough rest at room temperature for about 15 minutes.
Using a large cookie scoop (3 tbsp worth), scoop the dough out onto a large baking pan lined with parchment paper. Try to scoop with a large chunk of dark chocolate on top. Space the cookies well apart as they spread quite a bit.
Bake for 12-15 minutes or until the edges are golden and the center looks pale, puffed, and slightly underdone.
Transfer the cookies to a cooling rack and continue baking the rest of the batch.
When they're all done, sprinkle with a light pinch of sea salt and enjoy!
Equipment
Prep Time: 30 minutes
Cook Time: 15 minutes
Category: Dessert
Method: Baking
Cuisine: American
Keywords: graham cracker cookies, brown butter chocolate chip cookies, double chocolate chip cookies, milk chocolate chip cookies, chocolate chip graham cracker cookies, dark chocolate chip cookies
Recipe Card powered by