This cookie dough ice cream is so rich and creamy, flavored with coffee, gluten free cookie dough, and a smooth fudge swirl. It's also completely vegan! But with how smooth and creamy it is, you would never even know it's dairy free ice cream.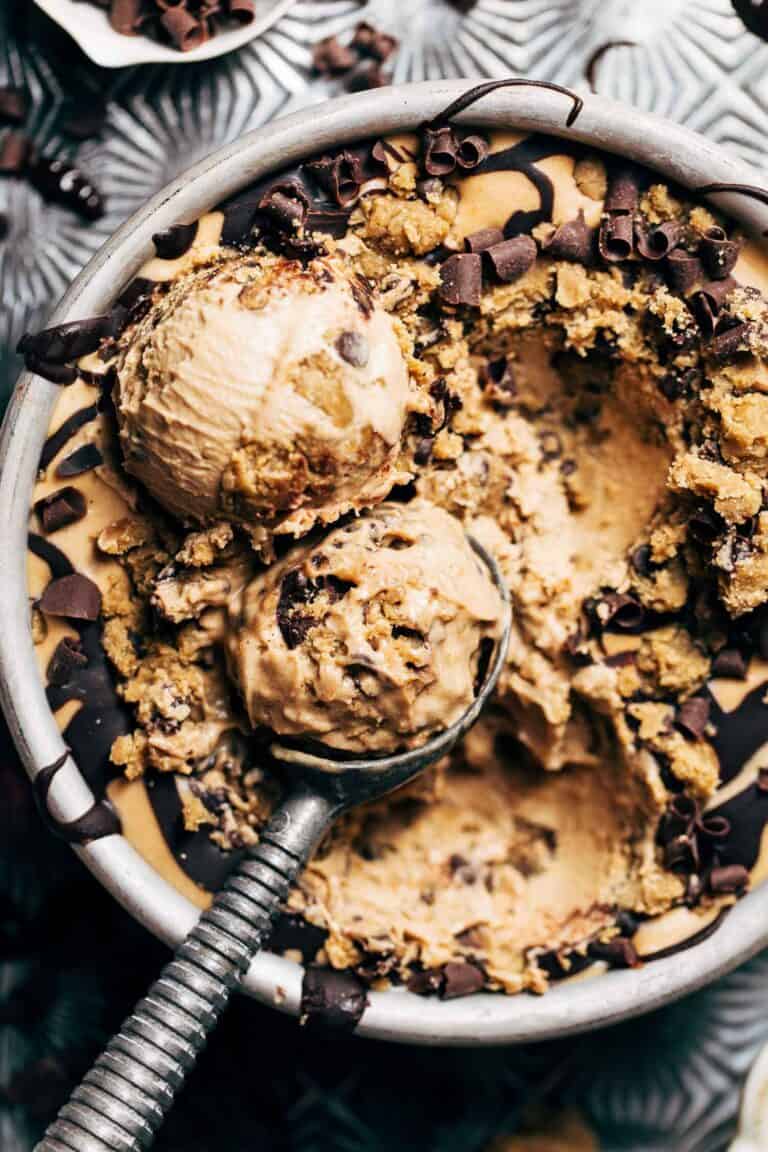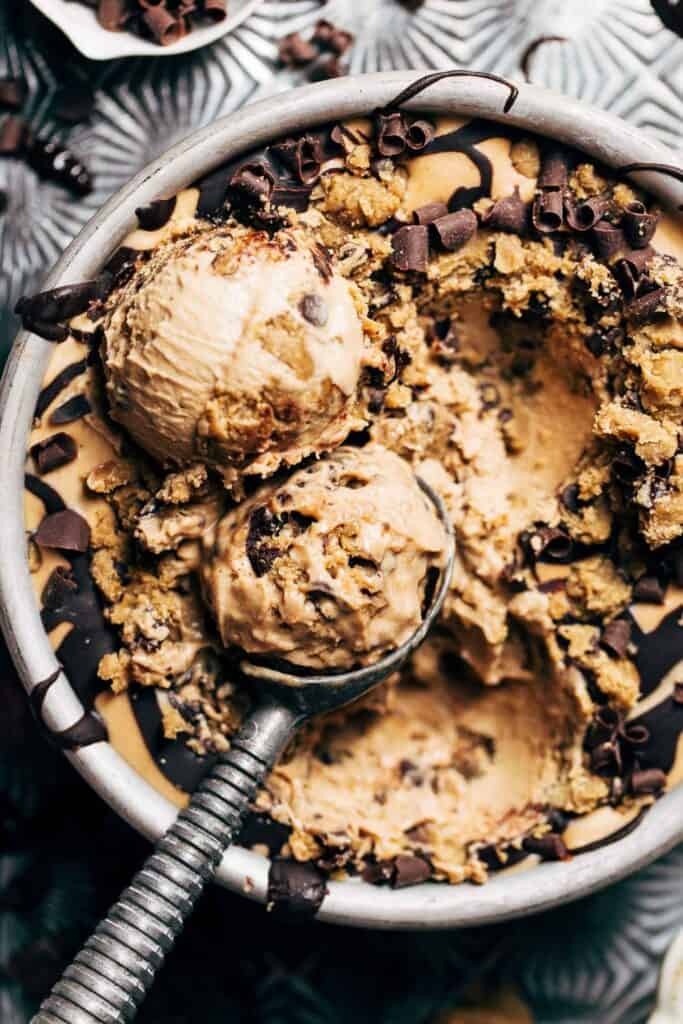 What goes into this vegan no churn ice cream?
What I love about this recipe is that once you nail the vegan ice cream base, you can pretty much put anything you want in here! For my version, I've included bits of cookie dough with a fudge swirl.
Gluten Free Cookie Dough
The delicious bits in this ice cream are made up of a simple gluten free cookie dough. It's so quick to make using maple syrup, brown rice flour, vanilla, and Natural SunButter! SunButter is what holds the cookie dough together while maintaining a spoonable consistency that won't turn rock hard when frozen. Plus, it's lightly toasted flavor pairs perfectly with the coffee ice cream.
Fudge Swirl
Simply melting chocolate and swirling it into the ice cream just wasn't an option for me. The frozen chocolate would have made this ice cream so difficult to scoop and each bite would be met with a hard chunk of chocolate.
So instead, we're making a simple fudge sauce using coconut oil, Natural SunButter, cocoa powder, and maple syrup. Just like the cookie dough, the SunButter prevents the swirl from freezing too hard. It also creates the most delicious smooth consistency and flavor!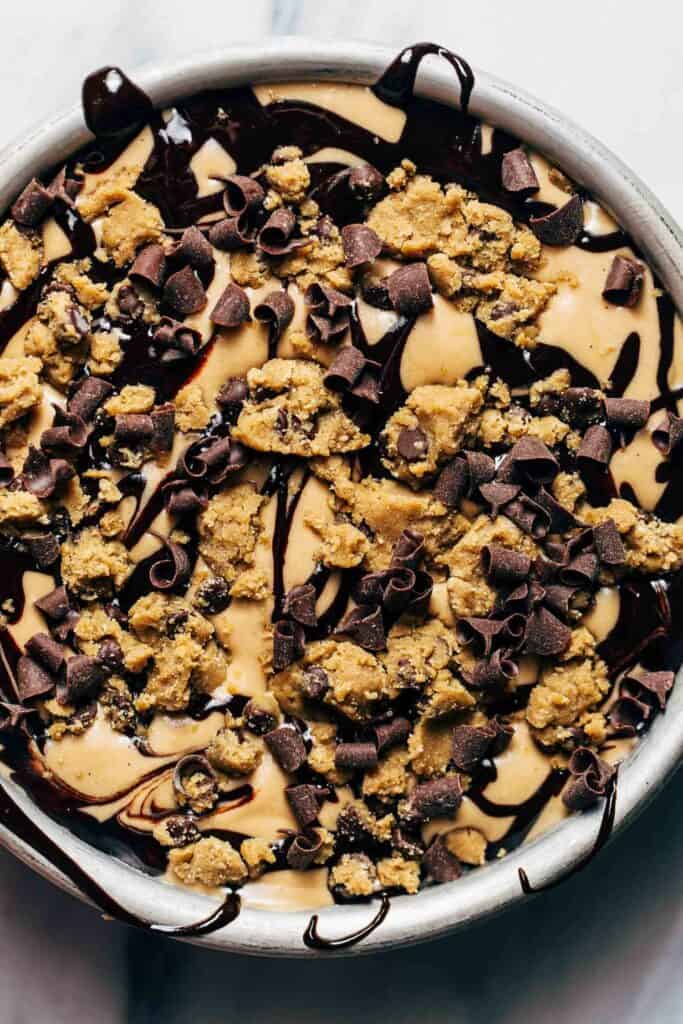 How to make ultra creamy vegan no churn ice cream
I have to say, this was an unexpectedly tricky recipe. I assumed it would be easy to make a couple swaps to a traditional no churn ice cream recipe and it would turn out perfect. Oh, was I wrong. It took quite a few tests, but the end result is well worth the trouble because of how deliciously creamy it is. I actually prefer it to regular ice cream!
So what's the secret? Here's what goes into this PERFECT dairy free ice cream:
Aquafaba – This is the curveball ingredient that I know will throw some people for a loop. Aquafaba is the liquid from a can of chickpeas. It actually acts very similar to egg whites, as it can be whipped into a puffy cloud. The reason why I used it in this recipe is because traditional no churn ice cream is made with whipped cream. That lightness is needed to prevent the ice cream from becoming too dense and firm. Aquafaba does a good job at creating that same consistency and trust me, you CANNOT taste even a hint of it in this ice cream.
Coconut Cream – To get that richness, I used coconut cream pulled from two cans of coconut milk. When canned full fat coconut milk is chilled overnight, the coconut cream (or fat) floats to the top of the can and the water sinks to the bottom. After pouring out the liquid, you're left with a lush and thick coconut cream that helps create an indulgent dairy free ice cream.
Sweetened Condensed Coconut Milk – This is the ingredient that not only sweetens the ice cream, but also makes it scoopable. It creates a smooth consistency just like traditional ice cream. It can be found in most grocery stores in the baking aisle or with the other canned coconut products.
Instant Coffee – Mixing in liquid coffee would have turned ice cream icy and hard once frozen. So instead, instant coffee is used to provide bold coffee flavor! This is in a powder form so it blends seamlessly into the ice cream batter.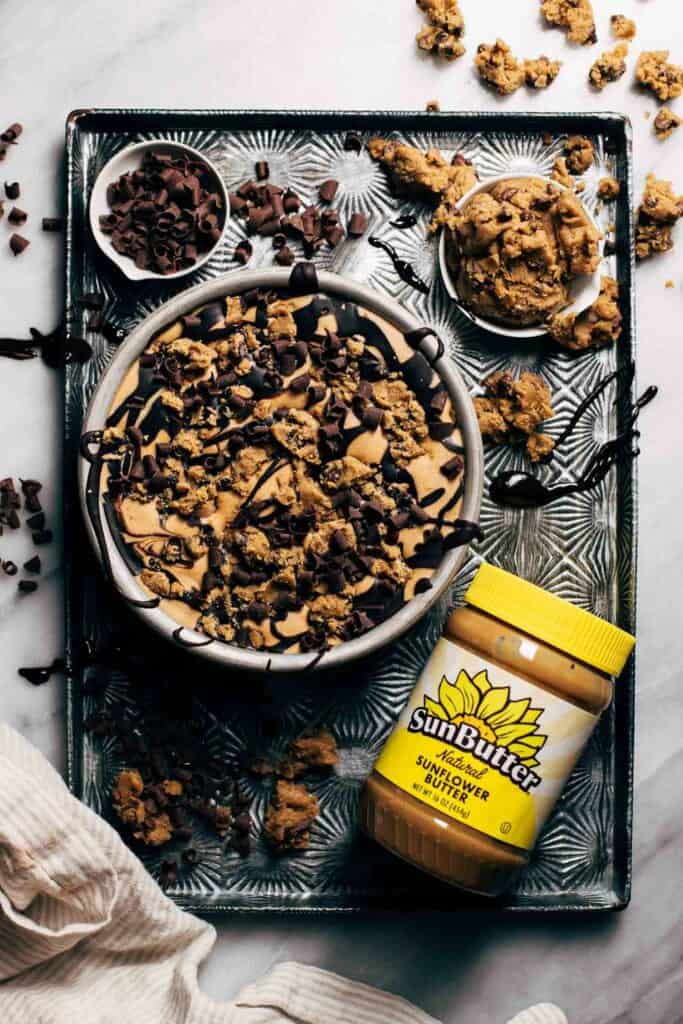 What to expect when making vegan cookie dough ice cream
Since coconut cream makes up a major component of the ice cream batter, the consistency of the unfrozen batter can vary. Coconut cream can either be thick and creamy or somewhat thin, like pudding. I usually end up with more pudding-like coconut cream which is why my batter was more on the thin side. So if your batter turns out very liquid, it's completely normal. But to ensure it's not too far gone, here's what you need to know:
Whip the aquafaba until it's thick and pillowy (like the image above). If it's not fully whipped, the ice cream will struggle to thicken.
Use chilled coconut cream from a can of coconut milk or coconut cream that has been chilled overnight. This will ensure no excess liquid is mixed in to the ice cream batter.
Don't over mix. Mix just until everything comes together. If you mix too much, the air from the aquafaba will deflate and liquify the batter even further.
How long does homemade vegan ice cream keep?
The ice cream needs at least 3 hours to freeze solid, but it will keep in the freezer for a few months!
Just make sure it's well covered to prevent freezer burn.
For more vegan dessert recipes, check out my:
Make sure to tag me @butternutbakery on Instagram and comment below if you make this vegan cookie dough ice cream. To pin this recipe and save it for later, you can use the button on the recipe card or on any of the photos above. Happy baking!
Print
Coffee Cookie Dough Ice Cream
---
Author: Jenna Barnard
Total Time: 3 hours 20 minutes
Yield: 8 servings
Diet: Vegan
Description
This vegan cookie dough ice cream is loaded with flavor! With a super creamy coffee ice cream, gluten free cookie dough bits, and a smooth fudge swirl, it's incredibly hard to tell it's even dairy free. Plus, no ice cream maker needed!
---
Vegan Coffee Ice Cream
1/3 cup (50g) aquafaba (AKA the liquid from a can of chickpeas)
1/4 tsp cream of tartar
1 cup (230g) coconut cream*
1 heaping tbsp instant coffee (finely ground)
1 can (11.3 oz) sweetened condensed coconut milk
1 tsp vanilla bean paste (or vanilla extract)
Cookie Dough
1/4 cup (65g) Natural SunButter
1 1/2 tbsp pure maple syrup
1/2 tsp vanilla extract
1/4 cup (50g) brown rice flour
Pinch of kosher salt
3 tbsp vegan mini chocolate chips
Fudge Sauce
---
Instructions
Vegan Coffee Ice Cream
Add the aquafaba to a mixing bowl and sprinkle the cream of tartar on top.
Using an electric hand mixer, whip the aquafaba until it turns opaque and fluffy with soft peaks.
Mix in the coconut cream and instant coffee. *The coconut cream should be soft so if yours is a bit too firm, microwave for a couple seconds to loosen it up.
Continue mixing while slowly pouring in the sweetened condensed coconut milk.
Last, mix in the vanilla.
The mixture should be pretty liquid, so place it in the refrigerator while we make the cookie dough and fudge sauce.
Cookie Dough
Add the SunButter, maple syrup, and vanilla to a small bowl and mix until smooth.
Then mix in the flour and salt, followed by the chocolate chips.
Fudge Sauce
Add the SunButter and coconut oil to a heat safe bowl and microwave until melted (about 30 seconds).
Mix in the cocoa powder, followed by the maple syrup.
Assemble
Using a round 6″ cake pan, or anything of similar size, pour in 1/3 of the ice cream.
Drizzle a hefty spoonful of sauce on top and swirl with a toothpick.
Crumble 1/3 of the cookie dough on top and pour another 1/3 of the ice cream.
Repeat with more sauce and cookie dough, and then the final layer of ice cream.
Top with the rest of the sauce and cookie dough.
Cover the ice cream and freeze for at least 3 hours or overnight.
To scoop, run an ice cream scoop under warm water and dig in. Enjoy!
Equipment
Notes
COCONUT CREAM – This can be taken from canned coconut cream or canned coconut milk that has been chilled overnight. Just make sure to not include the liquid, only the cream! You will also need two cans.
Prep Time: 20 minutes
Chill Time: 3 hours
Category: Dessert
Method: Chilled
Cuisine: American
Keywords: vegan no churn ice cream, vegan cookie dough ice cream, vegan ice cream, homemade vegan ice cream
Recipe Card powered by