This vegan no churn ice cream is so creamy that you would never even know it's dairy free! Swirled with salted date caramel and almond flour brownie bits, this ice cream is just as rich and indulgent as any dairy version. It does not require an ice cream machine and is not made with bananas. Instead, this coconut-based ice cream gets all that delicious texture from a very unexpected ingredient!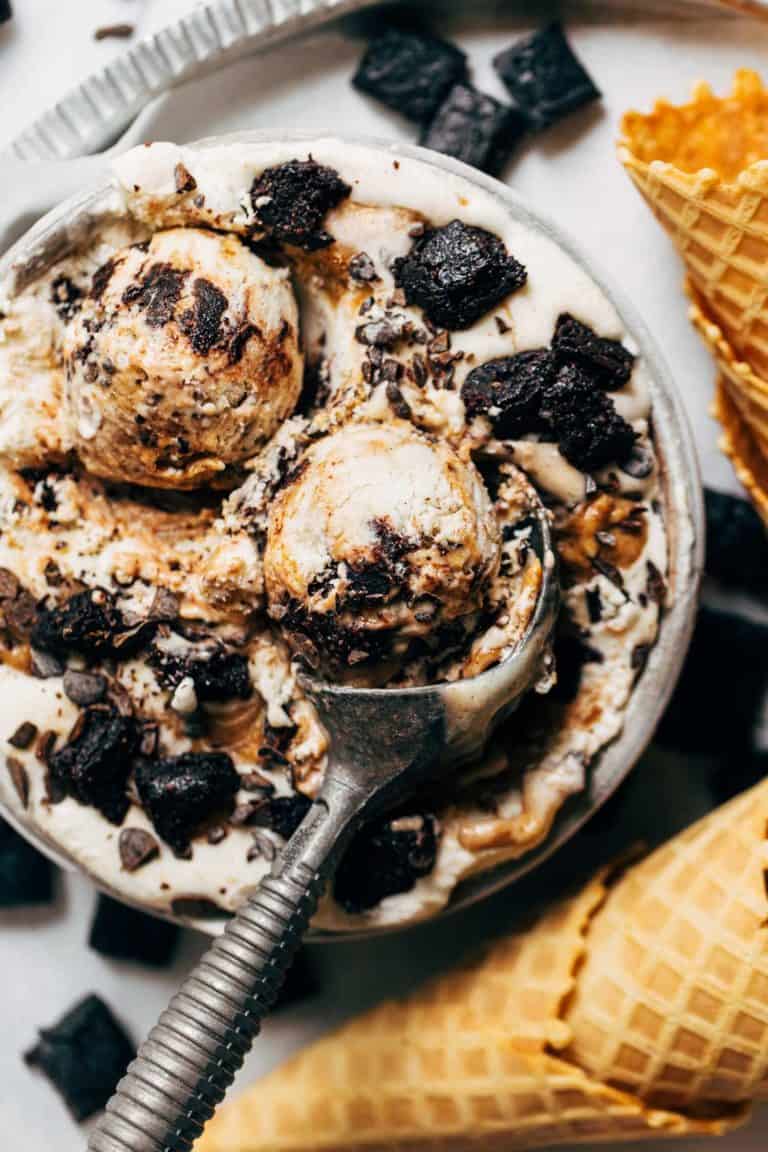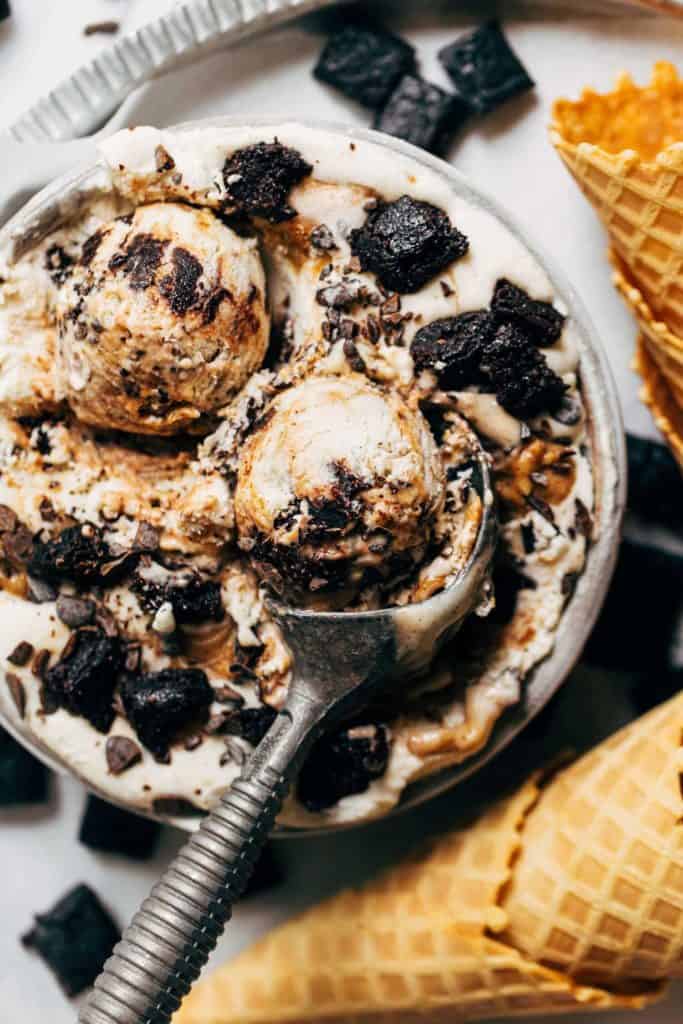 What goes into this vegan no churn ice cream?
What I love about this recipe is that once you nail the vegan ice cream base, you can pretty much put anything you want in here! For my version, I've included bits of chocolate, brownie, and salted date caramel.
SALTED DATE CARAMEL
True homemade salted caramel is made with cream and butter, which obviously will not fly with this recipe. So instead, I opted for a super simple date caramel recipe that tastes just as rich and sweet. It's made up of dates, almond butter, water, salt, and a bit of plant milk.
Dates have a natural caramel-like flavor, so they add tons of caramelized sweetness to this recipe. Almond butter helps add richness, while the water and plant milk thin it out into a caramel consistency. It's then swirled twice into the ice cream – once into the entirety of the batter, and another into each of the three layers as the ice cream is poured into its dish. So you can that caramel flavor all throughout, with additional globs of caramel that you'll be digging for with each bite.
ALMOND FLOUR BROWNIE BITES
Since we're making homemade caramel AND vegan ice cream batter, I figured it was OK to take a shortcut with the brownies. Especially because box mix brownies just never fail. To make this recipe gluten free and vegan, I used my favorite almond flour brownie mix by Simple Mills (not sponsored, I just really like this mix). To replace the eggs, I used two flax eggs which is just 2 tablespoons of ground flaxseed mixed with 6 tablespoons of water. Mix the two together and let it rest for 10 minutes to thicken and gel before use.
After the brownies have baked and cooled, just chop them up into tiny bite-sized pieces (see picture below) and keep them in the refrigerator up until they're needed.
Another perk to this recipe is that you only need about half of the brownies that 1 box makes. So you get extra brownie snacks while you wait for the ice cream to freeze overnight. It's a win win.
How to make ultra creamy vegan no churn ice cream
I have to say, this was an unexpectedly tricky recipe. I assumed it would be easy to make a couple swaps to a traditional no churn ice cream recipe and it would turn out perfect. Oh, was I wrong. It took quite a few tests, but the end result is well worth the trouble because of how deliciously creamy it is. I actually prefer it to regular ice cream!
So what's the secret? Here's what goes into this PERFECT dairy free ice cream:
Aquafaba – This is the curveball ingredient that I know will throw some people for a loop. Aquafaba is the liquid from a can of chickpeas. It actually acts very similar to egg whites, as it can be whipped into a puffy cloud. The reason why I used it in this recipe is because traditional no churn ice cream is made with whipped cream. That lightness is needed to prevent the ice cream from becoming too dense and firm. Aquafaba does a good job at creating that same consistency and trust me, you CANNOT taste even a hint of it in this ice cream.
Coconut Cream – To get that richness, I used coconut cream pulled from two cans of coconut milk. When canned full fat coconut milk is chilled overnight, the coconut cream (or fat) floats to the top of the can and the water sinks to the bottom. After pouring out the liquid, you're left with a lush and thick coconut cream that helps create an indulgent dairy free ice cream.
Sweetened Condensed Coconut Milk – This is the ingredient that not only sweetens the ice cream, but also makes it scoopable. It creates a smooth consistency just like traditional ice cream. It can be found in most grocery stores in the baking aisle or with the other canned coconut products. I personally use Nature's Charm which comes in a blue can.
Vanilla Bean – Vanilla extract is an alcohol based product, and we all know alcohol can not be frozen solid. So instead of overwhelming the ice cream with vanilla extract, some if it is subbed with vanilla bean seeds. The bonus is that they help enhance the caramel flavor as it has a deeper vanilla flavor compared to vanilla extract. It's optional, as I know vanilla beans can be very expensive, but if you can grab them on sale it's well worth it!
What to expect when making dairy free no churn ice cream
Since coconut cream makes up a major component of the ice cream batter, the consistency of the unfrozen batter can vary. Coconut cream can either be thick and creamy or somewhat thin, like pudding. I usually end up with more pudding-like coconut cream which is why my batter was more on the thin side. So if your batter turns out very liquid, it's completely normal. But to ensure it's not too far gone, here's what you need to know:
Whip the aquafaba until it's thick and pillowy (like the image above). If it's not fully whipped, the ice cream will struggle to thicken.
Use CHILLED coconut cream from a can of coconut milk that has been chilled overnight. Keep the cream as cold as possible, because coconut cream softens at room temperature pretty rapidly.
Don't over mix. Mix just until everything comes together. If you mix too much, the air from the aquafaba will deflate and liquify the batter even further.
What is the best vegan chocolate to use in this recipe?
The other component of this ice cream not previously mentioned is chopped chocolate. I love using 100% raw cacao as its slightly bitter flavor helps balance out the sweetness of everything else in this ice cream. I use Trader Joe's Organic Completely Cacao Chips, but you can use any of your favorite vegan dark chocolate that you prefer!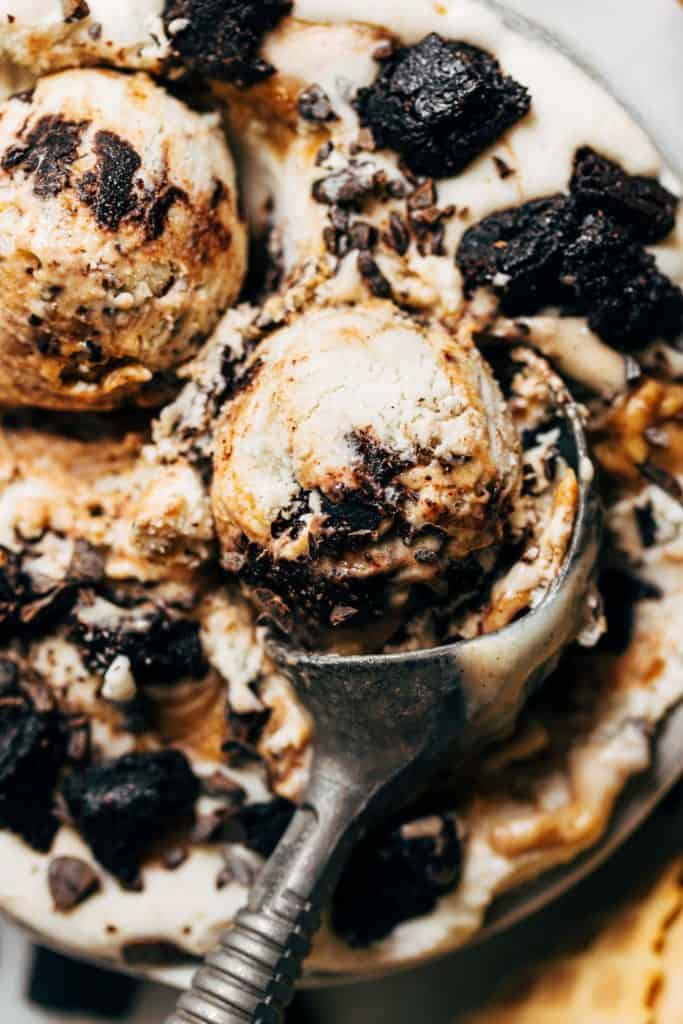 Additional ice cream flavor options
Since the ice cream base is simply vanilla, you can add in any flavors you like! Here are a few I recommend:
Cookie Dough – Use my cookie dough recipe from my healthy cookie dough easter eggs. Sprinkle in globs of cookie dough throughout the ice cream, along with chopped chocolate, and you have a delicious vegan cookie dough ice cream.
Peanut Butter Brownie – Swap the date caramel with swirls of peanut butter for a yummy peanut butter brownie ice cream!
Peanut Butter Cup – Make my homemade peanut butter cups and chop them up. Toss into the batter along with swirls of peanut butter and chocolate chips.
Feel free to add in whatever you like! See my archive of vegan dessert recipes to gather even more inspiration.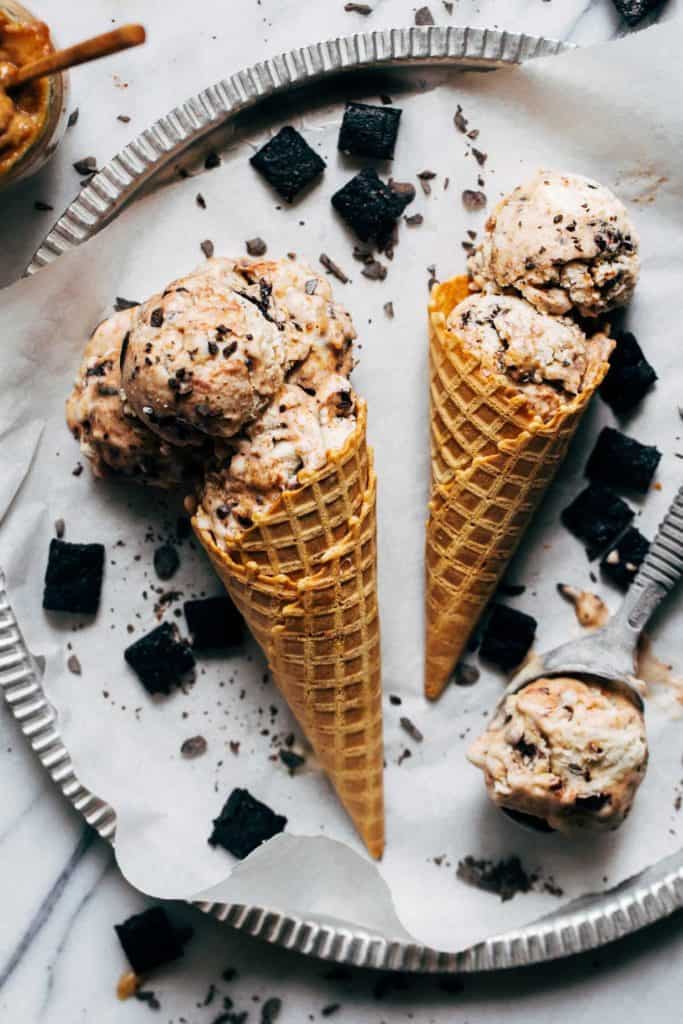 For more vegan dessert recipes, check out my:
Make sure to tag me @butternutbakery on Instagram and comment below if you make this salted caramel brownie vegan no churn ice cream. To pin this recipe and save it for later, you can use the button on the recipe card or on any of the photos above. Happy baking!
Print
Salted Caramel Brownie Vegan No Churn Ice Cream
---
Author: Jenna Barnard
Total Time: 45 minutes + chilling overnight
Yield: 8 servings
Description
This vegan no churn ice cream is SO creamy and swirled with salted date caramel and almond flour brownie bits.
---
Brownie Bits
1 box brownie mix*, baked, cooled, and chopped into bite-sized pieces
Date Caramel
1 cup (200g) pitted medjool dates (about 10 dates)
2 tbsp natural almond butter
3/4 tsp salt
1/4 cup warm water
2–4 tbsp plant milk
Vegan No Churn Ice Cream
1/4 cup (40g) aquafaba (AKA the liquid from a can of chickpeas)
1/4 tsp cream of tartar
1 cup (230g) coconut cream (taken from 2 cans of coconut milk chilled overnight**)
11.3oz can sweetened condensed coconut milk
1 tsp vanilla extract
1 vanilla bean (optional but highly recommended)
1/2 cup vegan dark chocolate, finely chopped (I used 100% cacao)
---
Instructions
Brownie Bits
First, bake the brownies (see notes for vegan instructions). Before baking, grease and line your 8×8 square baking dish with parchment paper and allow it to hang over the sides for easy removal.
After they're baked, chill the brownies until they're completely cooled. Then remove from the baking pan and chop into tiny bite-sized pieces. Store in the refrigerator until needed.
Date Caramel
Add the dates to a bowl of warm water and let them soak for about 10 minutes.
Drain the dates and add to a food processor along with the almond butter and salt.
Blitz on high speed until the dates are fully broken apart.
With the mixer running, slowly pour the warm water down the nozzle to help smooth out the caramel.
Keep blending on high speed until it's as smooth as possible.
Take the lid off and pour in 2 tablespoons of plant milk. Blitz again to combine. It should be a creamy consistency that's easy to run a spoon though. If it's still too thick, mix in a couple more tablespoons of plant milk.
Set the caramel aside while we make the ice cream base.
Vegan No Churn Ice Cream
In a large mixing bowl using a hand or stand mixer with the whisk attachment, pour in the aquafaba and sprinkle the top with the cream of tartar. Whip on high speed for about 5 minutes – or until the mixture becomes fluffy and opaque (see picture in post for reference).
Add in the coconut cream and whip again until smooth.
Pour in the sweetened condensed coconut milk, vanilla, and the seeds from one vanilla bean. Mix again until combined.
Taking half of the date caramel, dollop spoonfuls of the caramel throughout the batter. They may sink a bit but that's fine. Use a rubber spatula to gently stir in the caramel, just enough to get some swirls throughout. 
Using a round cake pan or loaf pan (any mid-sized dish – I used a 6″ cake pan), pour the ice cream in three layers.
For the first layer, pour enough to cover the bottom of the pan. Drop in a couple spoonfuls of the caramel and cover with a sprinkle of the chopped chocolate. Use a toothpick to swirl together. Then crumble a handful of brownie bits on top and cover with another layer of ice cream.
Repeat this two more times to get 3 layers total, each consisting of additional caramel, chocolate, and brownie bits. 
Cover the pan with plastic wrap and then foil. Freeze overnight. 
The next day, remove the ice cream from the freezer and allow it to thaw for about 10 minutes. The time will depend on the depth of the pan you used. The deeper the dish, the longer it will take to thaw. Then just scoop and enjoy!
Notes
BROWNIE MIX – I recommend using an almond flour brownie mix (like this one) but sub the eggs with flax eggs (1 flax egg = 1 egg; 1 flax egg = 1 tbsp ground flaxseed + 3 tbsp water; stir the two together and allow them to gel for 10 minutes before use). You'll also only need about half of the batch, so the rest can be for snacking! Alternatively, you could make my raw vegan brownies which can be found in the recipe for my healthy cookie dough bars.
COCONUT CREAM – Coconut cream can be taken from a can of full fat coconut milk. In order to access it, the can must be chilled overnight. When chilled the cream rises to the top of the can and the water sinks to the bottom. This is why it's important to not shake the can before chilling, making it more difficult for the two to separate. Once chilled, open the can from the bottom and pour out the liquid. Then scoop out the cream. Alternatively, you can purchase cans of coconut cream but those will also need to be chilled overnight. Also make sure to buy coconut milk or cream that has guar gum as an ingredient as this helps thicken the cream. 
STORAGE – The ice cream will keep in the freezer for about 2 months, as long is it stays covered. 
Keywords: vegan no churn ice cream, vegan ice cream, dairy free ice cream, caramel brownie ice cream, dairy free no churn ice cream
Recipe Card powered by