This brownie turtle pie is a combination of so many delicious desserts! It's pie, it's brownies, and it's a turtle sundae all in one. With a savory walnut pie crust, fudgy brownie pie filling, and caramel sauce on top, it's definitely a pie recipe you won't forget.
This post is sponsored by Diamond of California and all thoughts and opinions are my own. Thank you for supporting the brands that make Butternut Bakery possible!
The EASIEST walnut pie crust
With the sweetness of the brownie filling and caramel sauce, this savory crust brings the entire dessert together.
Diamond is KNOWN for providing quality nuts for baking, and their new nut pie crusts are no exception. They're made with simple ingredients and bake so well.
I'm also usually a stickler when it comes to premade pie crusts. They crumble apart and lack that homemade flavor. But the nut pie crusts from Diamond are so high quality, bake beautifully, and are full of rich flavor.
The walnut pie crust used in this recipe makes it SO quick and easy, which is perfect for the busy Holiday season. And trust me, no one will even know it's premade!
How to make brownie pie filling
The best part about the filling is that you probably have all these ingredients ready to go in your pantry. It's made up of a few simple ingredients but creates a super rich and fudgy pie.
For the filling, you will need:
1/2 cup unsalted butter, melted
1 cup sugar
2 large eggs + 1 egg yolk
1 tsp vanilla extract
1/3 cup all purpose flour
1/4 cup cocoa powder
1/2 tsp salt
In a large bowl, whisk together the butter and sugar. If the butter is still hot, let it come to room temperature before adding in the eggs so they don't scramble.
The extra egg yolk helps add richness to the filling, making it extra fudgy.
Whisk in the eggs and vanilla and then fold in all of the dry ingredients (flour, cocoa powder, and salt). Careful not to overmix. Then just pour and bake!
I used cocoa powder instead of actual chocolate in this recipe because it holds together much easier while still providing tons of chocolate flavor.
For a deep color and flavor, opt for dutch processed cocoa powder. It's a simple swap that elevates any chocolate dessert. But for this recipe, it's not absolutely necessary. I've tried it with both and it turns out great either way.
To add EXTRA chocolate to this cake, apply a rich layer of chocolate ganache on top. When the pie has cooled at room temperature for 20-30 minutes, pour a layer of ganache on top. This consists of equal parts heavy cream and chocolate (semi sweet or dark). It creates a silky chocolate layer on top and makes the pie filling extra rich.
Allow your brownie pie to cool completely
It's so important to let your pie cool COMPLETELY before slicing into it. This is just like any other good fudge brownie recipe. When it's still warm, the center is very gooey so allowing it to set will provide you with a perfectly fudgy texture all throughout.
Once it's baked, let it cool at room temperature for about 20-30 minutes, pour the ganache on top, and then move it to the fridge for at least 2 hours. If you need to chill it longer, cover the pie while it chills. Just make sure it's completely cooled before covering it so that condensation doesn't form.
How to make super easy stabilized whipped cream
This is a trick that I learned so long ago, and is so easy to make. Plus, it tastes even better than regular whipped cream.
Whipped cream on pie is ESSENTIAL, but it just never lasts. It's beautiful as decoration but after an hour it's completely melted into the pie. To prevent that from happening (and to make the best whipped cream ever) the trick is to add cream cheese.
Yep, the best ever whipped cream consists of cream cheese, sugar, and heavy whipping cream. The cream cheese helps stabilize the whipped cream without having to mess with gelatin..which is what's typically used as the stabilizer.
You definitely get the flavor of cream cheese, but it's not overwhelming. It's very light and accompanies ANY pie perfectly. Plus, who doesn't want extra cream cheese in a dessert?
To make the best ever whipped cream, start by whipping together the cream cheese (at room temperature) and sugar. Once smooth and airy, slowly pour in the heavy cream as the mixer is running. Turn the speed up to high and watch it transform into a luscious light and airy whipped cream.
You can pipe it on top of the completely cooled pie and it will stay that way for days! Just make sure to store the pie in the fridge if you aren't serving it right away.
Toppings for brownie turtle pie
Once the pie has set and you've topped it with the best ever whipped cream, it's time to add all the fixings.
And you can't have turtle without caramel. I'm using my go-to caramel sauce recipe that I use in SO many of my desserts. Here are a few tips to get it just right:
Patience – Start by melting sugar in a saucepan over medium heat. It will take about 10 minutes or so, but you want the sugar to completely melt down and darken. Not much will happen at first, so you only need to whisk every so often in the beginning. But as the sugar melts down, you'll need to whisk continuously until it's ready. It'll go from really clumpy and dry to smooth and golden in a matter of minutes.
Room temperature butter – Once the sugar is melted, it's time to whisk in the butter off the heat. Make sure your butter is room temperature and cut into small cubes. Otherwise, your caramel will seize up and you'll have to start all over again.
Warm heavy cream – When the butter is just about mixed in, whisk in the heavy cream. Same instructions apply as the butter, make sure the heavy cream is a little warm so that it blends seamlessly into the hot caramel.
Let it cool – Immediately pour the caramel into a glass container and place it in the fridge. It will be very thin at this point, but allowing it to cool will thicken it up just enough to be the perfect drizzle consistency.
This recipe makes plenty for this pie, so use as much or as little as you like. I recommend drizzling it on top and then saving the extras to pour on top of each individual slice.
After the caramel, it's time to sprinkle more walnuts on top. It is a turtle pie after all!
How to store your pie
If you need to make this ahead of time, reserve the caramel and walnuts for last. Add the ganache and whipped cream, cover the pie, and store it in the fridge for up to 2 days.
Make the caramel at the same time as the pie, but store it in the fridge seperately. When you're ready to serve the pie, warm the caramel up in the microwave for 30 seconds to 1 minute. This will bring it back to that perfect drizzle consistency. Sprinkle the walnuts on top and enjoy!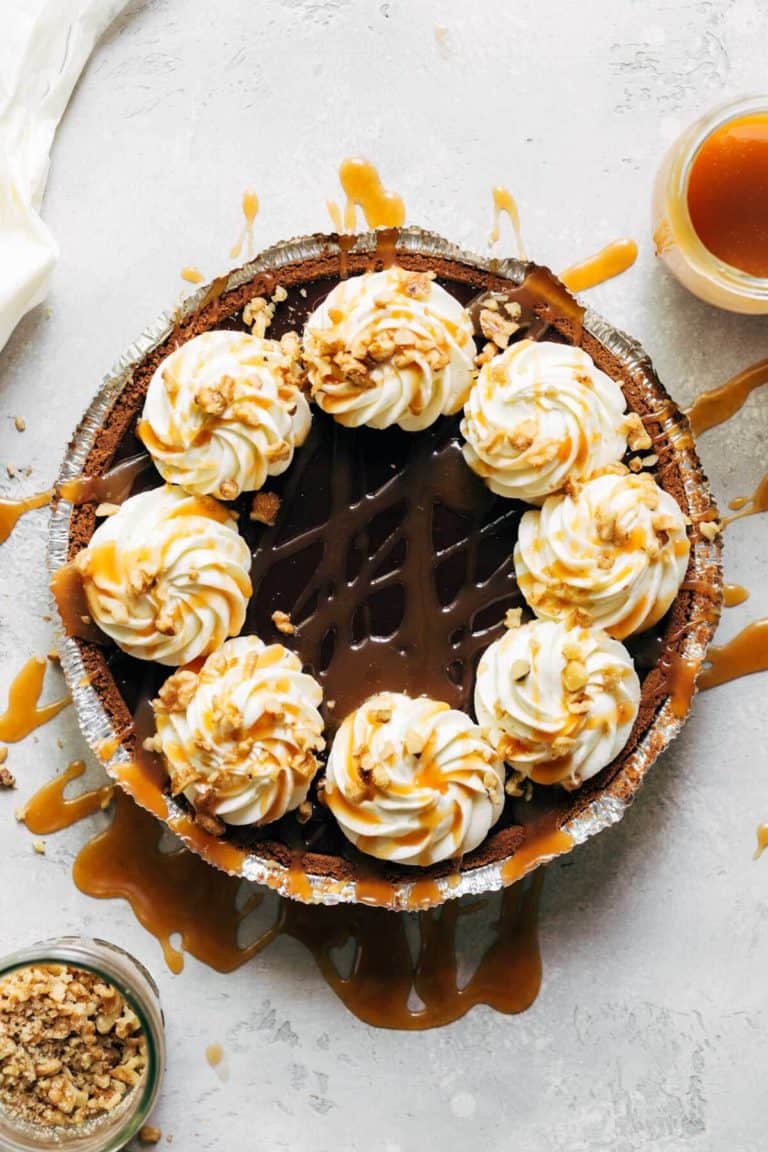 For more delicious pie recipes, check out my:
Make sure to tag me @butternutbakery on Instagram and comment below if you make this Brownie Turtle Pie. To pin this recipe and save it for later, you can use the button on the recipe card, the buttons above or below this post, or on any of the photos above. Happy baking!
Print
Brownie Turtle Pie
---
Author: Jenna Barnard
Total Time: 1 hour 10 minutes
Yield: 1 9-inch pie
Description
This brownie turtle pie is extra fudgy, topped with an easy homemade caramel, and baked in a savory walnut pie crust. It's a pie recipe you won't forget!
---
Brownie Pie
1 9-inch Diamond Walnut Pie Crust
1/2 cup unsalted butter, melted
1 cup granulated sugar
2 large eggs + 1 egg yolk
1 tsp vanilla extract
1/3 cup all purpose flour
1/4 cup cocoa powder (dutch processed preferred but not necessary)
1/2 tsp salt
1/4 cup Diamond walnuts, chopped
Chocolate Ganache
1/4 cup semi-sweet or dark chocolate
1/4 cup heavy cream
Whipped Cream
8oz cream cheese, room temp
1/2 cup granulated sugar
1 cup heavy cream
---
Instructions
Brownie Pie
Preheat the oven to 350F
Whisk together the melted butter and sugar. Make sure the butter isn't too hot before whisking in the eggs and vanilla.
Once smooth, fold in the flour, cocoa powder, and salt using a rubber spatula.
Pour the batter into the walnut pie crust and bake for 35-40 minutes.
Chocolate Ganache
Allow the pie to cool at room temperature for 20-30 minutes then add the ganache.
To make it, measure out the chocolate into a heat safe bowl and set aside.
Bring the heavy cream to a boil and the pour it over the chocolate. Whisk until smooth.
Pour it over the cooled pie, careful not to overflow it. Place the pie in the fridge for at least 2 hours to set.
Whipped Cream
Once the pie and ganache has set, make the whipped cream.
Using an electric mixer, whisk together the cream cheese and sugar. Make sure your cream cheese is at room temperature.
Once smooth and airy, turn the mixer on medium and slowly pour in the heavy cream. Turn the mixer up to high and whip until you reach stiff peaks (about 2-3 minutes)
Pipe the whipped cream on to the pie and place it back in the fridge. If you are making the pie ahead of time, leave the pie as it is right now and then apply the caramel sauce before you serve it.
Caramel Sauce
Pour into a glass container and allow it to cool at room temperature for 30 minutes before drizzling on top.
If you're baking your pie ahead of time, store the caramel in the fridge and warm it up in the microwave (30sec – 1min) before drizzling on top.
Finish off the pie with a sprinkling of more walnuts and it's ready to serve. Enjoy!
Prep Time: 30 minutes
Cook Time: 40 minutes
Keywords: brownie pie, turtle pie, chocolate pie, walnut turtle, walnut crust
Recipe Card powered by