If you've ever wondered what candied pecans would taste like as a pie, this is it! This gooey butter cinnamon pie is baked with a pecan crust and is chock full of delicious cinnamon flavor. It's a simple pie recipe that's sure to impress!
This post is sponsored by Diamond of California and all thoughts and opinions are my own. Thank you for supporting the brands that make Butternut Bakery possible!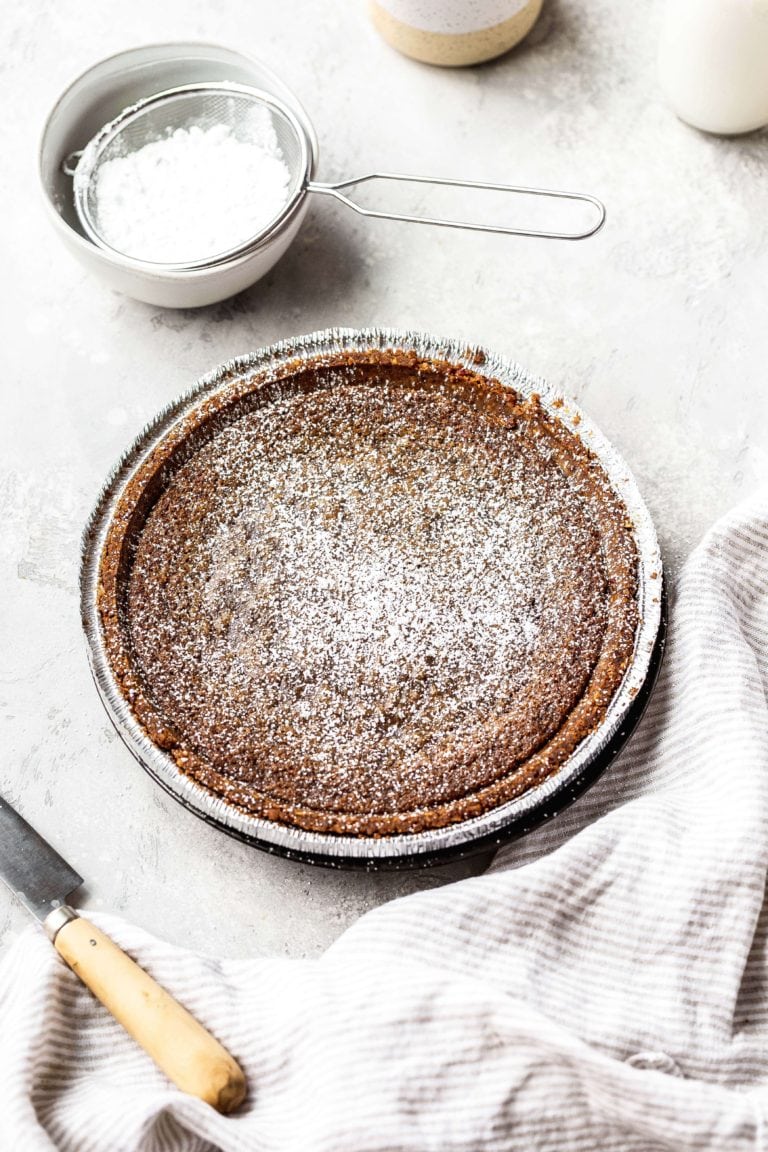 Cinnamon Pie Recipe Inspiration
When I was developing this recipe, I was thinking about how to make a pie that's easier and quicker. Between the handmade flaky crusts, long bake times, and mixing all of the ingredients together just right, the pie making process can be very time consuming.
So when it came to making an easy pie recipe, I didn't want any time spent on making a crust, chopping up ingredients, or taking the time to make it look perfect. This pie is effortless, simple, and tastes like you spent hours on it.
That's when I thought of the famous Milk Bar Crack Pie. I've made the exact recipe for the blog, so I'm no stranger to the amazingness that is this pie. It's gooey, rich, buttery, and so so addictive but takes a long time to make. The crust is a whole recipe in and of itself.
So to make the shortcut version and to bring in that cozy fall flavor, I tweaked a couple ingredients, added loads of cinnamon, and popped in a Diamond Nuts pecan crust to make the candied pecan cinnamon pie of my dreams.
You get the rich buttery cinnamon filling, just like the coating on candied pecans, and the slightly salty pecan crust. The two work perfectly together as one delicious but effortless pie.
Cinnamon Pie Crust
So let's revisit that pie crust I mentioned because it is a total game changer. Diamond of California released a new line of nut-based pie crusts which include the pecan one I used here, as well as walnut. They're so delicious and made with simple ingredients so I don't have the guilt of using a pre-made crust like I do with most others.
It takes all the work out of having to make your own crust, yet no one will even know it's not homemade! It has a rich depth of flavor, firm but soft texture, and is the perfect thickness to hold all kinds of pies.
It takes pecan pie to a whole other level, so you're able to sneak in that pecan flavor without adding it to the filling.
Like I said, I wanted to make a quick and simple Thanksgiving pie recipe. With this Diamond pecan crust, all you have to do is mix, pour, and bake!
How to bake Cinnamon Pie
The trickiest part of this recipe comes after everything is prepped. The crust and mixing the filling are super easy, but the texture of the pie relies on how it's baked.
Since I based this cinnamon pie recipe off of the Crack Pie recipe, I first tried to make it the same exact way. To my surprise, it turned out completely different! The middle was under baked and the edges browned way too fast.
This pie calls for nearly double the bake time and some slight adjustments to get it just right. To start off, bake the pie at 350F for 15 minutes. Then, drop the oven temperature down to 325F and bake for an additional 20-25 minutes.
When you're 10 minutes into the additional 20 minutes, check the pie to make sure the edges aren't browning too quickly. If they look much darker than the center, cover in aluminum foil.
Do so by cutting a sheet roughly the same size as the pie, fold it in half, and cut about a 2 inch semi-circle in the middle. Unfold and place the foil over the pie, ensuring it doesn't touch the filling. This will allow the center to brown and prevent the edges from burning.
The pie is done when the center is evenly browned and has a slight jiggle. If the center is still too thin and wobbly, continue to bake for an additional 5 minutes.
Once baked, let the pie cool at room temperature for about 30-40 minutes. Now, if you cut into the pie while it's still warm, you'll be left with a buttery cinnamon soupy mess. The trick is the freeze the pie for it to fully set.
Freeze uncovered for at least 5 hours but preferably overnight. This is the type of pie you make the night before an event. Just bake and freeze! In the end, you're left with a gooey, thick pie with a layer of cinnamon on top of a layer of soft buttery sugar filling.
How to serve your Cinnamon Pie
At this point, you're probably wondering how the heck you serve a frozen pie. Will it melt if I leave it out too long? Is it too hard to slice into? How long can I freeze it for?
Luckily, these have very simple answers. For starters, the pie is best served after its had about 30 minutes to sit out at room temperature. It's still firm in the middle but has softened just enough to slice into.
Another option is to transfer the pie to the refrigerator before serving. Let it chill for at least an hour before serving.
And if you're in a situation where you need to take the pie somewhere but aren't quite sure what to do with it, leave it in the refrigerator until you're ready to serve. The freezer has already served it's purpose of firming up the filling so it will do just fine in the fridge.
As far as longevity, it can keep in the fridge for up to 5 days. Just make sure it's covered which is perfect because this pecan crust comes with a lid. It can also keep in the freezer for up to a month. In that case, remove the lid, cover in plastic wrap, then cover in foil. This will prevent any ice crystals from forming on the pie.
If you have any other questions on how to store or serve this cinnamon pie, let me know in the comments below!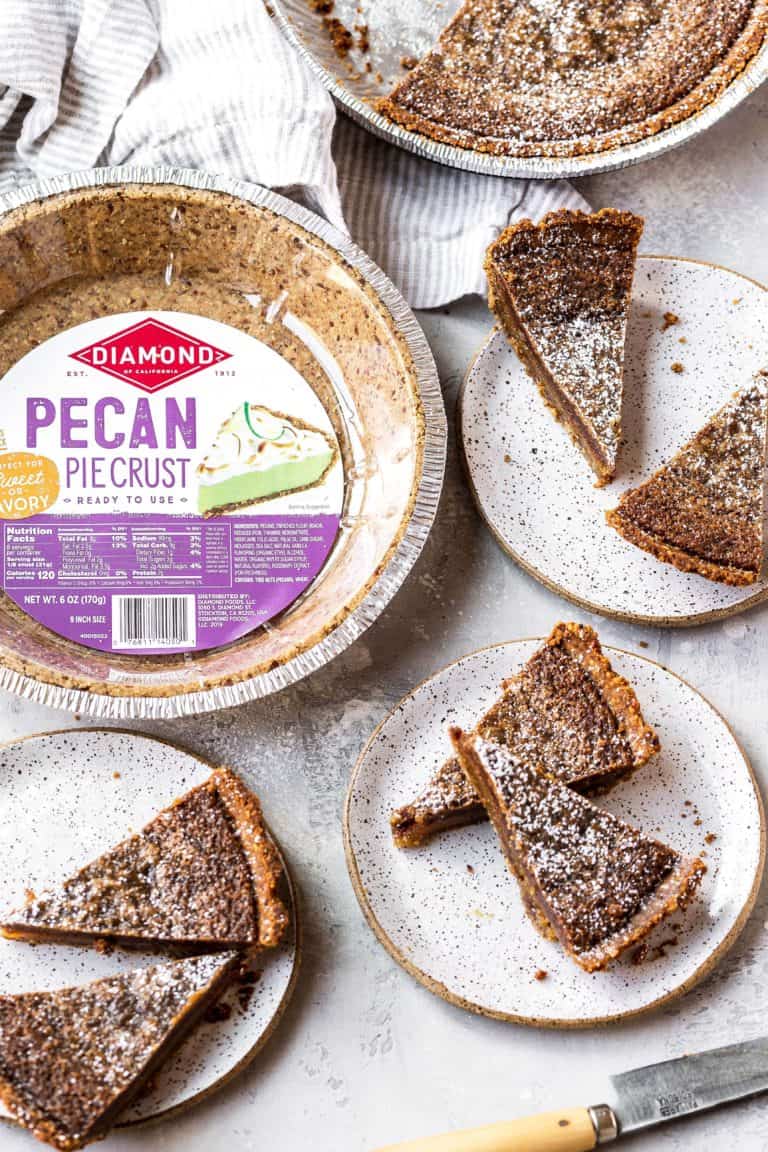 For more Thanksgiving dessert recipes, check out my:
Make sure to tag me @butternutbakery on Instagram and comment below if you make this Cinnamon Pie. To pin this recipe and save it for later, you can use the button on the recipe card, the buttons above or below this post, or on any of the photos above. Happy baking!
Print
Pecan Crusted Cinnamon Pie
---
Description
This gooey butter cinnamon pie is baked with a delicious pecan crust. It's an effortless pie recipe that's bursting with flavor and is sure to impress!
---
3/4 cups granulated sugar
1/3 cup light brown sugar, tightly packed
2 tbsp malted milk powder
3 tbsp cornstarch
3/4 tsp salt
2 tbsp cinnamon
1/2 tsp nutmeg
1/2 cup unsalted butter, melted
6 tbsp heavy whipping cream
1/2 tsp vanilla extract
4 large egg yolks
---
Instructions
Preheat the oven to 350F.
Combine the sugars, milk powder, cornstarch, salt, cinnamon, and nutmeg in a bowl of a stand mixer fitted with paddle attachment. Mix on low until blended.
Add in the melted butter and mix on low until the dry ingredients are evenly moistened.
Add in the vanilla and heavy cream and continue to mix on low until combined.
Scrape down the bowl and mix in the yolks one at a time, still on low speed.
When the mixture is glossy and smooth, pour it into your pie crust and bake for 15 minutes. Then, reduce the heat to 325F and bake for an additional 20-25 minutes. If the edges brown too quickly, cover in foil with a hole cut in the middle so the center of the pie can still bake through.
The pie is ready when the center has a slight jiggle to it. If it's not there yet, continue to bake for another 5 minutes.
Let the pie rest at room temperature for 30-40 minutes then transfer to the freezer uncovered for at least 5 hours but preferably overnight.
Transfer to the fridge for 1 hour before serving. For different serving and storing methods, please see post above or leave a comment below. Enjoy!
Prep Time: 20 minutes
Cook Time: 40 minutes
Keywords: cinnamon pie, cinnamon pie recipe, cinnamon pecan pie, pecan crust
Recipe Card powered by