Inspired by brown sugar cinnamon pop tarts, this super buttery shortbread is baked with a layer of cinnamon sugar in the middle. It's basically a grown up version of a brown sugar cinnamon pop tart with elevated flavors and a delicious soft and tender texture.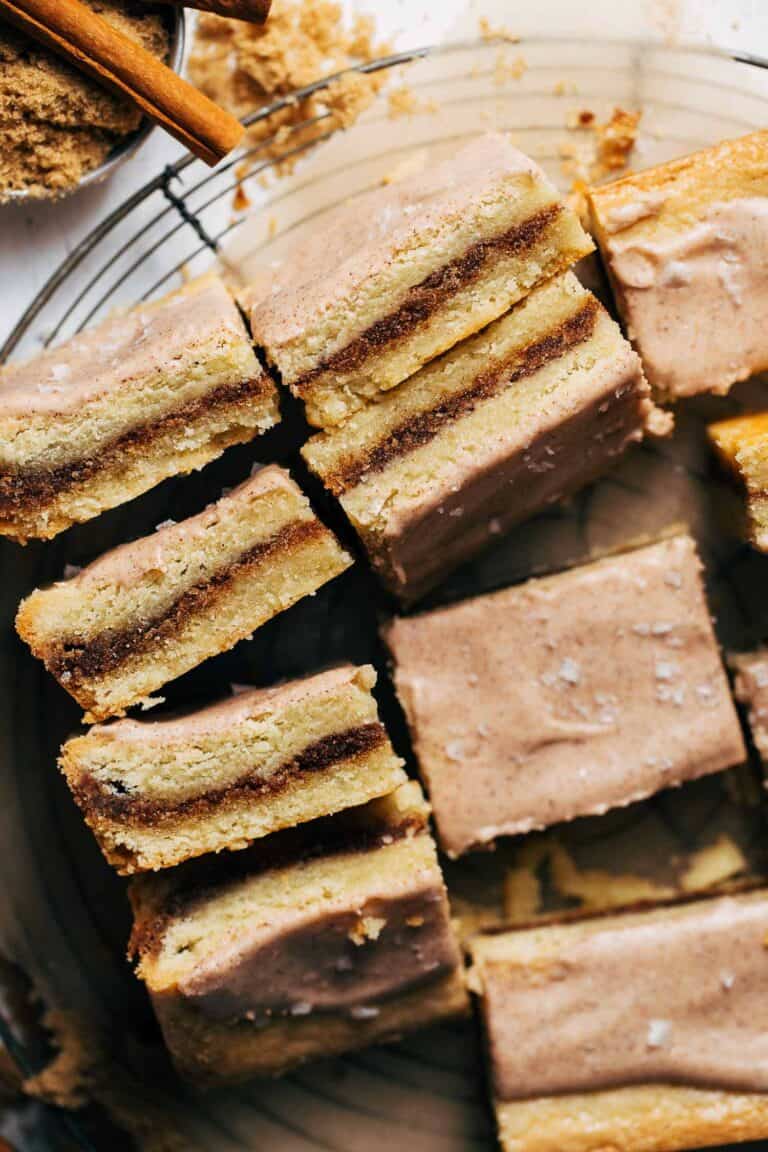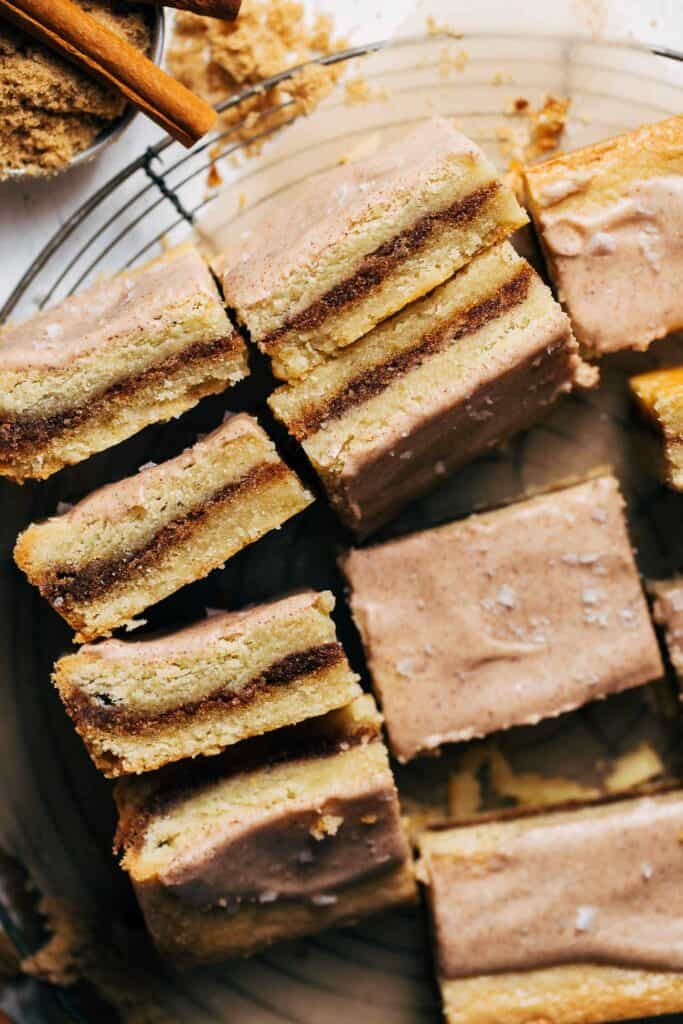 How to make buttery shortbread
Taking direct inspiration from my strawberry pop tart shortbread recipe, I used the exact same shortbread recipe because it's just too good!
When developing the recipe for the shortbread, I was very drawn to Scottish shortbread. It's typically more rich, dense, and thick compared to regular shortbread due to its high fat content. In other words, it's just better.
So for this pop tart shortbread, I made sure to up the butter and bake these bars low and slow. By doing so, you're left with a dense but buttery tender shortbread bar that just melts in your mouth.
Another ingredient I used to boost the richness of these bars is almond flour. By swapping out some of the regular flour with almond flour, I've decreased the absorbency of the dry ingredients. Almond flour does not absorb as much liquid as regular flour, so these bars are able to remain extra buttery but with a dense and closed texture.
Layered brown sugar cinnamon shortbread
The one and only tricky part of this recipe is sandwiching the brown sugar cinnamon between two layers of shortbread dough, especially because the dough is soft and sticky. It requires some slight arts and crafts, but works like a charm!
First, take a sheet of parchment paper and place it under your baking dish. Trace the outline of the dish onto the paper using a marker. Then flip over the sheet (to conceal the marker) and set it aside.
Then, spread half of the shortbread dough into a prepped square baking dish. Spread the brown sugar cinnamon on top and press into an even layer.
Scoop the remaining shortbread dough into the center of the paper square and spread it even to fill that entire square. It can be a bit tricky, so I recommend holding the paper opposite the side you are spreading to prevent the sheet from moving around.
Once smooth, quickly flip the sheet of wax paper overtop the second half of the dough inside the pan. Peel back the paper and voila! Your brown sugar shortbread is now sandwiched. Gently smooth out the edges and it's ready to bake.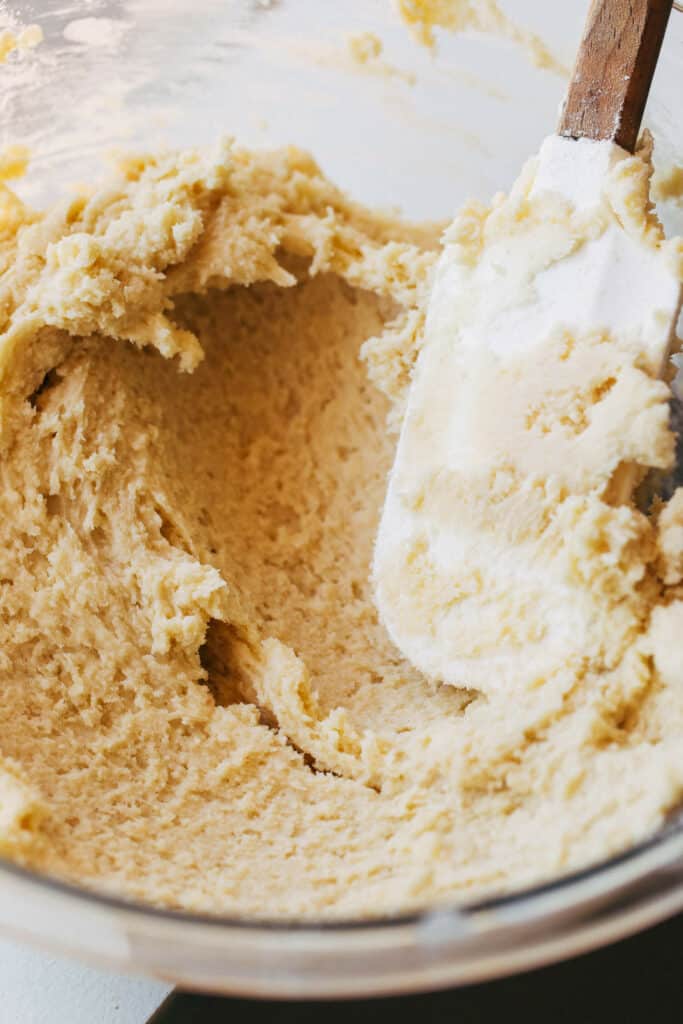 Brown sugar shortbread baking tips
Properly measure the flour – I say this in every post, and for good reason. It's the number one reason why most recipes fail, especially for cookie dough. If there's too much flour, this shortbread will turn out dry and crumbly. If you can, measure the flour with a food scale. Otherwise, to ensure you use the exact amount needed, gently spoon the flour into your measuring cup and level if off with a flat edge. If you scoop directly into the flour container, it packs it down into the cup which could leave you with 1/4 cup or more of added flour.
Softened butter – Before you start, make sure your butter is softened to room temperature. This will create a smooth shortbread dough that bakes into a delicious melt-in-your-mouth texture. Alternatively, you can pop the butter bars in the microwave and heat in 5 second intervals, turning the bars between each time. Be careful not to overdo it as you don't want MELTED butter. Then, place just the butter in the mixing bowl and mix on high speed until smooth.
Powdered sugar – This is the secret to a buttery shortbread. Powdered sugar blends seamlessly into the dough, creating a soft texture. I don't recommend replacing this with any other sugar as the outcome will be very different.
Mixing – After adding the flour, gently mix together the dough. Over mixing will create a tough shortbread.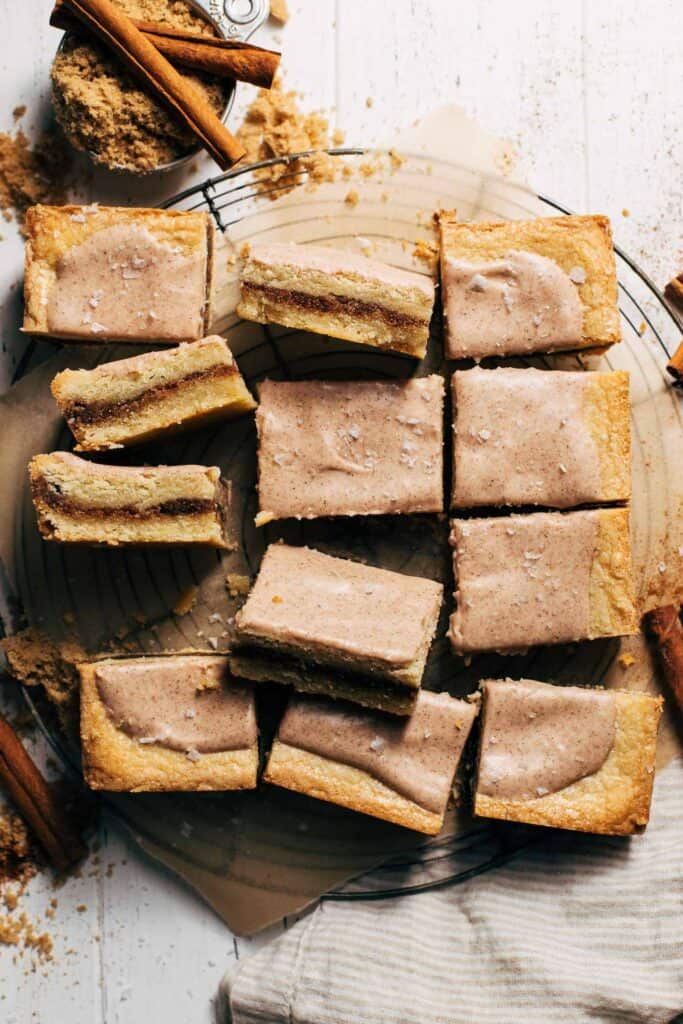 Chilling brown sugar shortbread bars
Once the bars are baked, it's VERY important to let them chill for at least 1 hour. If you dig in right away, they'll fall apart and turn into a buttery mess.
It's the same reason why you must let brownies cool before slicing. When chilled, the butter will solidify giving you a dense but soft texture. So if your shortbread come out of the oven looking TOO buttery, don't worry. Chilling will completely set these bars.
How to store brown sugar cinnamon shortbread
Keep the shortbread in the refrigerator in an air tight container. It will keep for up to 5 days.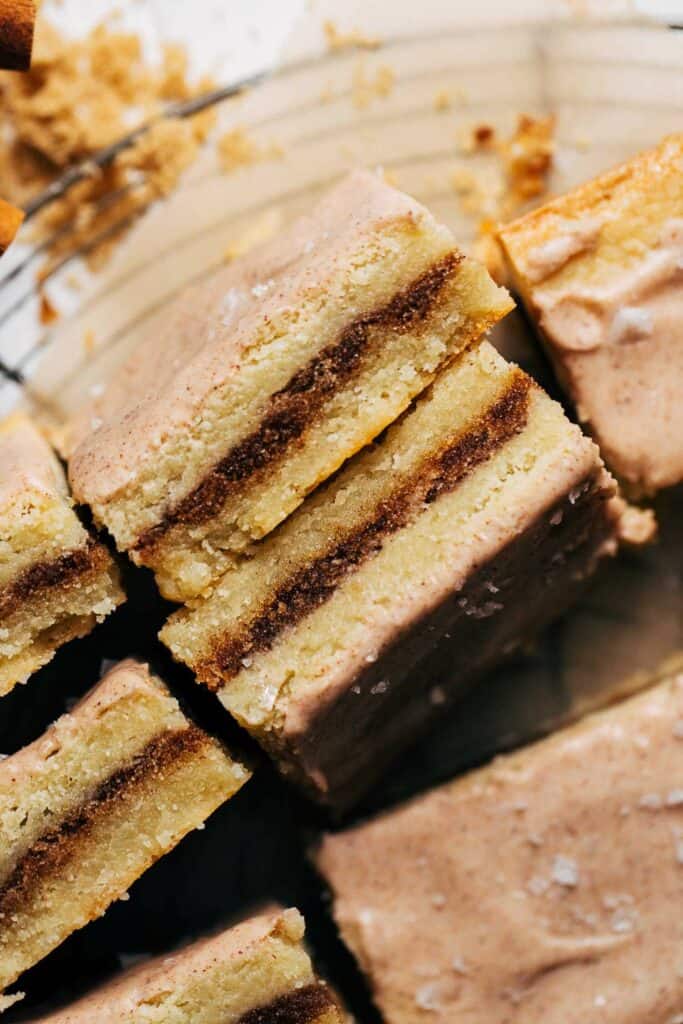 For more shortbread recipes, check out my:
Make sure to tag me @butternutbakery on Instagram and leave a review below if you make this brown sugar shortbread. To pin this recipe and save it for later, you can use the button on the recipe card, the buttons above or below this post, or on any of the photos above. Happy baking!
Print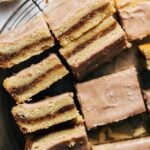 Brown Sugar Cinnamon Pop Tart Shortbread
---
Author: Jenna Barnard
Total Time: 2 hours 30 minutes
Yield: 16 bars
Description
My absolute favorite pop tart flavor reinvented in this delicious brown sugar shortbread! Buttery shortbread is baked with a layer of brown sugar cinnamon in the center. It smells just like a freshly toasted brown sugar cinnamon pop tart, but tastes ten times better!
---
Shortbread
1 1/2 cups (195g) all purpose flour
1 cup (100g) almond flour
1/2 tsp kosher salt
1 cup (220g) unsalted butter, room temp
1 1/2 cups (170g) powdered sugar
1 large egg
1 tsp vanilla extract or vanilla bean paste
Brown Sugar Cinnamon Filling
1 cup (205g) light brown sugar, packed
1 tbsp cinnamon
2 tbsp all purpose flour
2 tbsp unsalted butter, melted
1 tbsp pure maple syrup
Cinnamon Maple Icing
3/4 cup (75g) powdered sugar
1 tsp cinnamon
2 tbsp unsalted butter, melted and cooled
1 tbsp pure maple syrup
1–2 tbsp milk, room temp
Flaky sea salt, for sprinkling (optional)
---
Instructions
Shortbread
Preheat the oven to 325F and coat a square 8×8 dish with nonstick spray and line all 4 sides with parchment paper, allowing it to hang over the edges of the pan for easy release.
Trace a square outline of the pan on a separate sheet of parchment paper and set aside.
In a medium bowl, whisk together the salt, almond flour, and flour. Set aside.
In a large mixing bowl, using a hand or stand mixer with the paddle attachment, mix together the butter and sugar. Start on a low speed then slowly work your way up to prevent the sugar from flying out of the bowl.
Once smooth and fluffy, mix in the egg and vanilla.
Switch to a rubber spatula, add in the dry ingredients and mix by hand until combined. The consistency should be similar to mashed potatoes.
Scoop half of the dough into the prepared baking pan and spread it even. I recommend using a small offset spatula or the back of a spoon to get it as even as possible.
With the other half of the dough, spread it onto the sheet of parchment paper that we outlined earlier. Spread it to fit the square as best as possible.
Brown Sugar Cinnamon Filling
In bowl, combine all of the ingredients. It should resemble wet sand.
Crumble and lightly press an even layer of the filling on top of the shortbread dough that's inside the pan.
Then carefully flip the parchment paper dough on top of the filling layer and peel back the paper. The dough my stick a bit, so use your offset spatula or a butter knife to scrape it away as you carefully peel the paper.
Once all the paper is peeled back, the top layer of dough won't be perfect so spread it as even as possible.
Bake the shortbread for 40-45 minutes or until it's evenly puffed and the edges are a light golden brown.
Let the shortbread rest at room temperature for 30 minutes, then transfer to the refrigerator to chill uncovered for about an hour.
Cinnamon Maple Icing
Once the bars have chilled, make the icing.
Whisk together all of the ingredients, starting with just 1 tablespoon of milk.
If the icing appears too thick, mix in the additional tablespoon.
The icing will set up quickly, so spread it on top of the shortbread as soon as you're done mixing it.
Top with a light sprinkle of sea salt, slice, and enjoy!
Prep Time: 20 minutes
Cooling Time: 1 hour 30 minutes
Cook Time: 40 minutes
Category: Dessert
Method: Baking
Cuisine: American
Keywords: brown sugar shortbread, cinnamon shortbread, brown sugar cinnamon shortbread, brown sugar cinnamon pop tart, pop tart shortbread, shortbread recipe
Recipe Card powered by