This thick buttery shortbread melts in your mouth. It's rich, tender, smooth, and studded with ruby chocolate chips. They add a natural pink color and mild fruity flavor to these bars which makes them so unique. This recipe is also easy to make and that beautiful pink color makes these the perfect treat for your Valentine!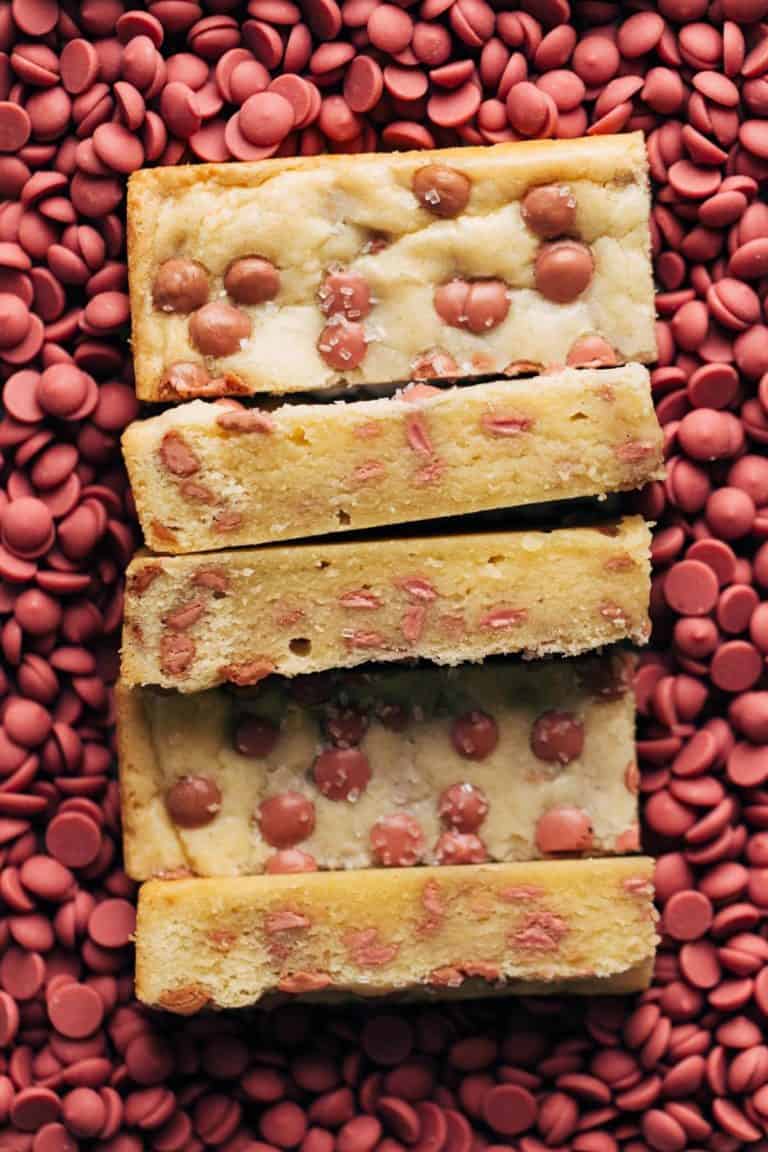 What is ruby chocolate?
You may think ruby chocolate is just white chocolate with pink dye added. But surprisingly, it's its own variety of chocolate along with dark, milk, and white chocolate. It's a new discovery in the chocolate world, founded in 2017 by a Belgian-Swiss cocoa company.
They're made with the same regular cocoa beans used to make all other chocolate. The difference is how the beans are processed before use. All cocoa beans come in a pod that has a purple hue. But during the fermentation process, the color is lost. With ruby chocolate, the beans undergo a different system of processing so that purple color turns pink once mixed into the final ruby chocolate.
What does ruby chocolate taste like?
Ruby chocolate is categorized between milk and white chocolate due to its high content of cocoa fat. That means isn't just as soft and creamy as milk and white, but the flavor is a whole other story.
Ruby chocolate has a slightly sweet and sour taste, almost like fresh berries. They give off that same slightly tart bite that you would get with raspberries or strawberries, but without the actual berry flavor. It's very unique and is something you definitely have to experience for yourself!
How to make buttery shortbread
When developing this recipe, I was inspired by Scottish shortbread. It's typically more rich, dense, and thick compared to regular shortbread due to its high fat content. In other words, it's just better.
So for this recipe, I made sure to up the butter and bake these bars low and slow. By doing so, you're left with a dense but buttery tender shortbread bar that just melts in your mouth.
Another ingredient I used to boost the richness of these bars is almond flour. By swapping out some of the regular flour with almond flour, I've decreased the absorbency of the dry ingredients. Almond flour does not absorb as much liquid as regular flour, so these bars are able to remain extra buttery but with a dense and closed texture.
Shortbread baking temperature and time
To make these bars extra soft, they're baked at 325F for 35-40 minutes. This lower temperature prevents the edges from browning too quickly and also allows the center to stay nice and soft.
But if you're looking for a more well-done shortbread, you can choose to bake them at 350F for 30-35 minutes. The edges will turn a deeper golden brown, and the texture will be less buttery and more chewy.
The most important step in this shortbread recipe
Once the bars are baked, it's VERY important to let them chill for at least 2 hours. If you dig in right away, they'll fall apart and turn into a buttery mess.
It's the same reason why you must let brownies cool before slicing. When chilled, the butter will solidify giving you a dense but soft texture. So if your shortbread come out of the oven looking TOO buttery, don't worry. Chilling will completely set these bars.
Can I swap out the almond flour?
If you have a nut allergy or just don't have almond flour on hand, the only good substitution would be oat flour. You can make your own by grinding oats in a food processor.
As I mentioned earlier, almond and/or oat flour do not absorb liquid at the same rate as regular flour. So if you decide to swap the almond flour with more all purpose flour, the bars will turn out a bit dry.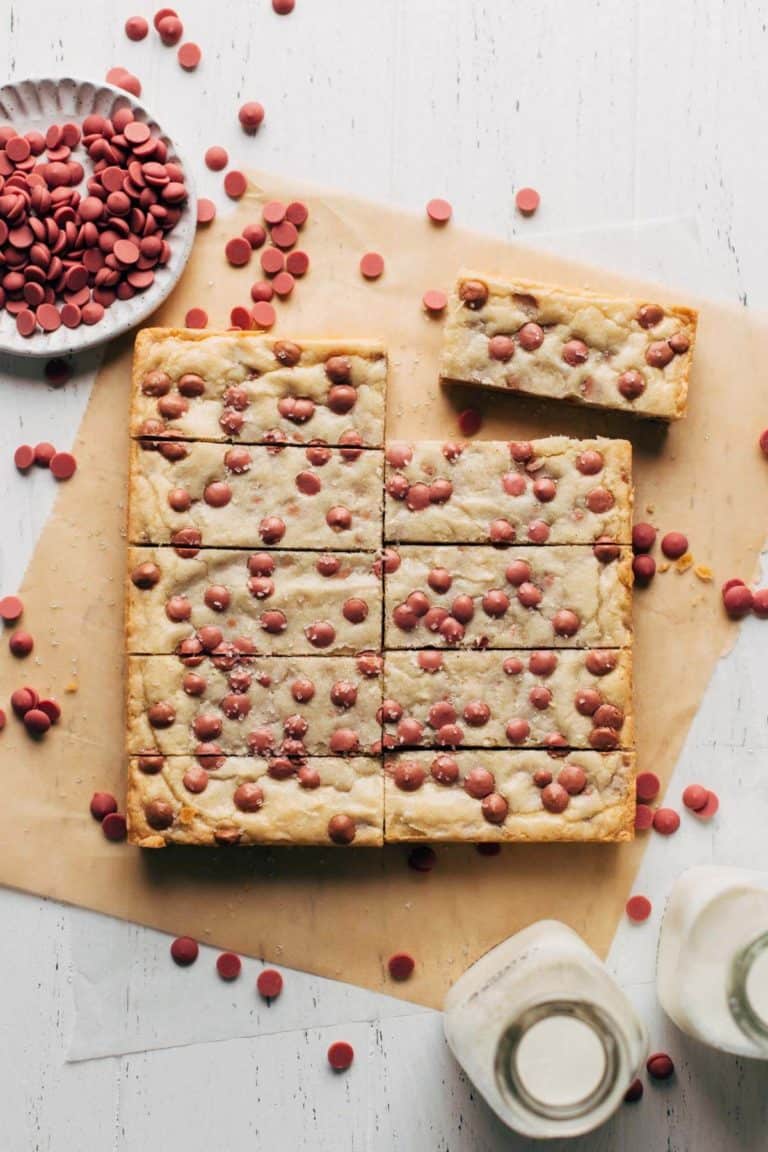 What can I use in place of ruby chocolate?
Ruby chocolate can be a bit tricky to get ahold of. I find mine in the bulk food section at Sprouts which is a health food store in my area. If you can't find it in chips, you could also try looking for ruby chocolate bars.
If you can't get your hands on them, you can easily swap them out with any chocolate you like, or even pink candy melts. I recommend swapping with milk chocolate chips and then drizzling or partially dunking the bars in pink candy melts, then top with crushed freeze dried raspberries to get that ruby chocolate flavor.
How to store shortbread bars
Store the bars in an air tight container in the refrigerator. They'll keep for up to 1 week.
For more cookie bar recipes, check out my:
Make sure to tag me @butternutbakery on Instagram and comment below if you make these Ruby Chocolate Shortbread Bars. To pin this recipe and save it for later, you can use the button on the recipe card or on any of the photos above. Happy baking!
Print
Buttery Ruby Chocolate Shortbread
---
Author: Jenna Barnard
Total Time: 1 hour + 2 hours chilling
Yield: 10 bars or 16 squares
Description
These thick and buttery shortbread bars are studded with ruby chocolate which adds a beautiful pink color and mild fruity flavor.
---
1 cup (220g) unsalted butter, room temp
1 1/2 cups (170g) powdered sugar
1 large egg
1 tsp vanilla bean paste (or vanilla extract)
1/4 tsp almond extract
1/2 tsp salt
1 cup (100g) almond flour*
1 1/2 cups (195g) all purpose flour
1 cup (170g) ruby chocolate*
Sparkling sugar for sprinkling on top (optional)
---
Instructions
Preheat the oven to 325F (SEE NOTES) and coat a square 8×8 dish with nonstick spray and line with parchment paper, allowing it to hang over the edges of the pan for easy release.
In a medium bowl, whisk together the salt, almond flour, and flour. Set aside.
In a large mixing bowl, using a hand or stand mixer with the paddle attachment, cream together the butter and sugar. Start on a low speed then slowly work your way up to prevent the sugar from flying out of the bowl.
Once smooth and fluffy, mix in the egg, vanilla, and almond extract.
Next, add in the dry ingredients and mix until combined. The consistency should be similar to mashed potatoes.
Pour in the chocolate and fold in by hand using a rubber spatula.
Scoop the dough into the prepared baking pan and spread it even. I recommend using a small offset spatula or the back of a spoon to get it as even as possible.
Sprinkle a couple extra chocolate chips on top if desired.
Bake for 35-40 minutes, or until the edges are a pale golden brown.
Let the shortbread rest at room temperature for 30 minutes, then transfer to the refrigerator to chill uncovered for at least 2 hours. Do not dig into the shortbread too early as it will not be set.
Once chilled and set, lift the shortbread out of the pan and slice into bars. Sprinkle with sparkling sugar if desired (for decorative purposes) and enjoy!
Notes
BAKING TEMPERATURE – In the photos shown in this post, the bars were baked at 325F. If you'd prefer to have a more well-done bar, bake at 350F for 30-35 minutes. The edges will turn a bit more golden brown but they'll have more of a chew rather than a melt-in-your-mouth texture.
ALMOND FLOUR – Although I highly recommend sticking with almond flour, the only other substitute for this would be oat flour. You can make your own by grinding oats in a food processor. Do not swap with regular all purpose flour as this will make the bars too dry.
RUBY CHOCOLATE – I find my ruby chocolate chips in the bulk food section at Sprouts which is a health food store in my area. If you can't find ruby chocolate, I recommend swapping with milk chocolate chips and then drizzle or partially dunk the sliced bars in pink candy melts. Sprinkle with crushed freeze dried raspberries to get that fruity ruby chocolate flavor.
Prep Time: 20 minutes
Cook Time: 40 minutes
Keywords: shortbread, scottish shortbread, ruby chocolate, cookie bars
Recipe Card powered by