These moist vanilla cupcakes are baked with brown butter to give them a rich nutty flavor. They're also topped with a delicious chocolate frosting that is silky, creamy, and has a secret ingredient that makes it taste better than canned chocolate frosting!
This post is sponsored by SunButter and all thoughts and opinions are my own. Thank you for supporting the brands that make Butternut Bakery possible!
How to make brown butter for brown butter vanilla cupcakes
Brown butter is the magic sauce that can elevate any recipe. It takes ordinary butter and bumps up the flavor, creating a rich and nutty base to any recipe. If you want to turn a basic recipe into something so much more, adding brown butter is the way to go.
The best part is that it's super easy to make. I walk through the entire browning process in depth in a separate post, but here's how it's done in a nutshell:
Cut your butter into cubes and add them to a saucepan. Place this over medium-high heat and allow the butter to melt down.
After a couple minutes, the butter will start to bubble and foam will begin to form on the top. Just keep mixing as this is when your butter will slowly start to change color.
Once the foam subsides, that's when you're very close to the full on brown butter stage. Keep mixing until the butter reaches a deep amber color, and this will happen pretty quickly.
Remove from heat and carefully pour into a glass container to cool, scraping the bottom of the pan so no brown bits are left behind. That's where all the flavor is.
When the butter is no longer hot to the touch, you can then add it into your vanilla cupcake batter.
What makes this an EASY vanilla cupcake recipe – reverse creaming method
Once the brown butter is made, the rest of this recipe is a BREEZE. It's might be the easiest vanilla cupcake recipe you'll ever make. This is all due to the reverse creaming method.
The reverse creaming method goes against the script of traditional caking making. That being, where you begin by creaming together room temperature butter and sugar in order to whip air into the butter. This is what helps the cake to rise.
The creaming method is also more effective in creating a tighter crumb and structure to your cake. Once the flour is added, the gluten beings to activate as it's being mixed into the wet ingredients. The more you mix, the tougher the gluten strands become which is why you never want to over mix your batter.
The reverse creaming method is the opposite. You begin by mixing together all of the dry ingredients, including the sugar. Then, mix together all of the wet ingredients in a seperate bowl.
Pour the wet ingredients into the dry ingredients and mix. Then, your batter is done! It's a much easier and faster method that gives you a softer cake.
This is because the wet ingredients coat the flour, inhibiting gluten formation. Since the gluten isn't being worked nearly as much as it is the creaming method, you're left with a more tender cake.
The reason why this method works best for this vanilla cupcake recipe is because we're using melted butter. It's more effective in soaking the flour than room temperature butter. Not only that, but it's much more difficult to whip an efficient amount of air into melted butter. That's why the traditional creaming method wouldn't work as well here.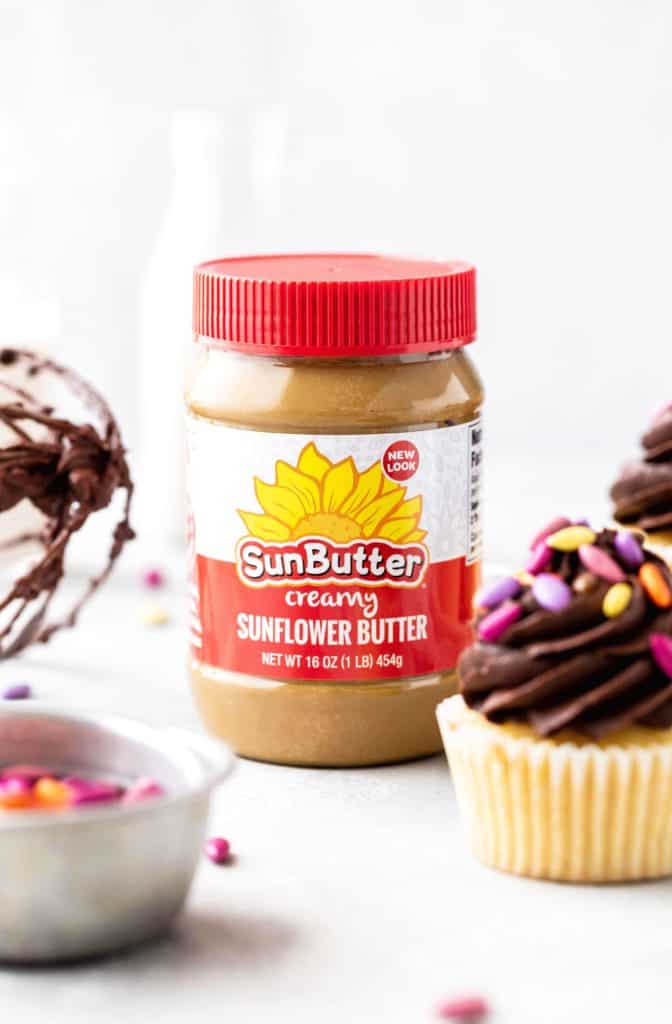 How to make chocolate frosting taste even better than canned
Now let's move on to the frosting because TBH it's kind of the best part. It's fudgy, creamy, smooth, and tastes almost exactly like canned chocolate frosting. And let's not kid ourselves here, canned frosting is kind of amazing.
So what makes this frosting so good? SunButter! Yep, sunflower seed butter is the secret to getting delicious chocolate frosting.
The reason it's the perfect ingredient is because it doesn't have as strong a flavor as a nut butter but you still get that thick and creamy texture. It blends right into the frosting to make it extra silky and fudgy.
Not only that, but it also makes the frosting stable and easily pipeable. It just has that perfect balance of not too thin and not too thick.
SunButter carries a wide variety of sunflower seed butters, but Creamy SunButter works best for this chocolate frosting recipe. It's thick and doesn't separate like a natural butter would. You also get the slightest flavor from it which works so well to balance out the sweetness of the buttercream.
Frosting and decorating vanilla cupcakes
Now that our vanilla cupcakes are baked and the chocolate frosting is ready, it's time to bring the two together. Here is what I did to pipe on those perfect swirls.
For the frosting, I used a large piping bag fitted with this large closed star tip. That's how you get those deep ridges.
Pipe a circle around the edge of the cupcake then continue to pipe a smaller circle on top of the large one, all in one motion. Lift the tip from the center of the swirl once you've completed the circle.
Top with some chocolate covered sunflower seeds or your favorite sprinkles. I prefer these seeds from Trader Joe's because of their unique colors.
The cupcakes are best when served at room temperature but you can also serve them chilled. To store, place the cupcakes in an airtight container and keep them in the fridge. They're best on the day of, but they will keep for about 3 days in the fridge before they start to dry out.
For more delicious cupcake recipes, check out my:
Make sure to tag me @butternutbakery on Instagram or leave a comment below if you make these Brown Butter Vanilla Cupcakes with Chocolate Frosting. I love seeing my recipes come to life in YOUR kitchen! To pin this recipe and save it for later, you can use the button on the recipe card, the buttons above or below this post, or on any of the photos above. Happy baking!
Print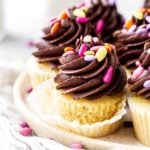 Brown Butter Vanilla Cupcakes with Chocolate Frosting
---
Description
These moist vanilla cupcakes are made with brown butter to give them a rich and nutty flavor. They're also topped with a delicious fudgy chocolate frosting and chocolate covered sunflower seeds.
---
Vanilla Cupcakes
1 1/4 cups all-purpose flour *see notes for GF option
1 1/2 tsp baking powder
1/4 tsp salt
1 cup granulated sugar
2 large eggs
2 tsp vanilla extract
1/2 cup + 2 tbsp unsalted butter, browned to make 1/2 cup
2 tbsp vegetable or canola oil
1/2 cup milk
Chocolate Frosting
1 cup unsalted butter, room temp
1/3 cup Creamy SunButter
2 cups powdered sugar
1/2 cup dutch processed cocoa powder
1 tsp vanilla extract
---
Instructions
Vanilla Cupcakes
First make the brown butter. See this post all about how to do so. Pour the browned butter into a measuring glass to ensure you have exactly 1/2 cup. If you have too much, take some out. If you don't have enough, add a little water to level it off. Cool at room temperature before using.
Preheat your oven to 350F and line a cupcake tray with 12 paper liners.
In a large bowl, whisk together the flour, baking powder, salt, and sugar. 
In another bowl, mix together the eggs, vanilla, cooled brown butter, oil, and milk. 
Mix in half of the wet ingredients into the dry ingredients. Once it's almost combined, mix in the rest of the wet ingredients.
Fill your cupcakes half way. You might have a little bit of batter leftover, enough to make one extra cupcake if you like. Bake for 15-17 minutes or until a toothpick in the center comes out clean.
Let the cupcakes cool completely before frosting.
Chocolate Frosting
Using an electric mixer, cream together the butter and SunButter. Once smooth, mix in one cup of powdered sugar then the cocoa powder. Finish by mixing in the remaining cup of powdered sugar and vanilla.
Pipe on your frosting and top with some chocolate covered sunflower seeds or sprinkles. Store in the fridge if you are not serving the cupcakes right away. Enjoy!
Notes
GLUTEN FREE – I haven't tested it, but I believe this cake would work well with gluten free flour. Sub the flour with a good quality gluten free baking flour – one with xanthan gum. Also make sure to spoon the flour into the measuring cup and level it off with a flat edge. Don't scoop directly into the flour, otherwise this will pack it into the cup and leave you with way too much flour – thus a dry cake. 
Prep Time: 40 minutes
Cook Time: 15 minutes
Keywords: vanilla cupcakes, brown butter cupcakes, chocolate frosting
Recipe Card powered by