There's no better way to celebrate a birthday than with adorable sprinkle birthday cupcakes! These cupcakes are super moist and topped with a sweet vanilla buttercream and homemade sprinkles. Trust me, they're SO easy to make and you can choose any color sprinkles you like. It's the perfect homemade touch to elevate a simple vanilla cupcake recipe.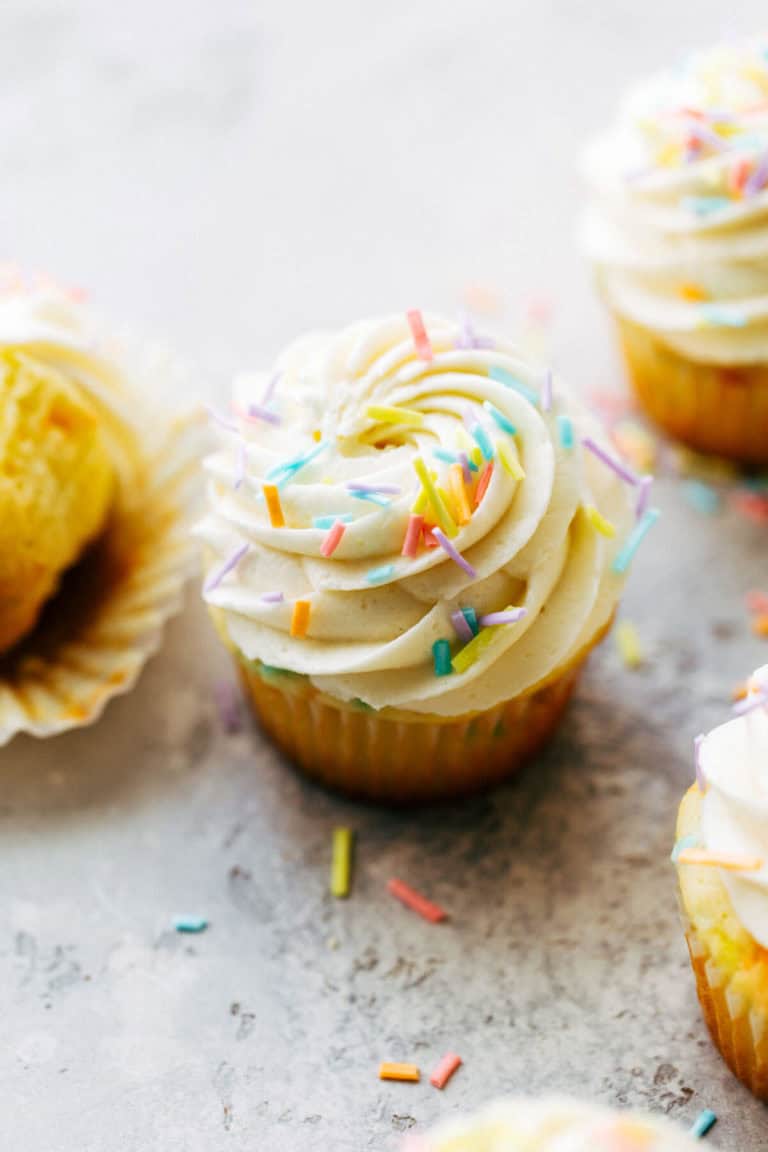 What makes these the best birthday cupcakes?
For starters, this recipe makes 18 cupcakes which is the perfect amount for a crowd. That's why these are great for parties…or for a small group. More cupcakes for everyone!
More importantly, the cupcakes themselves are super moist and flavorful without being too sweet. This makes them the perfect base for the rich and sweet vanilla buttercream on top.
The batter also has a combo of butter and oil, allowing the cupcakes to rise properly while also maintaining a moist texture.
But above all, these are topped with homemade sprinkles. They're so fun and so easy to make. Create as many colors as you like for your own personalized mix of rainbow sprinkles.
How to make homemade sprinkles
Homemade sprinkles are so fun to make and require minimal effort! The most important part is to make sure you have all the right tools. Before getting started, make sure you have piping bags and a few small round piping tips. Besides that, all you need is a baking sheet, parchment paper, and a few small bowls.
To make the homemade sprinkles, simply mix together a combination of powdered sugar, corn syrup, water, and vanilla. This creates a really quick royal icing that will dry down and harden to create the sprinkles.
Once that's mixed together, separate the icing out into a few small bowls. You should have one bowl for every color you use. For me, I chose 5 colors from this kit.
Dip a toothpick into your gel food coloring and mix each individual bowl with its own color. Gel food color goes a long way so you only need a tiny bit. If you want more vibrant sprinkles, add more color as the colors will fade slightly as the sprinkles dry.
Once all of your colors are mixed, transfer the icing to individual piping bags fitted with a small round no.3 piping tip.
Line a large baking sheet with parchment paper and pipe long lines all across the sheet. If you run out of room, add another baking sheet.
Let the sprinkles dry out overnight. By the next day, they will have completely hardened. Use a knife to break up the sprinkles into small peices.
Shake the sprinkles through a fine mesh sieve to remove any dusty bits, only to be left with beautiful homemade sprinkles!
Store at room temperature until you're ready to make the cupcakes.
Yellow cupcakes from scratch
I absolutely love this yellow cake recipe because of how moist but fluffy it is. These cupcakes rise perfectly, but remain moist without drying out.
The reason for this is the combination of room temperature butter and oil. The butter combined with the sugar granules help create air pockets to create the light and fluffy texture. Then the oil comes in to add tons of moisture without weighing the cake down.
Another reason why these cakes are so moist is the use of Greek yogurt. I've used this ingredient in so many of my recipes to create a super moist texture…my chocolate chip banana bread being the most notable.
2% Greek yogurt has more fat and protein than milk, so it creates a much richer and stronger texture as opposed to using just milk.
If you can't find Greek yogurt where you live, sour cream or plain yogurt is also a great option.
But all this moisture needs to be balanced out with the right amount of dry ingredients. These cupcakes use a combination of all-purpose flour and cornstarch. The cornstarch helps lighten the texture, creating a tender cupcake but with a dense crumb.
These cupcakes are also flavored with both vanilla extract and almond extract. Vanilla is a given, but adding a small amount of almond helps to bring in that "birthday cake" flavor.
Most importantly, these cupcakes are not overly sweet. They have the right amount of flavor that pairs perfectly with the sweet and rich vanilla buttercream on top.
Vanilla buttercream recipe
This is a fool proof recipe that comes together in minutes. All you need are 5 ingredients:
Powdered sugar
Unsalted butter
Vanilla
Milk
Salt
Combining all of these ingredients gives you a silky and sweet buttercream that is perfect for these yellow birthday cupcakes.
This recipe makes the right amount for a single-tier swirl on 18 cupcakes. If you want a double swirl (shown in the images in this post), you will need to double the recipe. Most people refer a moderate amount of buttercream which is why I made the recipe this way.
How to top with homemade sprinkles
It's time to put these cupcakes together! When your cupcakes have COMPLETELY cooled, top with the buttercream. Transfer the buttercream to a piping bag fitted with a large star tip and create a small swirl on top.
If you plan on eating these cupcakes the day of, top with the homemade sprinkles. If you're making these cupcakes a day ahead, hold off on the sprinkles until you're close to serving them.
Since these sprinkles don't have a glossy protective coating like store bought sprinkles, they will wilt and melt into the buttercream after about a day. Their colors won't bleed, but the sprinkles will bend into the shape of the buttercream over time.
How to store birthday cupcakes
If you're making the cupcakes ahead of time, store the cupcakes without the sprinkles in an air tight container in the refrigerator.
When you're ready to serve them, allow them to reach room temperature and then sprinkle on the homemade sprinkles.
For any leftovers, simply store in an air tight container in the refrigerator.
How long do they keep
These cupcakes will keep in the fridge for up to 5 days. The sprinkles will wilt, but they'll still taste delicious! Here is a container that's very similar to the one I use to store cupcakes.
For more birthday desserts, check out my:
Make sure to tag me @butternutbakery on Instagram and leave a review below if you make these Birthday Cupcakes. To pin this recipe and save it for later, you can use the button on the recipe card, the buttons above or below this post, or on any of the photos above. Happy baking!
Print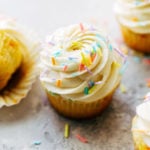 Birthday Cupcakes with Homemade Sprinkles
---
Author: Jenna Barnard
Total Time: 24 hours 20 minutes
Yield: 18 cupcakes
Description
These are the perfect birthday cupcakes with a moist vanilla cake, easy vanilla buttercream, and homemade sprinkles on top!
---
Homemade Sprinkles
3 cups (350g) powdered sugar
2 tbsp corn syrup
3 tbsp water
1/2 tsp vanilla extract
Gel food coloring (I used this set)
Birthday Cupcakes
2 cups (270g) all purpose flour *see notes for GF option
2 tbsp cornstarch
1 1/2 tsp baking powder
1/4 tsp salt
1/4 cup (55g) unsalted butter, room temp
1/4 cup (50ml) vegetable or canola oil
1 1/4 cup (250g) granulated sugar
3 large eggs
2 tsp vanilla extract
1/4 tsp almond extract
1/2 cup (130g) 2% Greek yogurt (or sour cream)
1/2 cup (130ml) whole milk
1/3 cup homemade sprinkles
Vanilla Buttercream*
1 cup (220g) unsalted butter, room temp
5 cups (550g) powdered sugar
2 tsp vanilla extract
2–3 tbsp milk
Pinch of salt
---
Instructions
Homemade Sprinkles
NOTE: These will need to be made a day ahead
Combine all of the ingredients, minus the food coloring. It should turn to the consistency of glue. If it's too thick, add another tsp of water. If too thin, add a spoonful of powdered sugar.
Choose your colors and separate the icing into the numbers of colors you have.
Dip a toothpick into the food coloring and mix it into each individual bowl. You only need a small amount.
Keep in mind that the sprinkle colors will fade slightly as they dry, so if you want more vibrant sprinkles add more food coloring.
Add the icing to individual piping bags fitted with a small round no.3 piping tip.
Cover a large sheet tray with parchment paper and pipe long lines of each color down the tray. If you run out of space, add another tray.
Allow the sprinkles to dry out overnight.
Once dry, use a knife to cut the sprinkles. They will break very easily. Shake out the sprinkles in a fine mesh sieve to get rid of any dusty bits. Store at room temp.
Birthday Cupcakes
Preheat the oven to 350F and line 2 cupcake tins with 18 liners
Whisk together the flour, cornstarch, baking powder, and salt in a bowl and set aside.
Whisk together the butter, oil and sugar until well combined.
Mix in the eggs one at a time, vanilla extract, and almond extract.
Mix in the Greek yogurt.
Alternate adding the dry ingredients and the milk, starting and ending with the dry ingredients.
Once smooth, carefully fold in the sprinkles. Only give it a few turns as you don't want the sprinkles to bleed into the batter.
Evenly distribute the batter between 18 liners 2/3 of the way full.
Bake for 17-20 minutes or until a toothpick in the center comes out clean with a few moist crumbs.
Allow the cupcakes to cool in the pan for 15 minutes, then transfer to a cooling rack.
Vanilla Buttercream
Whip the butter using the whisk attachment until smooth and fluffy.
Mix in one cup of powdered sugar at a time, adding the vanilla and milk when the mixture becomes too thick and dry.
Finish with a pinch of salt and an additional tablespoon of milk if the buttercream is still too thick. 
Frost your cupcakes and top with your homemade sprinkles! Make sure to only add the sprinkles on the day you're ready to serve them. They'll being to melt into the buttercream if left overnight.
Notes
*This recipe is enough to create a single-tier swirl on each cupcake (or cover them like I do with my Guinness cupcakes). If you like more buttercream, double the recipe.
GLUTEN FREE – I haven't tested it, but I believe this cake would do well with gluten free flour. Swap the flour with a good quality gluten free baking flour. I like Bob's Red Mill 1-to-1 gluten free baking flour. I also suggest weighing the flour, rather than measuring by cups, to ensure accuracy. 
Prep Time: 24 hours
Cook Time: 20 minutes
Keywords: birthday cupcakes, cupcakes, funfetti cupcakes, homemade sprinkles
Recipe Card powered by