These butterbeer cupcakes will tell you which Hogwarts house you belong to! Topped with tiny chocolate covered sorting hats, each one is filled with a different Hogwarts house color. Take a bite and see for yourself! Then, dig into a deliciously moist butterbeer cupcake topped with butterscotch buttercream and homemade butterscotch sauce.
How to make homemade butterscotch sauce
Much of the flavor of these butterbeer cupcakes comes from a rich butterscotch sauce. You can choose to use store bought, or make it from scratch! The homemade version is so easy to make, so I highly recommend going this route to get the most flavor out of your cupcakes.
The base of the sauce is just three ingredients:
Butter
Dark Brown Sugar
Heavy Cream
All three are combined in a saucepan over medium heat. After about 6 minutes, the sugar is completely dissolved an the mixture will have thickened into a thin sauce consistency.
An extra layer of flavor is added with a bit of vanilla and rum flavor extract. They both add richness and depth to this simple sauce. Once combined, just let it cool to thicken. What I love about this butterscotch sauce is that it's way easier to make than salted caramel sauce, but provides a big flavor playoff to this cupcake recipe.
How to flavor butterbeer cupcakes
Butterbeer is a very unique flavor because…well…it's completely made up. But to give these cupcakes that magical element, here's what you'll need:
Dark Brown Sugar – The extra molasses in dark brown sugar adds a rich flavor to these cupcakes. It also helps with the texture making these cupcakes super moist.
Cinnamon – Just a hint of cinnamon is used to warm up these cupcakes to give them a cozy and spiced feel.
Butter Flavor Extract – Yes, there's an extract that tastes just like butter. It's also strong, so a tiny bit goes a long way. It adds a smooth and creamy aspect to these cupcakes that helps mimic the butterbeer flavor.
Rum Flavor Extract – Nope, not actual rum. Rum flavor extract TASTES like rum but without the alcohol. That's why I love it in these cupcakes, because it adds that warm rum flavor without the tinge of alcohol aftertaste.
These four flavors combined help to recreate that rich and creamy butterbeer flavor, making these cupcakes the perfect Harry Potter inspired dessert.
Chocolate covered sorting hats
Of course, the centerpiece (and arguably the best part) of these cupcakes are the chocolate sorting hats on top. They're so easy to make, but nerve wracking to bite into. With each hat containing a different Hogwarts house color, you're able to truly discover which one you belong to!
To make these cute hats, you'll need these ingredients and tools:
Chocolate sandwich cookies – Split in half, these provide the base of the hat. I like to use off brand sandwich cookies (not Oreo) because most off brands have holes in the cookie. This then allows you to stick a toothpick into the hat for dunking in the chocolate.
Gel food coloring – Use gel and not liquid! Gel is not only much more potent, but liquid will likely thin out the buttercream used to fill these hats. If the buttercream is too thin, the hats won't stand tall.
Piping tip – For the best results, use a round pastry tip for piping on the hats.
2 cup measuring glass – Or any tall glass that can fit a hat inside. Since we're dunking the hats to coat in chocolate, it's important to use a tall but narrow container so that the hats don't touch the bottom of the container when dunked.
Toothpicks – Stick a toothpick into the button of the frozen hats to easily dunk in chocolate.
Cardboard box – I just use whatever Amazon box I have laying around! This is used to stick the hats into so that they can set without disrupting the bottoms of each hat.
My biggest tip for dunking the hats is to dunk them fresh from the freezer into chocolate that has cooled for about 10 minutes. And by fresh from the freezer, I mean pull the hats out of the freezer one-by-one for dunking. Since it's buttercream, it will soften fast. If it softens, you'll be able to see the color of the buttercream poking through the chocolate thus ruining the house surprise!
Once they're all dunked, immediately transfer to the refrigerator to chill solid. Then when it comes time to place them on top of the cupcakes, they'll be very easy to handle.
Can these cupcakes me made gluten free?
I haven't tested it, but I have no doubt that swapping the flour with a good quality gluten free all purpose baking flour will work just fine. Just make sure the mix includes xanthan gum, and weigh the flour instead of measuring by cups. Since gluten free flour is more dense than regular flour, it's very easy to use too much and weighing will prevent that from happening.
Easier sorting hat options
If you'd rather not make these sorting hats, you can still have that surprise element by filling the cupcakes with the colorful buttercream.
Once the cupcakes have cooled, core out the center of each cupcake about halfway through. Then fill with the individual house colors. Now when someone takes a bite of a cupcake, they'll still have the sorting house element just without the hats themselves.
How to make butterbeer cupcakes ahead of time
Since the hats add quite a few extra steps, you can also prep the cupcakes a day ahead and chill overnight. As long as they're in an air tight container, they'll keep for about 2 days.
You can also make the butterscotch sauce a few days ahead of time. Store in a sealed jar in the refrigerator. When you're ready to use it, heat it up in the microwave for about 10 seconds. It don't take long to return it to the sauce consistency.
For more halloween dessert recipes, check out my:
Make sure to tag me @butternutbakery on Instagram and leave a review below if you make these sorting hat butterbeer cupcakes To pin this recipe and save it for later, you can use the button on the recipe card, the buttons above or below this post, or on any of the photos above. Happy baking!
Print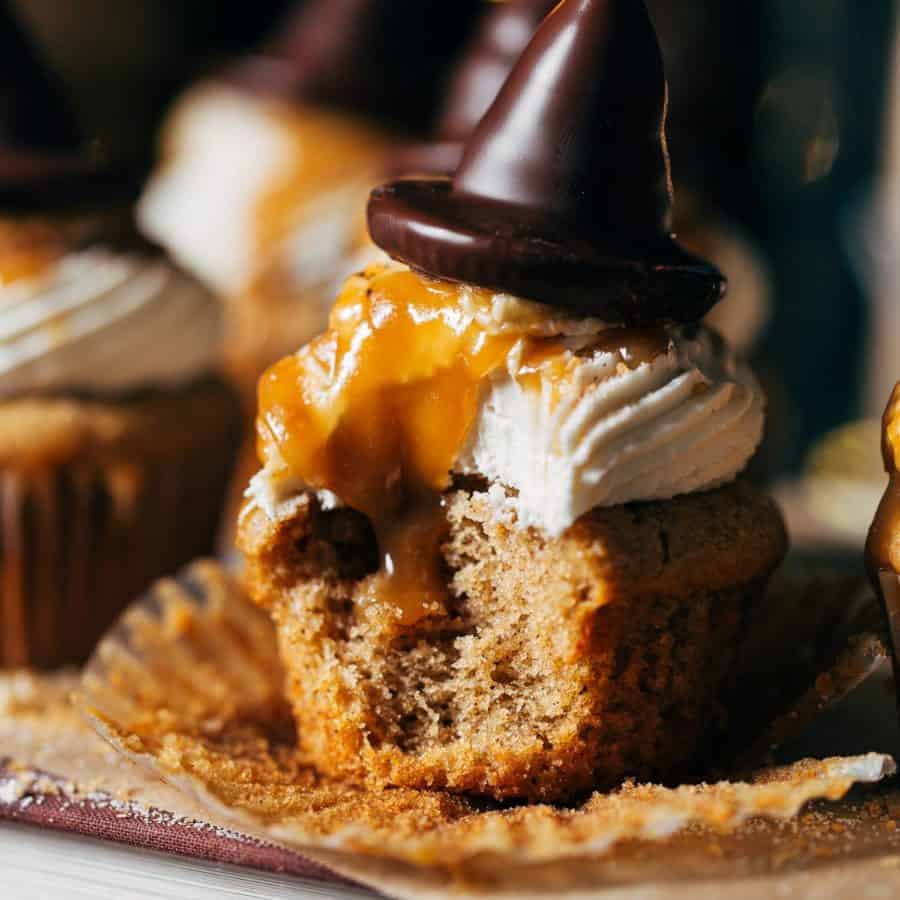 Sorting Hat Butterbeer Cupcakes
---
Author: Jenna Barnard
Total Time: 1 hour 15 minutes + 1 hour cooling
Yield: 12 cupcakes
Description
These moist butterbeer cupcakes are flavored with butter and rum extracts and topped with butterscotch sauce and a sorting hat. Take a bite and it will tell you which Hogwarts house you belong to!
---
Butterscotch Sauce*
1/4 cup (55g) unsalted butter
1/2 cup (100g) dark brown sugar, packed
1/2 cup (120ml) heavy cream
1/2 tsp salt
1 tsp vanilla extract
1 tsp rum flavored extract
Butterbeer Cupcakes
1 cup (240ml) milk
1 tsp vinegar
1/2 cup + 2 tbsp (120g) canola or vegetable oil
2 tsp vanilla extract
3/4 tsp butter flavored extract
3/4 tsp rum flavored extract
1 cup (200g) dark brown sugar, packed
1 3/4 cups (230g) all purpose flour
1 1/2 tsp baking powder
1/2 tsp baking soda
1 tsp ground cinnamon
1/4 tsp salt
Buttercream
1 cup (220g) unsalted butter, room temp
5 cups powdered sugar
2 tsp vanilla extract
1–2 tbsp milk
Pinch of salt
Red, yellow, green, and purple gel food coloring
2 tbsp butterscotch sauce
Sorting Hats**
6 chocolate sandwich cookies***
4 oz dark chocolate
2 tsp canola or vegetable oil
---
Instructions
Butterscotch Sauce
In a saucepan, melt the butter over medium heat.
Once melted, mix in the brown sugar and heavy cream. Bring the mixture to a simmer and let it bubble for 6 minutes.
Remove from heat and mix in the salt, vanilla, and rum extract. It should look thin, dark, and slightly translucent.
Pour into a glass and allow it to cool at room temperature while we make the cupcakes.
Butterbeer Cupcakes
Preheat the oven to 350F and line a cupcake tin with 12 paper liners.
In a measuring glass, combine the milk and vinegar and set aside.
In a medium-sized bowl, whisk together the flour, baking powder, baking soda, cinnamon, and salt. Set aside.
In a large mixing bowl, whisk together the oil, sugar, and extracts. It should be clumpy like wet sand.
Mix in 1/2 of the milk mixture, followed by half of the dry ingredients. Once smooth, mix in the rest of the milk, again followed by the rest of the dry ingredients. The batter should be fairly thin, but not watery.
Pour the batter into each cupcake liner, filling about 3/4 full. Bake for 15-18 minutes or until a toothpick in the center comes out clean with a few moist crumbs.
Allow the cupcakes to cool inside the pan for about 10 minutes, then transfer to a cooling rack to cool completely.
Buttercream
In a large bowl using a hand or stand mixer with the whisk attachment, combine the butter with 1 cup of powdered sugar.
Once smooth, continue to mix in the powdered sugar one cup at a time. When the mixture becomes too thick, mix in one tablespoon of milk.
After all of the sugar is mixed in, add the vanilla and salt.
Now have 4 separate bowls ready, filling each with 3 tablespoons of buttercream. Color each bowl with the individual house colors – red for Gryffindor, green for Slytherin, purple for Ravenclaw, and yellow for Hufflepuff.
To the rest of the buttercream, mix in two tablespoons of the cooled butterscotch sauce and set aside.
Sorting Hats
Split the cookies in half and remove the cream filling. Arrange the cookies, frosting side up, on a plate.
Pipe the individual buttercream colors onto the cookies (each house gets 3 cookies), making a tall witch hat shape. Do so using a round piping tip, or a ziplock bag with a corner snipped off.
Place the hats into the freezer to chill firm, about 30 minutes.
When it gets close to the 30 minute mark, melt the chocolate and oil in a heat-safe container (preferably a 2 cup measuring glass) in the microwave. Heat in 30 second intervals, stirring between each time, until smooth. Allow it to cool for about 5-10 minutes.
When the hats are firm, coat each one in chocolate. My preferred method is to stick a toothpick into the button of the hat. Then, tilt the container of chocolate so that it pools to one side. Dunk the hat into the chocolate and twirl to coat it all around. Lift it out and tap off any excess. Then, stick the toothpick into the bottom of a cardboard box so that the hat can dry without disrupting the bottom (see picture in post for reference).
Otherwise, dunk the hats using a fork and place onto a plate to dry. Chill the hats for about 15 minutes to allow the chocolate to set.
Pipe the butterscotch buttercream onto each cooled cupcake. Top with a drizzle of butterscotch sauce, followed by a sorting hat.
Now take a bite to join your Hogwarts house!
Notes
*BUTTERSCOTCH SAUCE – You can also use store-bought butterscotch sauce, it just might be a bit more thin than my homemade version.
**SORTING HATS – If you'd rather not go through the steps of making the hats, you can instead fill each cupcake with the house-colored buttercream. Once the cupcakes have completely cooled, core out the cupcakes about halfway through. Then fill with the house buttercream and top with the butterscotch buttercream.
***SANDWICH COOKIES – I highly recommend using an off-brand chocolate sandwich cookie and not Oreo. This is only if you plan to use my chocolate-dunking toothpick method. Many off-brand sandwich cookies have holes in the cookie, allowing you to stick a toothpick into the hats. Any type of sandwich cookie will do, whether that's chocolate, vanilla or even gluten free. Just as long as it has holes!
Prep Time: 1 hour
Cook Time: 15 minutes
Keywords: sorting hat cupcakes, butterbeer cupcakes, harry potter cupcakes, sorting hats
Recipe Card powered by