This dessert is for all my fellow Harry Potter fans out there! This delicious caramel slice is made with a chewy ginger blondie base, soft butterbeer caramel, and a layer of butterscotch chocolate swirled on top. It's rich, chewy, and tastes just like a glass of butterbeer. Enjoy them chilled for a more firm caramel, or room temp for all the melty goodness.
What is butterbeer made of?
Butterbeer is like a cross between cream soda, rum, and caramel. It has a creamy butterscotch flavor but can be made in many different ways.
The traditional Harry Potter version is a creamy brew with a hint of alcohol. It's a mystery as to what EXACTLY goes into this Three Broomsticks drink, but it's assumed to have a combination of cream soda, cream, rum, and butterscotch sauce. This makes it a fizzy, creamy, and rich drink which is exactly what I imagined it as.
To make it more accessible, Harry Potter World makes an alcohol free version since, of course, their main customer is under the legal drinking age. So there are many different variations of this recipe out there, but all hit along the same notes of creamy, sweet, and buttery.
How to incorporate butterbeer flavor into caramel twix
In order to capture the essence of butterbeer in this rich caramel slice recipe, a few key flavors must be incorporated – butter, butterscotch, and warm spices.
In order to ensure this recipe has all three, I use one flavor for each level. For the base, I created a warm ginger spiced blondie that's chewy and soft. The flavor isn't as strong as gingerbread, but it still gives you those warm spices that are needed to enhance that butterbeer flavor.
For the caramel layer, I used butter extract to bump up that creamy and rich flavor. Butter extract helps provide that cream soda-esque flavor that's essential to butterbeer.
Finally, the top chocolate layer is swirled with melted butterscotch chips. This helps round out the entire dish, giving it a sweet punch of extra buttery flavor.
Chewy ginger blondie base
This recipe is delicious all on its own! The base of this recipe is a soft and chewy ginger blondie. It's the perfect platform for the caramel because it's not too firm but also not too tender. It makes each bite smooth and chewy.
Tips for making soft homemade caramel
The homemade butterbeer caramel layer of this recipe is actually very easy to make. All you have to do is mix, heat, and pour. But to make sure it turns out JUST right, here's what you need to look out for:
Continually mix to prevent the bottom from burning.
Once it starts to bubble, keep watching your candy thermometer. You want it to reach the soft ball stage (around 236F), which will happen within 10-12 minutes of bubbling. Don't let it get any hotter, otherwise the caramel will turn out too tough.
Remove from the heat right when it hits 236F. Mix in the salt and extracts and you're good to go!
Can I leave out the butter extract?
If you don't have this on hand or can't find it, then it's OK to leave it out although I high recommend it. Altneratively, you could add a teaspoon of rum to add a bit of extra flavor.
Otherwise, butter extract can be found at most convention grocery stores with the spices and other extracts.
How to make a swirled chocolate coating
What makes these bars LOOK like butterbeer twix is the swirled butterscotch topping. Here are a few things to do in order to create a smooth swirled layer:
Don't overheat the chocolate. It shouldn't take more than 60 seconds to completely melt both the chocolate and butterscotch.
Use oil to thin out the chocolate and butterscotch. This is especially important for the butterscotch because it tends to seize up once melted. After the chips are all melted, the mixture will be very thick. Add a bit of oil to thin in out and use the back of a spoon to smash out any lumps.
Use a piping bag to place the butterscotch before swirling. This ensures a very even distribution, so there are no large pools of butterscotch mixed in with sparse patches.
Lightly tap the pan once the butterscotch is swirled in. This will level out the chocolate, giving you a really smooth top.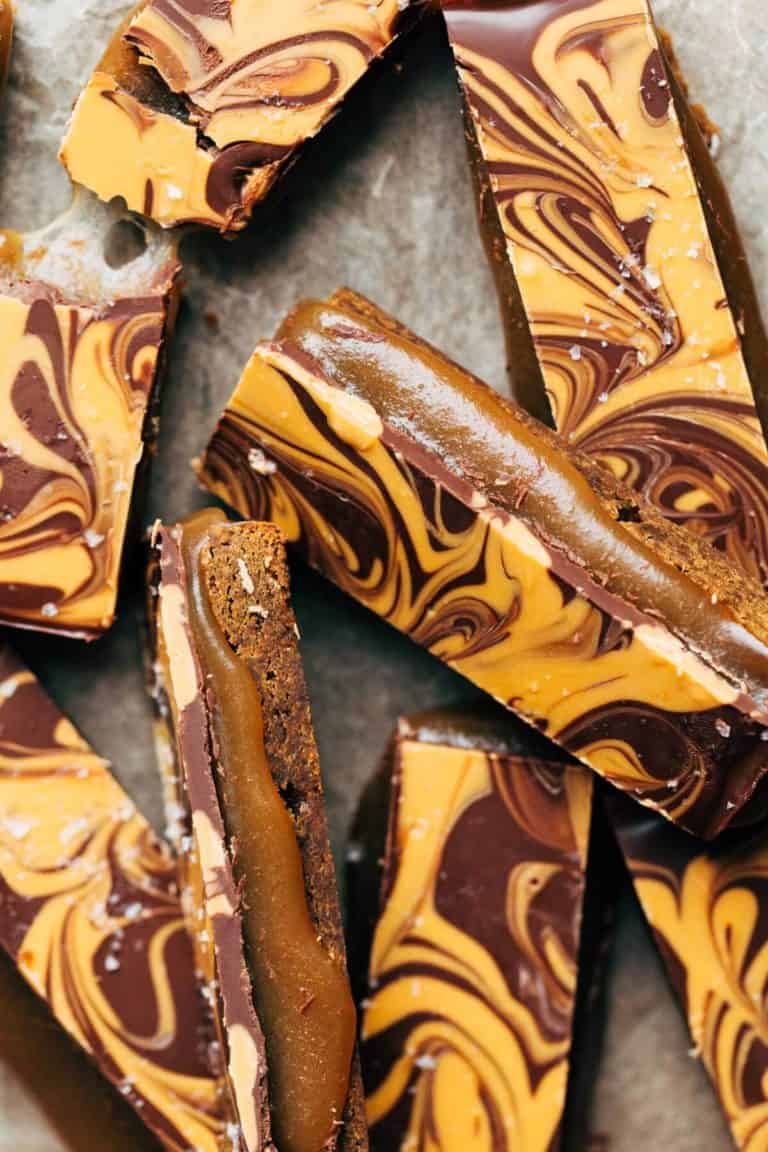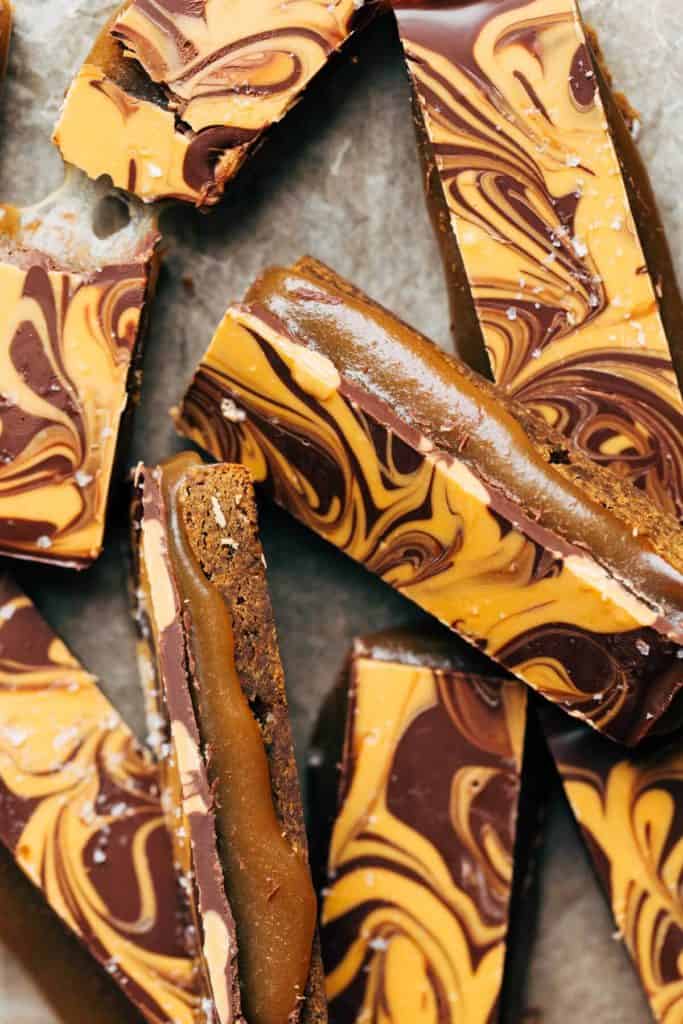 Best way to serve caramel slice
After the chocolate is placed, pop the bars in the refrigerator for about 2 hours to set. If you like a firm but chewy caramel, serve chilled. If you like a melty and gooey caramel, let the bars sit out for about 20 minutes and then serve.
Otherwise, make sure you store leftover bars in an air tight container (or covered) in the refrigerator or freezer. They'll keep for up to 2 weeks in the freezer, and one week in the refrigerator.
Troubleshooting tips
Your ginger blondies turned out more cakey than chewy – Make sure you measured your flour properly. Always spoon it into the measuring cup and then level it off with a flat edge. Don't scoop directly into the flour as this compacts it into your cup. Also don't over bake. These bars shouldn't take more than 18 minutes max to bake.
Your caramel never set – It's likely that the caramel never reached the soft ball stage of 236F. Or if it did, your thermometer may need some calibrating. But not to worry, simply freeze the bars instead and serve frozen. Just expect the blondie base to be a bit chewier and the chocolate topping to have a snap when bitten into.
Your chocolate swirls are lumpy – You may have waited too long between melting the chocolate and melting the butterscotch. You want the two mixtures to be warm when applying them to the caramel layer. Another issue could be the butterscotch chips as they almost never melt completely smooth. Use the back of a spoon to spread and mash it against the sides of the dish you melted them in. This will help smooth it out.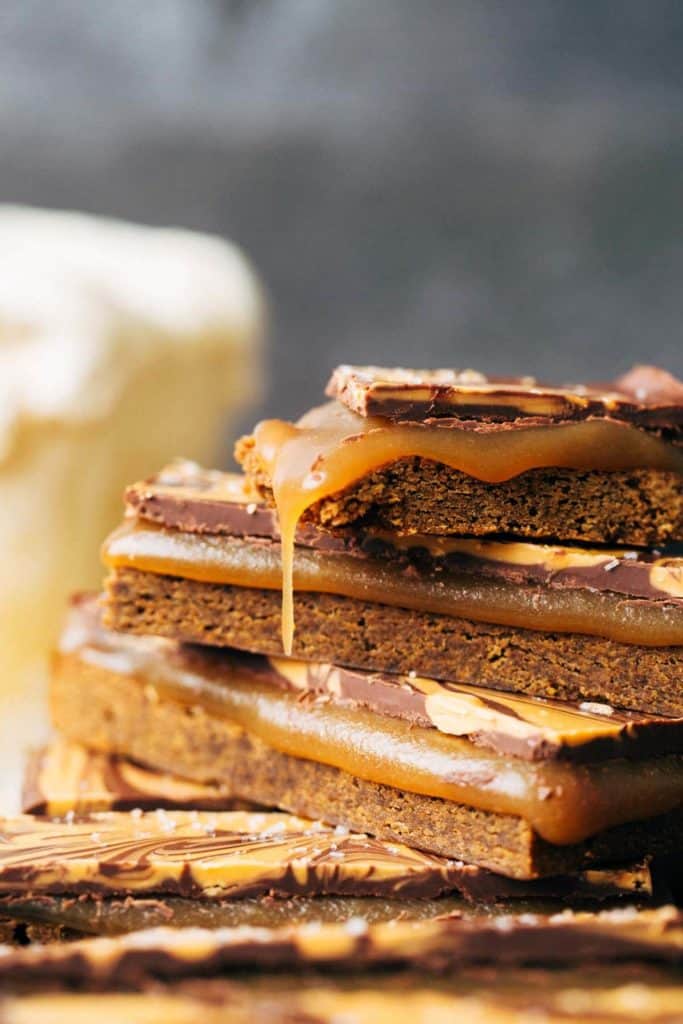 For more caramel dessert recipes, check out my:
Make sure to tag me @butternutbakery on Instagram and comment below if you make this Butterbeer Caramel Slice. To pin this recipe and save it for later, you can use the button on the recipe card or on any of the photos above. Happy baking!
Print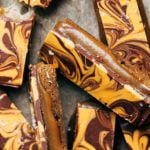 Ginger Butterbeer Caramel Slice
---
Author: Jenna Barnard
Total Time: 55 minutes + 3 hours chilling
Yield: 10-12 slices
Description
A chewy ginger blondie base is topped with soft butterbeer caramel and butterscotch chocolate swirled ganache.
---
Ginger Blondie
1 cup (130g) all purpose flour
1/2 tsp salt
1 tsp cinnamon
1/2 tsp ginger
Pinch of nutmeg
6 tbsp (60g) butter, melted and cooled
1/2 cup (100g) dark brown sugar, packed
1/4 cup (75g) molasses
1 egg yolk
1 tsp vanilla extract
Butterbeer Caramel
1/3 cup (70g) unsalted butter
3/4 cup (170g) dark brown sugar, packed
1/3 cup (120g) light corn syrup
1/3 cup (80ml) heavy cream
Pinch of salt
1 tsp vanilla extract
1 tsp butter extract
Chocolate Butterscotch Swirl
3/4 cup (130g) semisweet chocolate chips
1/3 cup (60g) butterscotch chips
1–2 tbsp oil
Flaky sea salt for sprinkling on top
---
Instructions
Ginger Blondie
Preheat the oven to 350F and line a square 8×8 baking dish with nonstick spray and parchment paper.
In a small bowl, whisk together the flour, salt, and spices. Set aside.
In a large bowl, whisk together the butter, sugar, molasses, egg yolk, and vanilla.
Once smooth, mix in the dry ingredients and scoop it into the baking dish. Spread it even and bake for 15-18 minutes. It should be slightly puffed with wrinkled edges. It will flatten as it cools.
Butterbeer Caramel
While the blondies cool, make the caramel. In a saucepan over medium heat, combine the butter, brown sugar, corn syrup, and heavy cream.
Bring the mixture to a boil, stirring often. Continue to cook until the mixture reaches 236F. Don't let it go over, otherwise your caramel will be more tough than chewy. This whole process should take about 15-20 minutes.
Remove from the heat and mix in the salt and extracts.
It should be darkened and very fluid. Pour it over the ginger blondie base and place it into the refrigerator uncovered for about 1 hour to set.
Butterscotch Chocolate
Once the caramel layer is somewhat firm to the touch, make the chocolate topping.
First, add the chocolate chips to a heat-safe dish with 1/2 tbsp of oil. Melt in the microwave in 30 second increments until smooth. Set it aside.
For the butterscotch chips, repeat the same process as the chocolate, adding 1/2 tbsp of oil before heating. After about 30 to 60 seconds in the microwave, it will melt but thicken. When the chips are completely melted, mix in 1 tbsp of oil until smooth (do not add it back to the microwave after mixing in this last bit of oil). Use a spoon to spread and smooth out any lumps.
Spread the chocolate in an even layer on top of the caramel. Add the butterscotch to a ziplock bag and snip off a corner. Pipe it on top in random swirls. Then, use a toothpick to swirl the chocolate and butterscotch together. Gently tap the pan against the counter to level off the surface. 
Place the bars back into the refrigerator for 2 hours to set. Then sprinkle with sea salt. 
Enjoy chilled for a more firm caramel, or room temperature for a soft and gooey caramel.
Prep Time: 40 minutes
Cook Time: 15 minutes
Keywords: butterbeer, butterbeer caramel slice, butterbeer twix, butterbeer recipes
Recipe Card powered by