This pumpkin crisp is the elevated version of pumpkin pie. It has a creamy pumpkin filling with an incredibly delicious crisp topping. Made with oats and pecans that are toasted in brown butter, this crisp is so flavorful and adds the perfect amount of sweet and crunchy texture.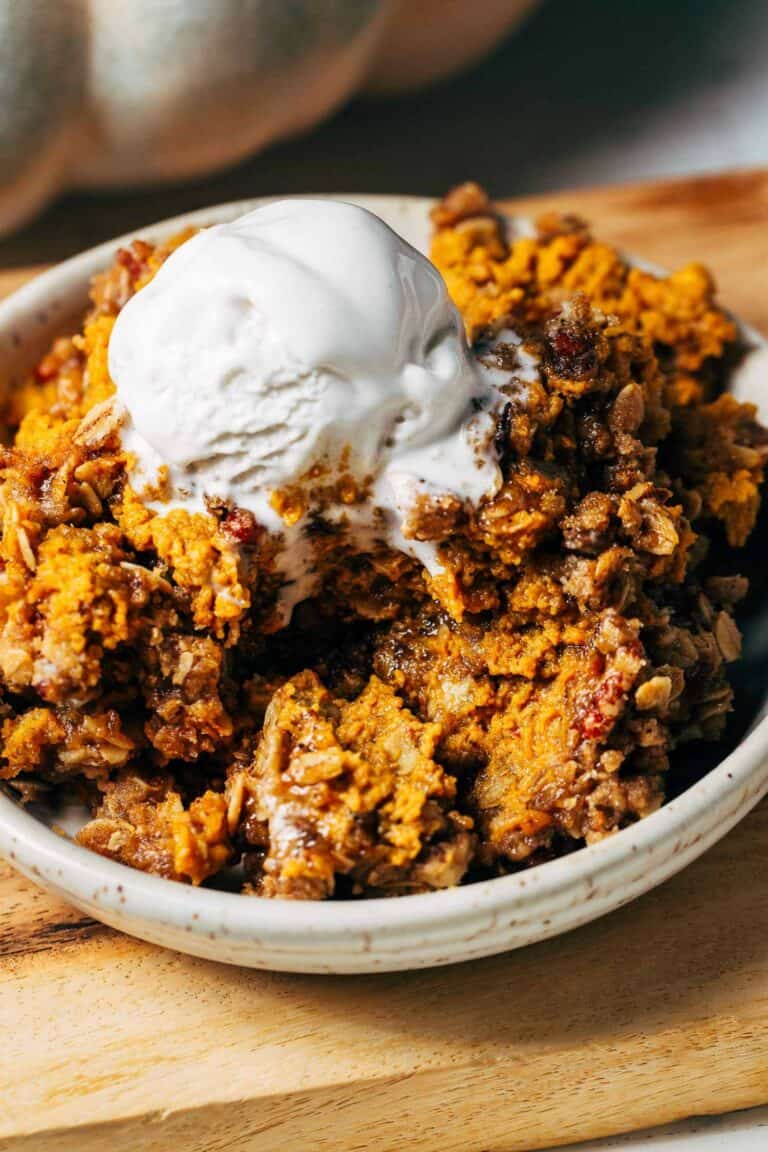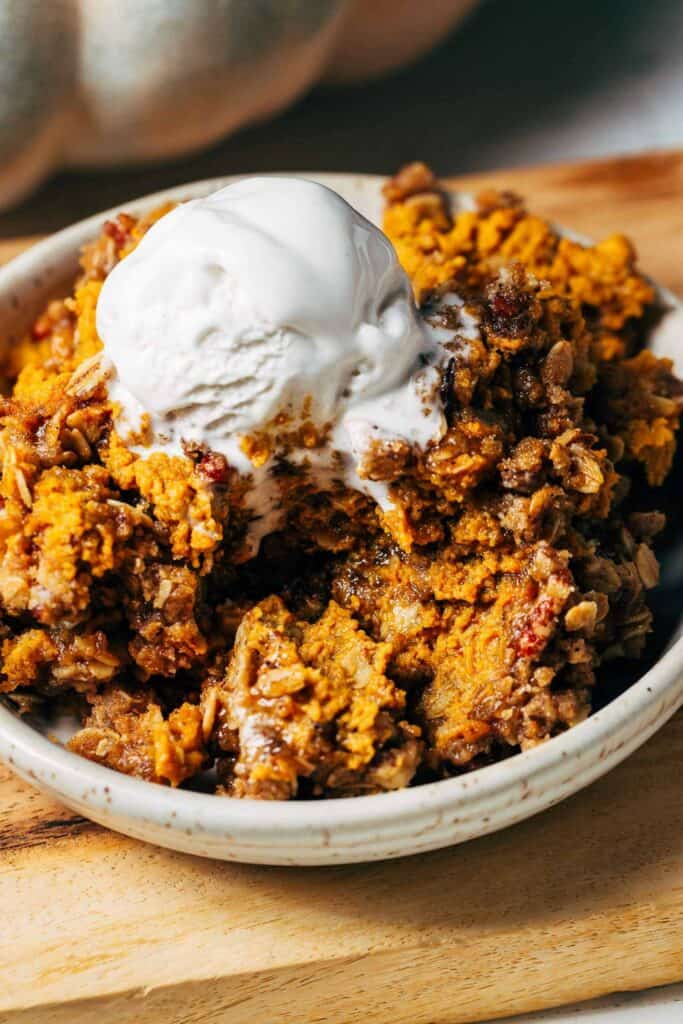 How to Make the BEST Pumpkin Crisp
I love pumpkin pie, but I love this pumpkin crisp even more. The pumpkin filling is so smooth and mixed with the perfect amount of warm spices while the topping is loaded with flavor.
What makes it SO special is the fact that the topping starts with brown butter.
Butter is browned in the same skillet the crisp is baked in, so the leftover bits naturally grease the pan for us!
Once browned, oats and pecans are added. They turn warm and toasty and absorb so much of that delicious brown butter flavor.
After the oats and pecans turn fragrant, the mix is added to a bowl with chilled butter which helps cool everything down. It's mixed with brown sugar, flour, cinnamon, and salt to help balance out the flavors.
The crisp is then chilled in order to create a crumbly texture.
In the meantime, the pumpkin crisp filling is mixed together. Not only is the crisp delicious, but the filling is made extra special as well.
Pumpkin is mixed with cream cheese to create a rich texture. A blend of spices and a hint of maple syrup help boost the flavor while heavy creamy adds yet another layer of richess.
Baking the two together leads to the perfect balance of creamy and crunchy with so many cozy and warm flavors.
Tips for Baking Pumpkin Crisp
The beauty of pumpkin crisp is that it's insanely delicious but incredibly easy to make. It's difficult to mess up, but here are a few tips to ensure it turns out perfect:
Brown Butter – This step is crucial as it adds so much flavor to this crisp. The trick is to add the oats and pecans RIGHT when the butter starts to brown. Since the oats and pecans are toasted for 5 minutes, it's important not to take the butter too far. Otherwise, the brown butter can burn. *CLICK HERE TO LEARN MORE ABOUT HOW TO BROWN BUTTER*
Flour – When measuring the flour, I always suggest using a scale for accuracy. Otherwise, spoon the flour into a measuring cup and level it off for light and fluffy cups.
Cream Cheese – Use room temperature cream cheese to achieve a smooth pumpkin filling. I also suggest using Philadelphia as it has the best texture.
Pumpkin – Pumpkin puree can vary in flavor and moisture depending on the brand. I always use Libby's!
Baking – The crisp is done when the top is golden and the very center has a slight jiggle. If you notice it crisp is browning too much, lay a sheet of foil over the crisp and continue to bake.
Pumpkin Crisp FAQs
Can pumpkin crisp be made gluten free?
Yes! Swap the flour with an all purpose gluten free baking flour and make sure to use certified gluten free oats.
Can I use a different kind of nut in the crisp topping?
If pecans aren't your thing, walnuts are another great option. Otherwise, you can omit the nuts altogether and sub in more oats.
Can I use milk instead of heavy cream?
Heavy cream provides the best flavor and texture, but milk can also be used. I suggest swapping the 3/4 cup of heavy cream with 2/3 cup of milk.
Can the crisp be baked in a different dish?
This recipe will also work in a 9×9 baking pan or anything of similar size. It can also be baked in a 9×13 dish, but just know that the crisp won't be as deep.
What is the best way to serve pumpkin crisp?
This dish is best served slightly warm or at room temperature with a scoop if ice cream! But it's important to let it cool for an hour before serving in order for the filling to set.
How do you store pumpkin crisp?
The pan can be covered and stored in the refrigerator. Alternatively, the crisp can be scooped out and stored in an air tight container. It will keep for about 4 days.
For more pumpkin desserts, check out my:
Make sure to tag me @butternutbakery on Instagram and comment below if you make this pumpkin crisp. To pin this recipe and save it for later, you can use the button on the recipe card or on any of the photos above. Happy baking!
Print
Pumpkin Crisp
---
Description
This pumpkin crisp will give pumpkin pie a run for its money! It's so easy to make with a creamy pumpkin filling and a toasted brown butter topping. It's a very unassuming dessert but the flavors and textures are incredible.
---
Pumpkin Crisp
3/4 cup (170g) unsalted butter, divided
1 cup (100g) old fashioned oats
1 cup (125g) pecan halves, chopped
1 cup (132g) all-purpose flour
3/4 cup (150g) light brown sugar, packed
1 1/2 tsp ground cinnamon
1/4 tsp kosher salt
Pumpkin Crisp Filling
8 oz cream cheese, room temp
1/2 cup (105g) light brown sugar, packed
1/4 cup (60g) pure maple syrup
1 15oz can pumpkin puree
2 large eggs + 1 egg yolk
2 tsp vanilla extract
1/2 tsp salt
1 1/2 tsp ground cinnamon
1/2 tsp ground ginger
1/4 tsp ground nutmeg
1/4 tsp ground cloves
3/4 cup (180g) heavy cream
---
Instructions
Pumpkin Crisp
Preheat the oven to 350F.
In an 11″ oven-safe skillet (this is what we will bake the crisp in), add 1/2 cup of butter.
Melt down and continue to stir as it browns. RIGHT when it starts to darken, add in the oats and pecans.
Continue stirring and toast the oats and pecans for about 5 minutes.
Then pour the mixture into a mixing bowl and stir in the remaining 1/4 cup of butter (sliced). Do not clean the skillet.
Once the butter is melted and mixed in, stir in the flour, brown sugar, cinnamon, and salt.
Transfer the bowl to the refrigerator.
Pumpkin Crisp Filling
In a large mixing bowl, whisk together the cream cheese, brown sugar, and maple syrup.
Once smooth, mix in the pumpkin, eggs, egg yolk, vanilla, salt, and spices.
When that's well combined, whisk in the heavy cream. The mixture should be pretty thin.
Pour the batter into the skillet that was used to brown the butter. Top with the chilled crumble, making sure to cover every single inch of the batter.
Bake for 40-45 minutes. It's done when the crisp is golden brown and the very center has a slight jiggle.
Allow the crisp to cool for about an hour, then scoop and top with ice cream. Enjoy!
Prep Time: 20 minutes
Cooling Time: 1 hour
Cook Time: 40 minutes
Category: Dessert
Method: Baking
Cuisine: American
Keywords: pumpkin crisp, pumpkin pie crisp, pumpkin crisp recipe
Recipe Card powered by