I am all about quick and easy cookie recipes and these no bake sunflower butter cookies with honey do the trick! They're the perfect balance of sweet and salty and a delicious peanut butter cookie alternative.
No bake cookies without peanut butter
When I'm baking with sunflower seed butter, I always make sure to use Creamy SunButter because its thick enough to hold its shape and there's no oil separation. This is important when making these no bake cookies because the honey thins out the batter. Once set, the sunflower seed butter helps to hold these cookies together!
That's why these are the perfect cookies for anyone with a nut allergy. You get the texture of your typical no bake cookie just without the nuts. Plus, the honey helps to sweeten up this salty treat to create a delicious bite. I'm definitely not missing peanut butter when I'm eating these cookies!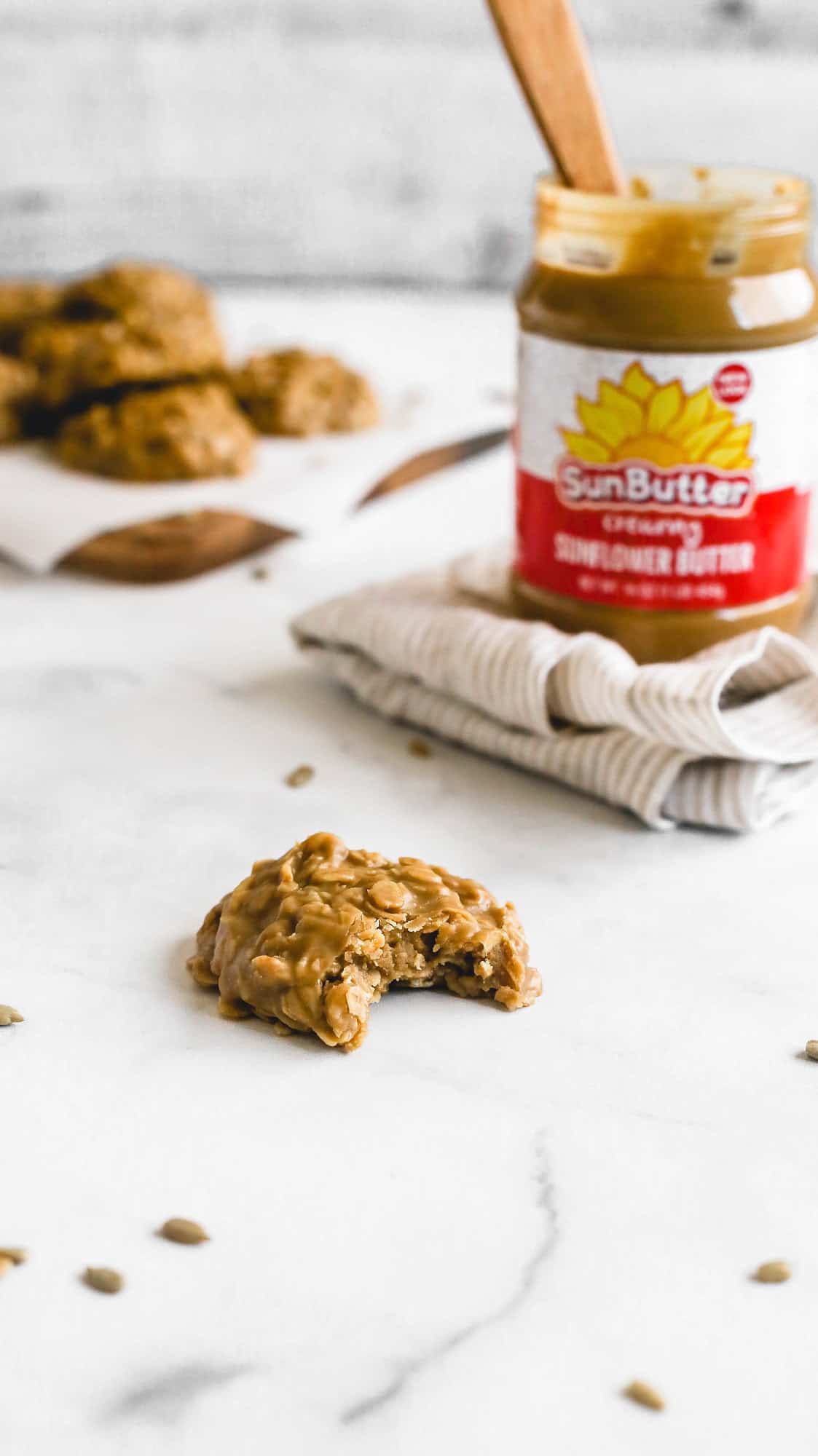 Sunflower seed butter benefits
Not only is sunflower seed butter a good option for anyone allergic to nuts, but it also has a few key health benefits! It's full of nutrients such as zinc, magnesium, iron, vitamin E, and contains less unsaturated fat than peanut butter.
Don't be afraid of the label. It may seem like sunflower seed butter is high in fat but compared to other nut butters, it's mostly healthy fats that your body needs. It also has 7 grams of protein per serving which will help keep you fuller longer.
Most importantly, it's highly unprocessed. The only ingredients are sunflower seeds, sugar, salt, and a stabilizer. That's it! Check out the ingredients on your peanut butter jar to see just how processed it really is. Other nut butters contain hydrogenated oils while sunflower seed butter remains unprocessed and natural.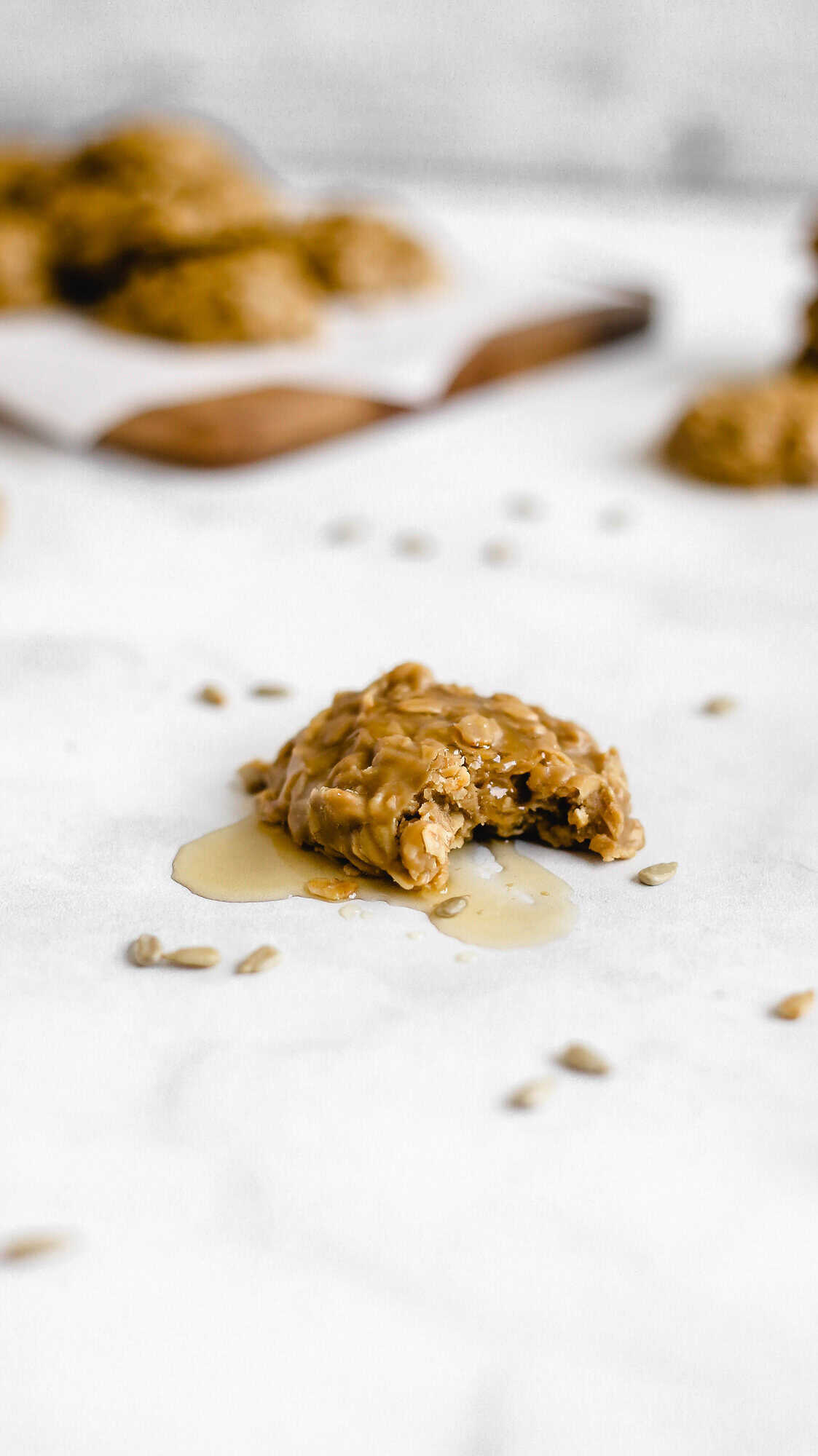 Quick and Easy no bake recipes
For those hot summer days when you just don't want to turn your oven on, no bake recipes are here to save the day. What I love most about these no bake sunflower butter cookies is that you can just set them and forget them. After a few days, they still won't lose their texture or flavor. They stay nice and soft making them a great make ahead cookie recipe.
If you're like me and just need a break from baking, I have a few other no bake dessert recipes that you will love! And if you have a nut allergy, you can easy swap out any of these nut butters with Creamy SunButter and you'll be good to go.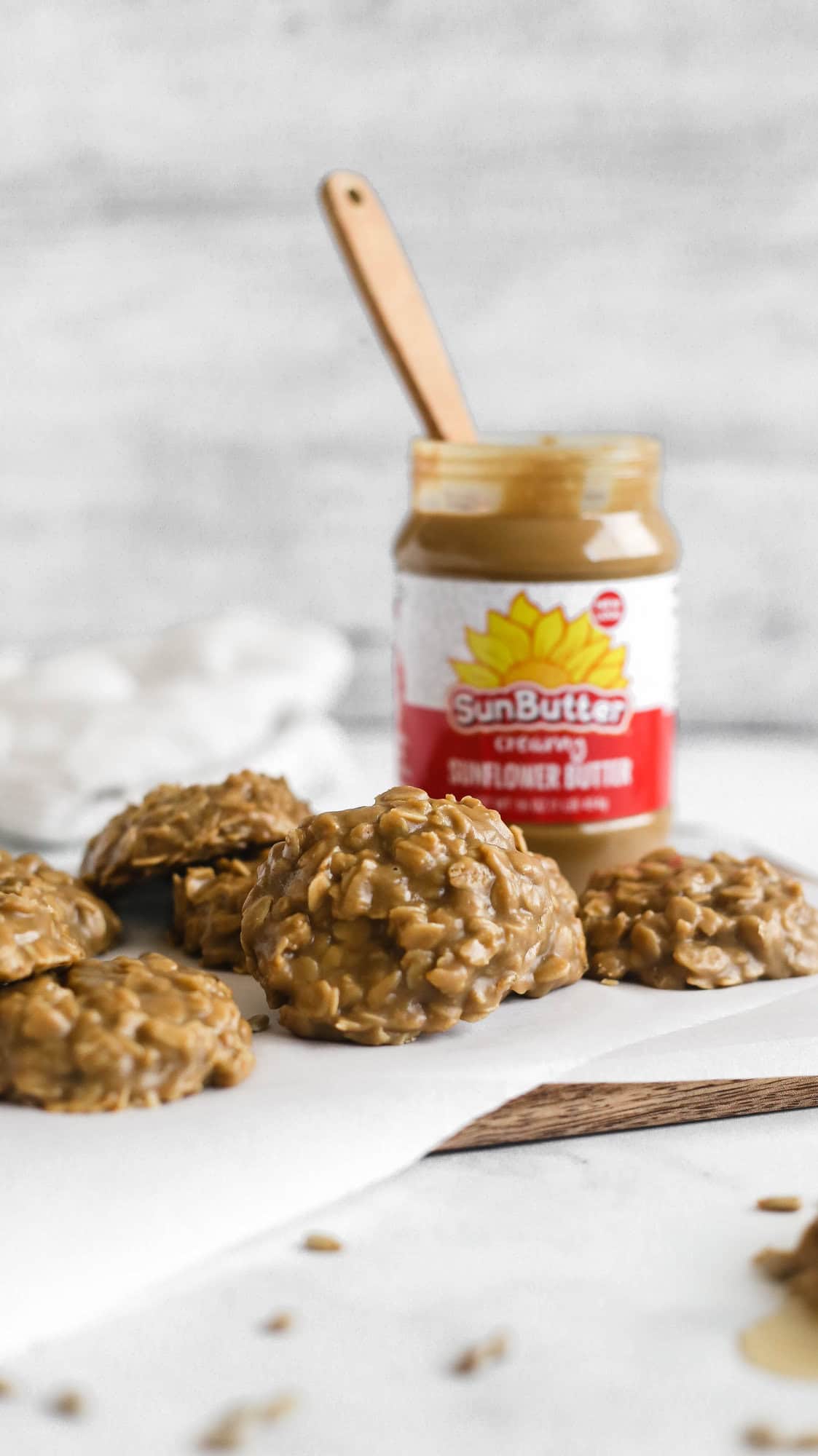 If you make my no bake sunflower seed butter cookies with honey, make sure to tag me @butternutbakery on Instagram! I love seeing your creations. And to save this recipe for later, pin it using the button on the recipe card, the buttons above or below this post, or pin it through any of the photos listed. Happy baking! Or in this case…no baking!
Print
No Bake Sunflower Butter Cookies
---
Description
These no bake sunflower seed butter cookies with honey are the perfect cookies for anyone with a nut allergy. They're salty and sweet and easy to make!
---
1 1/4 cups granulated sugar
1/2 cup unsalted butter
1/2 cup milk
1 tsp vanilla extract
1 cup Creamy SunButter
3 tbsp honey
3 cups old fashioned oats*
---
Instructions
Line a cookie sheet with wax paper and set aside.
In a saucepan over medium high heat, melt the butter with the sugar and milk.
Bring to a boil and boil for 2-3 minutes, stirring constantly. Don't go a minute over!
Remove from heat and mix in the vanilla, SunButter, and honey. Stir in the oats until well blended.
Let the mixture sit for about 5 minutes to thicken. Then, using a medium cookie scoop, plop your cookies onto the wax paper.
Leave them out at room temperature for 1-2 hours until they're set. You can also place them in the refrigerator after 20 minutes to help speed up the process.
If you love honey, you can drizzle a little more on top before eating. Enjoy!
Notes
*Old fashioned oats leave a bit of a chew. If that's not your style, you can opt for quick minute oats.
Keywords: no bake cookies, sunflower seed butter recipes
Recipe Card powered by