These monster brookies are the perfect Halloween treat! Made with soft monster cookie dough and fudgy brownie batter, they're a delicious combination of peanut butter and chocolate. Along with peanut butter candies and chocolate chips, the top is adorned with little candy eyes to create a spooky (or maybe just adorable) dessert.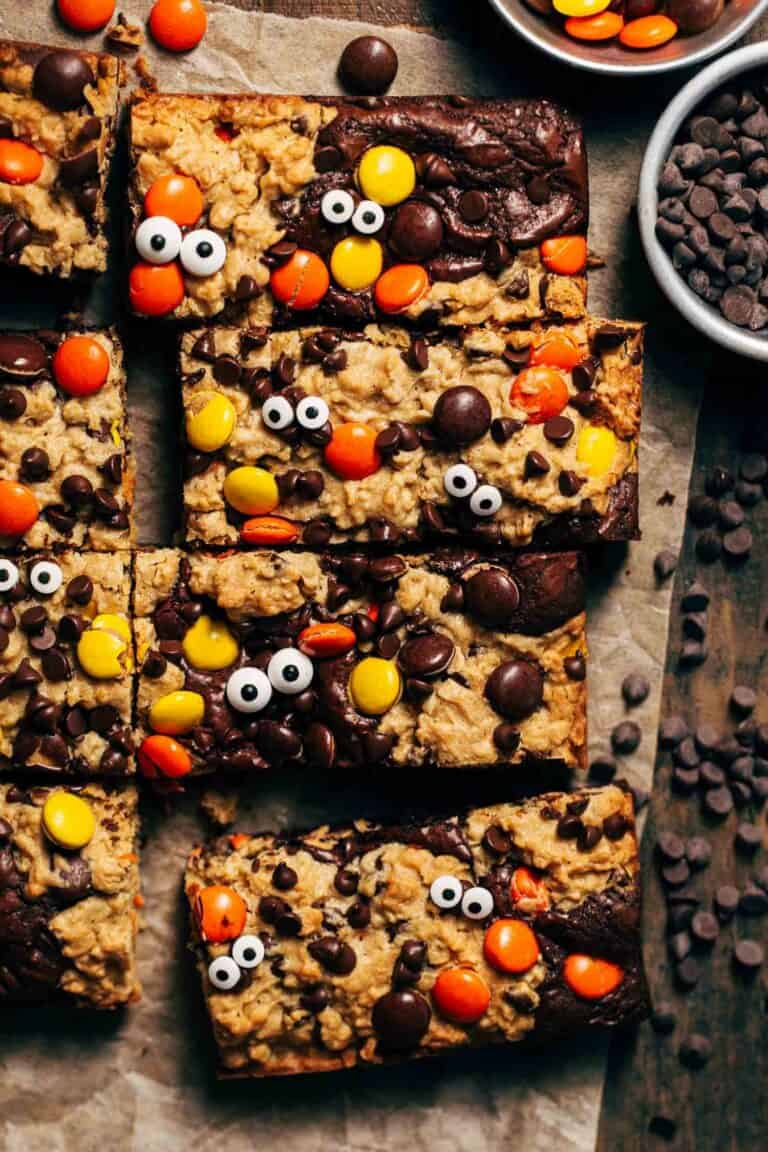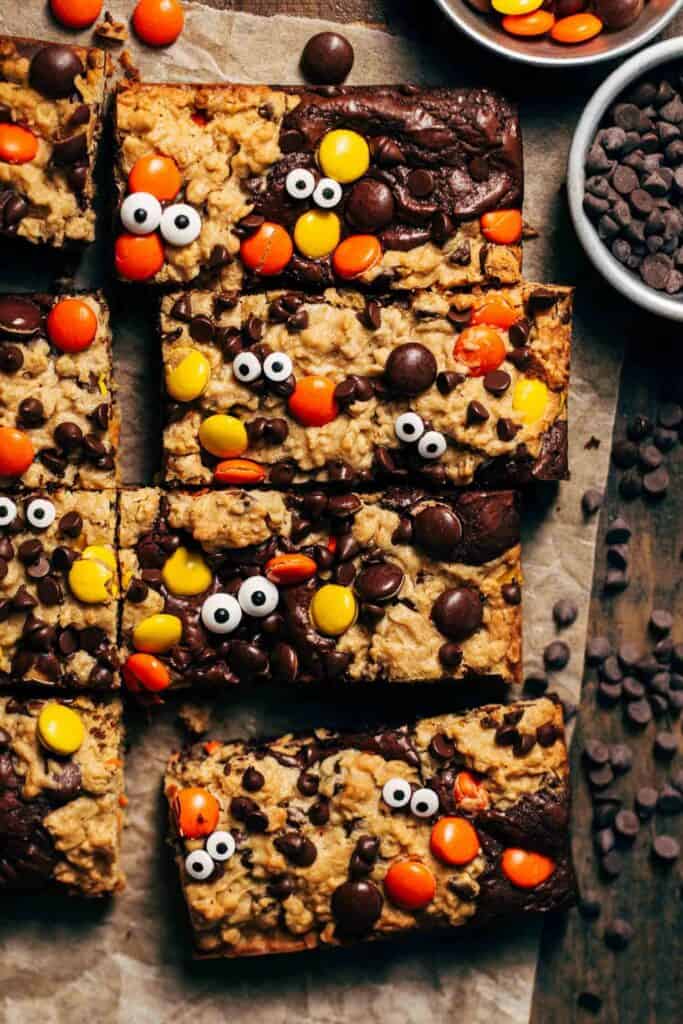 What is a brookie?
As the name suggests, brookies are a combination of brownies and cookies! Traditionally it's chocolate chip cookie dough and brownie batter baked together, but this is a fun twist on the classic recipe in order to make it a fun Halloween treat.
How to make monster brookies
Every step of this recipe is very simple, but it does requirer a few extra dishes! To create a brownie/monster cookie combo…here's what needs to happen:
Brownie Batter – This is up first and it's mixed in one bowl. Using both dark chocolate and cocoa powder, it creates a rich batter that pairs perfectly with the monster cookie dough. If you're short on mixing bowls, scoop the batter into a smaller bowl and clean out the mixing bowl to prep it for the cookie dough.
Monster Cookie Dough – This requires a couple extra steps compared to the brownie batter, but it's still very easy to make! A combination of butter, peanut butter, oats, chocolate chips, and Reese's pieces makes this cookie dough irresistible.
Assemble – When both the batter and dough are prepped, spoon random dollops of each into a baking pan. Make sure to get an even scatter of each so that every bar has both brownie and monster cookie. Spread both even (without mixing them together) and bake!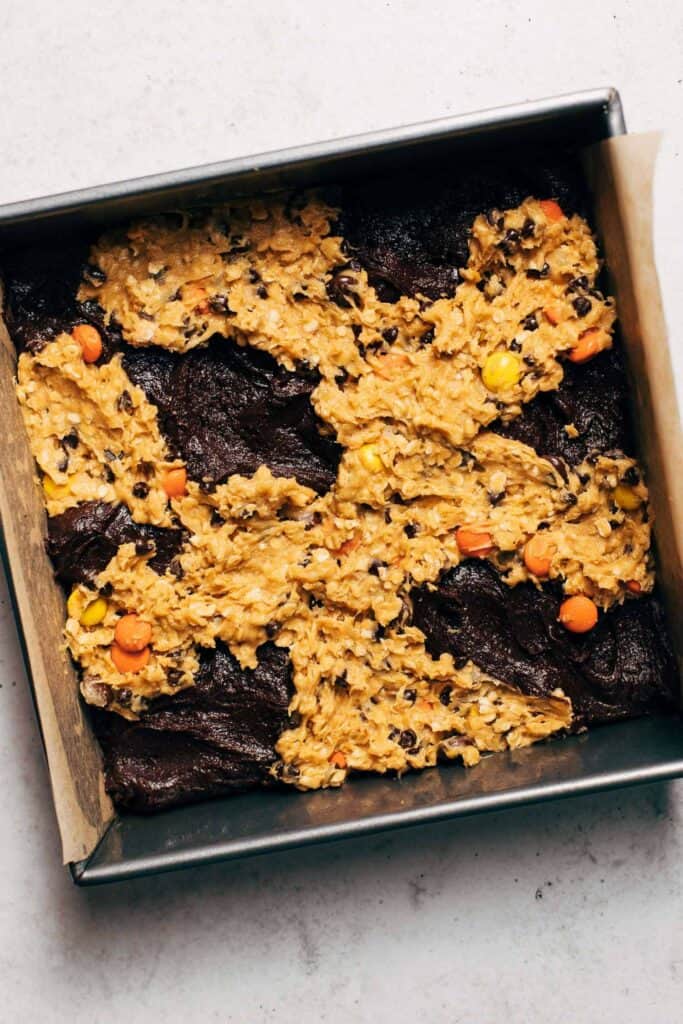 Tips for baking soft and fudgy monster brookies
For the best consistency, here are my top baking tips:
Flour – I say this in every post, and for good reason. It's the number one reason why most recipes fail. If there's too much flour, these bars will turn dry. If possible, measure the flour (and cocoa) with a food scale. Otherwise, to ensure the exact amount, gently spoon the flour into the measuring cup and level it off with a flat edge. If scooped directly into the flour container, the flour becomes packed down into the cup which could leave you with 1/4 cup or more of added flour.
Eggs & Sugar – For the brownies, REALLY mix together the eggs and sugar. It's important to whip the mixture until it's pale and almost creamy. During this stage, the sugar dissolves while also whipping air into the egg. This combination of creations creates an incredibly smooth and fudgy brownie consistency.
Peanut Butter – For the monster cookie dough, stick with classic creamy peanut butter like Jif or Skippy.
Mixing – For both batter and dough, carefully mix once the dry ingredients are added to the wet ingredients. Over mixing can lead to a tough cookie or brownie so gentle mixing is key.
Topping – In order for the candy eyes to stick, melted chocolate is needed. Make sure to scatter a good amount of chocolate chips on top before baking. Then when it's fresh from the oven, the eyes will easily stick right on top.
Alternative cookie bar decorations
For a "spooky" theme, I opted to top these monster brookies with candy eyes. They're very easy to find, especially around Halloween. If you prefer a different look, here are a few different decorating options:
Classic – For any other time of year, simply swap the Reese's pieces with regular M&Ms (I like a combo of both regular size and mini size) and leave off the eyes.
Level Up – Use the same exact recipe, but add some orange food coloring to the monster cookie dough! This will create a great black and orange combo.
Halloween Colorful – Swap the Reese's pieces with the M&M ghouls mix (green, purple, and orange). You can also mix in a similar color blend of Halloween jimmie sprinkles into the monster cookie dough and/or sprinkle some on top.
Strictly Fall – Swap the candy eyes with candy corn or pumpkins plus salted peanuts to balance out the sweetness.
Christmas – If you want to jump to the next holiday, swap the Reese's pieces with Christmas colored M&Ms and swap the eyes for some red and green sprinkles.
When is the best time to serve brookie bars?
The best is when they're just BARELY warm. At this temperature, they hold their shape while still remaining soft and tender.
Allow the bars to cool at room temperature for about 45 minutes, then they'll be perfect for slicing and serving.
Can this recipe be made gluten free?
I haven't tested it myself, but try swapping the all purpose flour with a cup for cup gluten free baking flour. I think it could work well! Also make sure to use certified gluten free oats if you are celiac. Reese's pieces are also gluten free, but I would beware of the candy eyes as the label is not very clear on whether or not they're gluten free.
How to best store monster brookies
Storre the bars in an air tight container at room temperature. They'll keep for about 4 days.
For more halloween dessert recipes, check out my:
Make sure to tag me @butternutbakery on Instagram and leave a review below if you make these monster brookies. To pin this recipe and save it for later, you can use the button on the recipe card, the buttons above or below this post, or on any of the photos above. Happy baking!
Print
Monster Brookies
---
Description
These spooky monster brookies are a delicious combination of soft monster cookie dough and fudgy brownies. Stuffed with peanut butter candies, dark chocolate chips, and topped with little candy eyes!
---
Brownie Batter
1/4 cup (55g) unsalted butter
2 oz bittersweet chocolate, chopped
1/2 cup (100g) light brown sugar, packed
2 tbsp granulated sugar
1 large egg
1 tsp vanilla extract
1/4 cup (34g) all purpose flour
1 tbsp cornstarch
1/4 cup (25g) dutch process cocoa
1/4 tsp kosher salt
1/2 cup (100g) mini chocolate chips
Monster Cookie Dough
1/4 cup (60g) creamy peanut butter
2 tbsp unsalted butter, softened
1/4 cup (50g) light brown sugar, packed
2 tbsp granulated sugar
1 large egg
1 tsp vanilla extract
1/2 cup (66g) all purpose flour
1/2 cup (50g) quick oats
1/2 tsp baking powder
1/8 tsp kosher salt
1/4 cup (50g) mini chocolate chips + more for sprinkling
1/4 cup (50g) Reese's pieces + more for sprinkling
Candy eyes
---
Instructions
Brownie Batter
Preheat the oven to 350F and grease and line an 8×8 square baking dish with parchment paper.
In a measuring glass, combine the butter and chocolate. Microwave in 30 second intervals until smooth.
In a large bowl using a hand or stand mixer with the whisk attachment, mix together the sugars and egg on high speed. Mix until it becomes pale and super smooth (about 3 minutes).
Turn the mixer down to medium-low and trickle in the melted chocolate while mixing. Then mix in the vanilla.
Once combined, pour in the flour, cornstarch, cocoa powder, and salt. Use a rubber spatula to mix the batter by hand, followed by the chocolate chips. Set aside.
Monster Cookie Dough
In a medium bowl, combine the flour, oats, baking powder, and salt.
In a large mixing bowl using a hand or stand mixer with the paddle attachment, mix together the peanut butter, butter, and sugars until smooth and well combined.
Add in the vanilla and egg and mix on medium-high speed for about 2 minutes.
Pour in the dry ingredients and use a rubber spatula to mix the dough together, followed by the chocolate chips and Reese's pieces.
To the baking pan, alternate adding spoonfuls of brownie batter and cookie dough. Then spread everything even. Sprinkle with a handful of chocolate chips and extra Reese's pieces.
Bake for 30-35 minutes. When the bars are fresh from the oven, stick little candy eyes to the melted chocolate chips on top.
Allow the bars to cool for about 45 mins – 1 hour, then lift out, slice and enjoy!
Equipment
Prep Time: 30 minutes
Cooling Time: 1 hour
Cook Time: 30 minutes
Category: Dessert
Method: Baking
Cuisine: American
Keywords: monster brookies, monster cookie bars, brookies, peanut butter brookies, brookies recipe
Recipe Card powered by