My mom makes the best crockpot chili. It's flavorful, thick, hearty, and tastes like home. But she has never made it the same way twice as there was never a written recipe. With her help, I was able to nail down her signature recipe with a few added ingredients to bump up the flavor even more! This recipe is no fuss and so simple but tastes gourmet.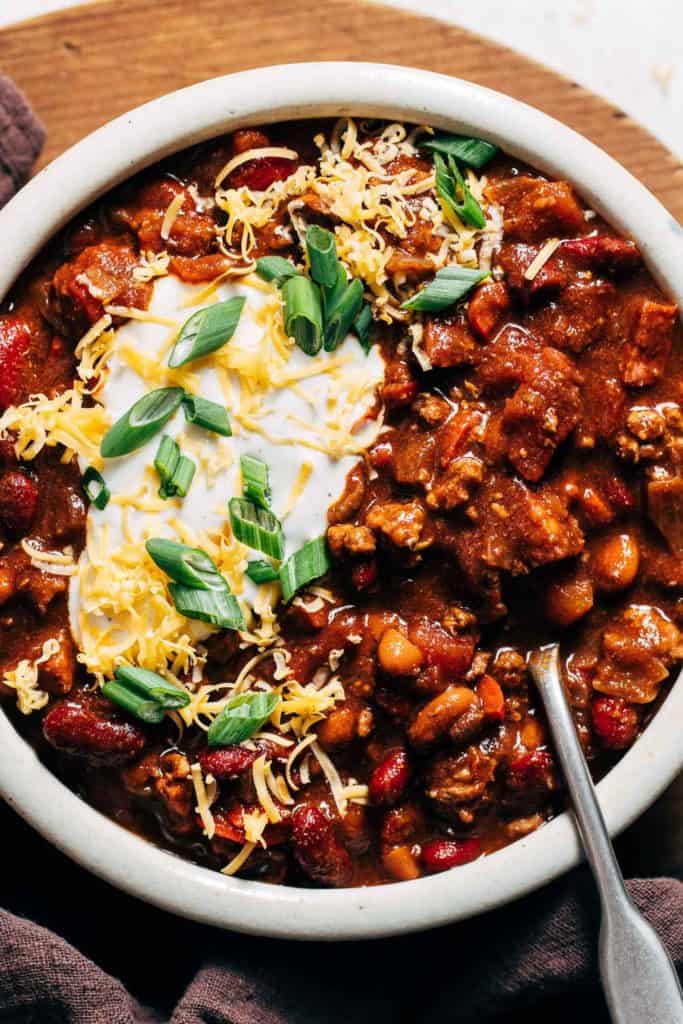 What makes this the BEST crockpot chili?
Besides the fact that it has been made for years and years and years (this is the recipe I grew up on), it's also made with a few secret ingredients that make it extra special. This is mainly because my mom likes to just throw in whatever she has in the fridge.
The one major ingredient that she usually has on hand is andouille sausage. She always made this amazing creamy baked pasta casserole with this sausage so she always had extras that needed used up. That's how it ended up in her recipe!
The sausage adds an extra layer of smokey flavor (on top of the smoked paprika) and gives it a slight chili dog flavor which is so so good.
Another step that sets this recipe apart is the beef. Once the beef is cooked with the onion, pepper, and garlic, it's transferred straight into the crockpot without draining. Because why leave out all that added fat and flavor?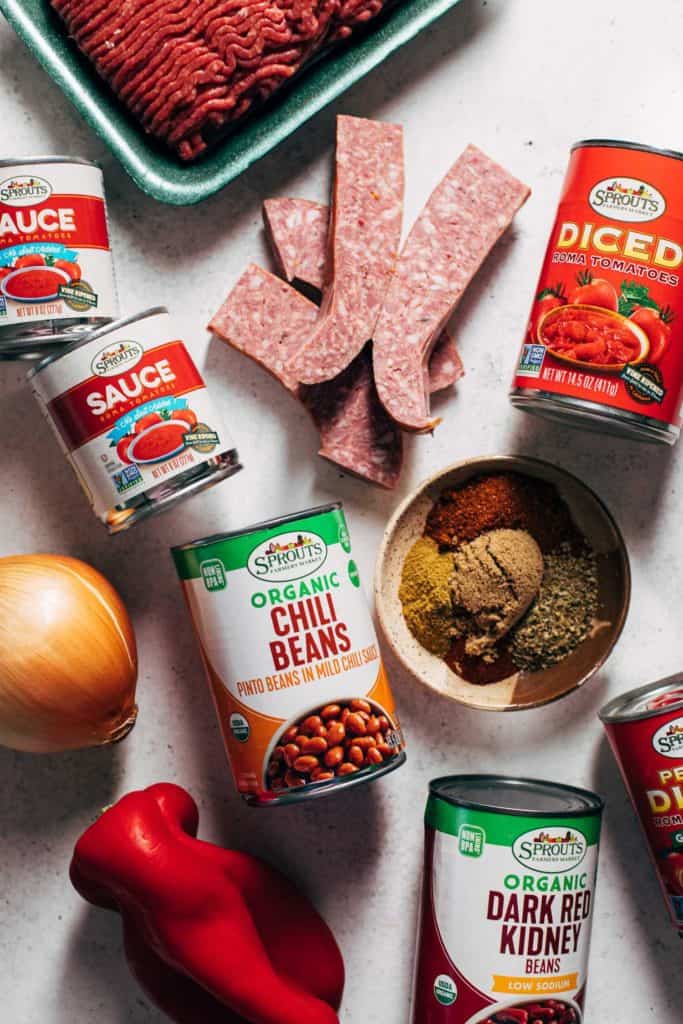 Mom's crockpot chili spices and flavors
Since my mom didn't have a written chili recipe for the longest time, I resorted to making other crockpot chili recipes but they always fell a bit short for me.
The biggest downfall was in the spices. I found that so many chili recipes just load up on chili powder so that's basically the only flavor that stands out. Of course it's chili, so it definitely needs chili powder but there are so many other flavors that need to come through!
Chili should be warm, smokey, rich, and comforting which is why we use a combination of:
Chili Powder
Cumin
Smoked Paprika
Dried Oregano
Olive Oil
Brown Sugar
Cocoa Powder
Chili powder gives it that signature spice, while cumin mellows it out with a bit of warmth. Smoked paprika has way more flavor than traditional paprika, giving the chili smokey flavor, and oregano goes nearly undetected but adds a slight earthiness.
For a little extra help in ensuring the chili doesn't hit you over the head with harsh spices, a bit of olive oil as added to the chili. Just a touch of added fat is enough to cut through the spices, allow their flavors to shine without any sharpness.
A touch of brown sugar is added to help bring out the flavors even more. It's kind of like adding salt to a chocolate chip cookie, only the opposite for savory recipes. The sugar helps to balance out the salty and sharp flavors of the chili, making it extra smooth.
What does cocoa powder do for chili?
I know, it's not your typical chili ingredient but it does WONDERS to the overall flavor. This actually isn't in my mom's traditional recipe as it's something I added in myself. After receiving so many chili secrets and tips from my readers on my Instagram stories, cocoa powder is the one tip that I kept seeing the most and here's why:
Richness – Just one tablespoon is enough to add so much depth to this chili recipe. It enhances all of the individual flavors, so you're able to taste the sausage, the beef, the onion, the spices…but it also creates a rich depth that makes any chili recipe taste extra comforting.
Acidity – Cocoa powder is rather acidic, so that tiny bit helps cut through the fat from the meats and oil to create a much more balanced flavor profile.
Flavor – No, the chili does NOT taste like chocolate soup! In fact you wouldn't even know cocoa powder is in here had you not added it in yourself.
Chili ingredient swaps
What I love most about chili is how unique it is to every person. It's so easy to swap out different ingredients only to end up with an equally delicious recipe. After all, that's what my mom did for years with hers! Here are some swaps or add-ins to customize my recipe to your liking:
Ground Beef – To make the recipe bit lighter, ground turkey can be used instead. This is something my mom does all the time and it's just as good. But for the best and rich chili, I highly recommend sticking with beef when possible.
Bell peppers – Any color pepper can be used! I just prefer red peppers in my chili for the added bit of sweetness.
Spice – If you love spice, add a chopped jalapeño in with the onion and pepper.
Beans – Do not skip the chili beans, but the kidney beans can be swapped out with any other bean like more pinto or black beans.
Garlic – If you looooove garlic, go ahead and add a couple extra cloves. A little extra garlic never hurt anything!
Outside of these ingredients, I of course recommend staying as close to the original recipe as possible. This will provide the best flavor and richness!
For more comfort food recipes, check out my:
Make sure to tag me @butternutbakery on Instagram and leave a review below if you make this crockpot chili recipe. To pin this recipe and save it for later, you can use the button on the recipe card, the buttons above or below this post, or on any of the photos above. Happy baking!
Print
Mom's Crockpot Chili Recipe
---
Author: Jenna Barnard
Total Time: 6 hours 10 minutes
Yield: 8-10 servings
Description
This hearty crockpot chili is my mom's recipe and it tastes so comforting. Made with ground beef, andouille sausage, cocoa powder, and the perfect blend of spices, it's incredibly flavorful but so easy to make! It's bound to be your new go-to chili recipe.
---
Crockpot Chili
1 lb lean ground beef
1 yellow onion, diced
1 red bell pepper, diced
4 cloves garlic, minced
3 tbsp olive oil, divided
1 14.5oz can diced tomatoes
1 10oz can diced tomatoes with green chiles
2 8oz cans tomato sauce
1 15oz can chili beans
1 15oz can kidney beans, drained
7 oz spicy andouille sausage, chopped into bite-sized pieces 
2 tbsp chili powder
1 tbsp light or dark brown sugar 
1 tbsp cocoa powder
3/4 tbsp cumin
1/2 tbsp smoked paprika
1/2 tbsp dried oregano
1 hefty pinch of kosher salt*
Serving Options
Cornbread (regular or gluten free mix)
Sour cream
Cheddar cheese (regular or vegan)
Green onion, sliced
---
Instructions
Heat a large skillet over medium heat and add 1 tablespoon of olive oil along with the ground beef, onion, red pepper, and garlic. Cook until the meat is browned and the vegetables are tender.
Transfer to a 6 or 7 quart crockpot (do not drain) and add in the rest of the chili ingredients (including the other 2 tablespoons of olive oil).
Close the lid but do not clamp it shut. Cook on low heat for 6 hours or high heat for 4 hours. 
Serve warm with your favorite mix-ins (I love it with cornbread) and enjoy! PS – it tastes even better the next day. 
Notes
SALT – If you're using fine table salt instead, only add a regular pinch (about 1/4-1/2 tsp).
Prep Time: 10 minutes
Cook Time: 6 hours
Category: Main Dish
Method: Slow Cooked
Cuisine: American, Tex-Mex
Keywords: crockpot chili, crockpot chili recipe, chili recipe, best chili recipe
Recipe Card powered by