This molten peanut butter fudge cake is THE dessert for peanut butter lovers! Super fudgy brownie cake batter is baked with a thick layer of creamy peanut butter in the center. When sliced, it basically turns into a giant peanut butter lava cake. It's so rich, so decadent, and so insanely good.
Peanut butter lava cake
This is basically a giant peanut butter lava cake…but molten peanut butter fudge cake sounds so much better!
Mainly because it, in fact, contains a fudge cake batter that is so unique. It's like a cake…but it's also like a brownie…but it's also like pure fudge.
The batter was inspired by a French dessert called gâteau au chocolate which, as the name states, is a chocolate cake but it is VERY butter and chocolate heavy. The entire cake bakes into this incredibly melty and fudgy center with a glossy shell on the outside.
So to take it up a notch, I added my own twist by baking the cake with a layer of peanut butter right in the center. Melty peanut butter layered with the fudgy and melty chocolate fudge center is insaaaaaanely good.
Each bite just melts in your mouth and the entire slice takes you on a journey of textures. The center is extra gooey and melty but as you work your way towards the crust, the cake turns into a light and airy chocolate consistency.
In other words, is unlike any other peanut butter chocolate dessert you've ever had.
Tips for baking molten peanut butter lava cake
Chocolate – For the best results, use good quality 70% cocoa dark chocolate. Since the chocolate makes up a majority of the cake batter, it's important to use a chocolate that tastes really good! I like the Lindt chocolate bars (found in the candy aisle), but Ghirardelli bittersweet baking chocolate squares will also do the trick.
Eggs & Sugar – When mixing these two together, really make sure that it ends in a frothy and creamy consistency. This whipping process helps air-rate the eggs, leading to a smooth and evenly baked batter.
Flour – As always, spoon the flour into a measuring cup and level it off. For even better accuracy, weigh the flour with a food scale. Either way, do not scoop directly into the flour bag as this packs the flour into the cup; leaving you with way too much added flour.
Peanut Butter – Soften the peanut butter in the microwave before sandwiching between the two layers of chocolate batter. This makes the peanut butter much easier to pipe into an even layer.
Cooling – As far as lava cakes go, this one is pretty gigantic. So make sure to allow the cake to cool for about an hour before slicing. If it's sliced into too soon, the center will completely seep out. Since this is intended to be sliced and served, it's important that the middle solidifies just a bit before eating.
Adjusting the peanut butter center
If you're a devout peanut butter lover, feel free to fill the cake with a heaping cup of peanut butter. This will give you an extra melty center with loads of peanut butter lava.
If you prefer a good 50/50 split between peanut butter and chocolate, stick to 1 cup of even 3/4 cup. The less peanut butter there is, the more the chocolate cake itself will bake. And when it's baked solid, the cake is incredibly rich and soft with a more thin layer of melty peanut butter.
Peanut butter fudge cake toppings
When the cake is slightly warm, top with chopped peanut butter cups if desired.
Other topping options include chocolate chips, chopped peanuts, chocolate shavings, powdered sugar, or ice cream! I actually think this dish would pair REALLY well with some cold creamy ice cream so this is definitely recommended.
How to store peanut butter lava cake
Keep the cake in an air tight container and it will keep at room temperature for a couple days. If you plan to keep it longer, store in the refrigerator for a few additional days. As the cake cools and chills, the center will set into a true solid fudge consistency…which is incredibly delicious!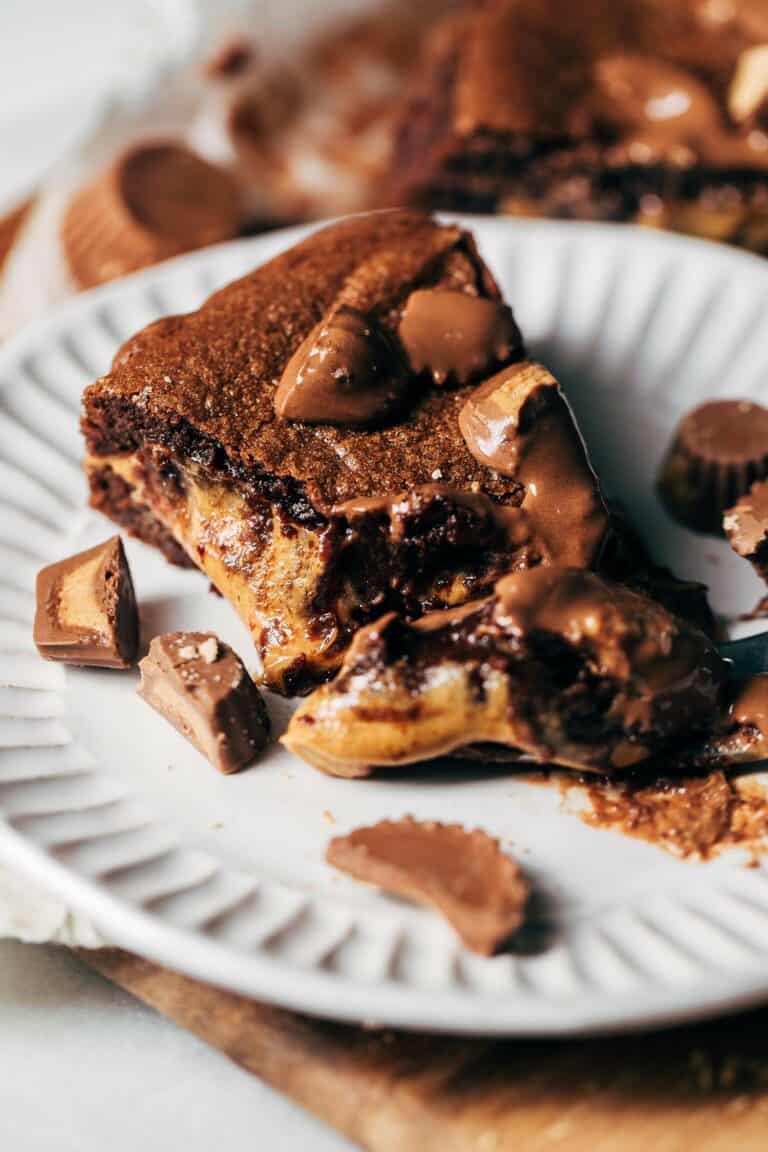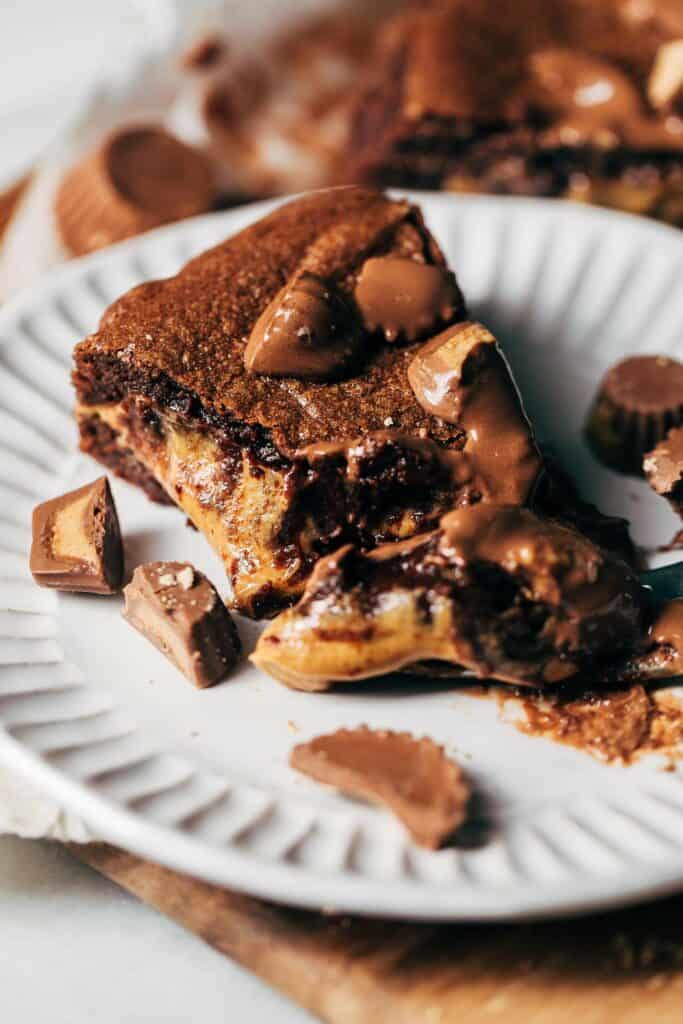 For more chocolate peanut butter recipes, check out my:
Make sure to tag me @butternutbakery on Instagram and leave a review below if you make this peanut butter lava cake. To pin this recipe and save it for later, you can use the button on the recipe card, the buttons above or below this post, or on any of the photos above. Happy baking!
Print
Molten Peanut Butter Fudge Cake
---
Author: Jenna Barnard
Total Time: 50 minutes + 1 hour cooling
Yield: 8-10 slices
Description
Think giant peanut butter lava cake meets ultimate fudgy brownie. This molten slice of heaven is made with brownie cake batter and baked with a thick layer of creamy peanut butter in the center. It turns into the most delicious melt in your mouth texture that any chocolate peanut butter lover will enjoy!
---
Molten Peanut Butter Fudge Cake
8 oz 70% cocoa dark chocolate, chopped
14 tbsp unsalted butter, sliced
3 large eggs, room temp
1 1/2 cups (160g) powdered sugar
1/2 cup + 2 tbsp (80g) all purpose flour (or gluten free cup for cup flour)
1 cup (250g) creamy peanut butter
Chopped peanut butter cups, for topping
---
Instructions
Molten Peanut Butter Fudge Cake
Preheat the oven to 350F and grease the inside of an 8″ cake pan. Shove a large sheet of parchment paper into the pan so that it covers the bottom and all sides. It's ok if it's wrinkly, just make sure to fold and press it up against the sides.
In a heat safe bowl, add the chopped chocolate and butter. Microwave in 30 second intervals until smooth and melted.
In a large mixing bowl, REALLY whip together the eggs and sugar until frothy and creamy. This can be done by hand (which requires a bit of elbow grease) or with a hand or stand mixer with the whisk attachment.
Then mix in the flour.
Pour in the chocolate mixture and whisk until combined.
Now for the peanut butter – add the peanut butter to a heat safe bowl and microwave for about 15 seconds. Enough to soften the peanut butter but not fully melt.
Add the softened peanut butter to a ziplock bag and set aside.
Now pour half of the brownie cake batter into the cake pan and spread it even.
Snip a 1/2″ corner off the ziplock bag and pipe the peanut butter in an even layer over the cake batter, leaving a small bare border around the edge. Gently spread it even, careful not to disrupt the cake batter underneath.
Using a large cookie scoop, scoop the remaining cake batter on top of the peanut butter and gently spread even.
Bake for 30-35 minutes. It's ready when the center of the cake no longer appears moist or wet.
Allow the cake to cool in the pan for about 45 minutes to an hour at room temperature. After an hour the center will still be quite molten, but if you prefer a more set center allow the cake to cool for longer.
Top with chopped peanut butter cups, if desired, and lift the cake out of the pan.
Now slice and enjoy!
Prep Time: 20 minutes
Cooling Time: 1 hour
Cook Time: 30 minutes
Category: Dessert
Method: Baking
Cuisine: American
Keywords: peanut butter lava cake, peanut butter brownie cake, molten peanut butter cake
Recipe Card powered by