This classic peanut brittle is so easy to make and is loaded with roasted peanuts. It's lightly golden with a buttery sweet and salty flavor. By using Karo® Corn Syrup, the peanut brittle turns out smooth, crispy, and perfectly sweet every time.
This post is sponsored by Karo® Corn Syrup but all thoughts and opinions are my own. Thank you for supporting the brands that make Butternut Bakery possible!
What makes this the BEST peanut brittle recipe?
Peanut brittle is a simple recipe consisting of three main ingredients: sugar, butter, and peanuts. But what makes a delicious peanut brittle is the type and the ratio of ingredients used. Too much butter and the brittle won't snap, but too much sugar and the brittle could turn out lumpy and gritty.
That's why I've included Karo® Light Corn Syrup in this peanut brittle recipe. Not only does it add a smooth sweetness, but it also controls the crystallization of the sugar in this brittle. Without it, the brittle could very easily seize up and crumble. But with Karo® Light Corn Syrup, the brittle turns out smooth and glossy with that signature snap that every brittle should have!
Equipment needed
Peanut brittle is very easy to make and requires only a few pieces of kitchen equipment that you probably already have on hand!
Candy Thermometer – It's important that the peanut brittle is heated to an exact temperature of 310F. If it's too cool, the peanut brittle won't harden. If it's too hot, it will have a slightly bitter and burnt flavor. A candy thermometer will leave out any guessing!
Saucepan – Use a medium saucepan to make the peanut brittle. Avoid a large pot or shallow skillet, as it will heat the brittle too rapidly. It will also be more difficult to mix in the peanuts and baking soda at the end.
Baking Pan – Cover a small baking pan with foil and pour the brittle on top. This is how the brittle will cool into that snap-breaking consistency.
Rubber Spatula – The brittle will harden FAST and remain sticky when hot, so spray a rubber spatula with some nonstick spray in order to spread out the hot brittle.
How to make peanut brittle
Now that we know what tools we'll need, it's time to make the brittle. It only requires 3 steps, but each one needs special attention. Here's what you need to know about making peanut brittle:
Karo® Light Corn Syrup – First and foremost, it's very important to use Karo® Light Corn Syrup in this recipe. Not only does it provide sweetness and flavor, but it also prevents the sugar from crystallizing. Because of this, it makes the entire candy-making process go much smoother. Without Karo® Corn Syrup, the brittle could clump up and turn gritty or burnt.
Temperature – Once the Karo® Light Corn Syrup, sugar, butter, and water are added to a saucepan, it's important to monitor the temperature. Stir occasionally at first, but pay close attention once the mixture starts to darken. Remove the mixture from the heat RIGHT when it reaches 310F.
Peanuts – After the mixture is removed from the heat, the next few steps should move VERY quickly. The brittle will harden and set as it cools, and it does so very rapidly. So right when it's pulled from the heat, mix in peanuts and baking soda. Baking soda is what helps lighten the candy, turning it into a brittle rather than a hard toffee. When it's added, the mixture will bubble and thicken very fast.
Spreading – After 15 seconds of mixing, quickly pour the mixture onto a baking sheet lined with foil. Use a greased rubber spatula to spread it even – working as fast as possible.
Cooling – Chill the brittle for about 1 hour to harden. By then, it should be ready to break up into small pieces!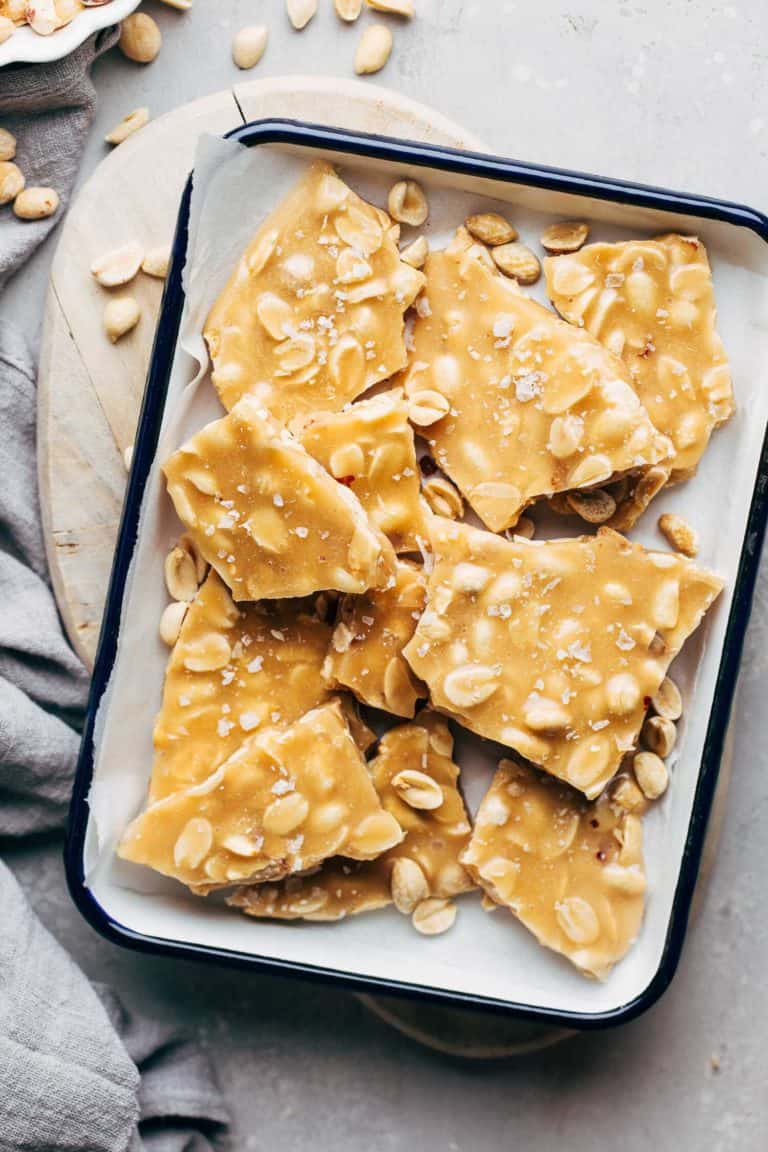 Brittle baking tips
Sprinkle the brittle with a bit of sea salt right after spreading in on the tray. The salt will help balance out the sweetness, creating a well rounded brittle with a strong peanut flavor.
Break the brittle into small pieces as these are much easier to make and gift.
Work fast! As mentioned in "how to make peanut brittle", it's very important to move fast after the peanuts and baking soda are mixed in. If not, the peanut brittle will turn out too thick and clumpy.
Don't play the guessing game and use a candy thermometer instead. This will ensure your peanut brittle turns out perfectly golden.
Use Karo® Light Corn Syrup, as this will give you the best smooth and light consistency.
Mix in lightly salted dry-roasted peanuts in order to balance out the sweetness of the brittle.
If using nuts that have been chilled or frozen, allow them to reach room temperature before making the brittle. Otherwise, the chilled peanuts will cool the brittle too fast and make it MUCH more difficult to work with.
Don't chill the brittle for too long. Only chill for about an hour just until it's set. If it's chilled any longer, the moisture from the refrigerator will cause the brittle to soften.
How to store peanut brittle
After the brittle is chilled and broken into pieces, store the peanut brittle in an air tight container at room temperature. It will keep for about a month. Do not store in the refrigerator as this will cause the brittle to soften.
For more peanut recipes, check out my:
Make sure to tag me @butternutbakery on Instagram and leave a review below if you make this homemade peanut brittle. To pin this recipe and save it for later, you can use the button on the recipe card, the buttons above or below this post, or on any of the photos above. Happy baking!
What how to make homemade peanut brittle:
Print
Homemade Peanut Brittle
---
Author: Jenna Barnard
Total Time: 30 minutes + 1 hour cooling
Yield: 10 servings
Description
This classic homemade peanut brittle is loaded with peanuts and has the perfect balance of salty and sweet!
---
1/2 cup (170g) Karo® Light Corn Syrup 
1 1/2 cups (300g) granulated sugar
1/4 cup (55g) unsalted butter
1/4 cup (60ml) water
1 1/2 cups (165g) dry roasted lightly salted peanuts
1/2 tsp baking soda
Sea salt for sprinkling (optional)
---
Instructions
Combine the corn syrup, sugar, butter, and water in a saucepan over medium heat. Stir to melt and combine. 
While that's melting, cover a small baking sheet with foil and lightly grease a rubber spatula. Set aside.
Also add the peanuts to a bowl and sprinkle the baking soda on top. Set this close by so you can quickly add it to the sugar mixture when needed.
Tend to the sugar mixture by stirring occasionally at the start, then stir more frequently as it begins to bubble. When it starts to darken, place a candy thermometer and keep stirring until it reaches 310F (about 20 minutes).
Remove the mixture from the heat and quickly mix in the peanuts and baking soda. Quickly stir for 15 seconds, then pour it onto the baking pan lined with foil. Use the greased spatula to spread it as even as possible, then sprinkle with sea salt.
Chill the brittle for 1 hour, or until set firm. But do not store the brittle in the refrigerator for any longer than 2 hours otherwise it will soften. The brittle will also set at room temperature, it will just take a bit longer. 
Once firm, remove the foil and break the brittle into tiny pieces. Enjoy!
Notes
If using unsalted peanuts, add about 1/4 tsp of salt to the recipe. Mix in with step 1 of this recipe. 
Keywords: homemade peanut brittle, peanut brittle, peanut brittle recipe
Recipe Card powered by