These M&M brownies are so moist, so chewy, and loaded with M&M's! The mix of soft chocolate brownie and sweet M&M candies makes me feel all kinds of nostalgia. Plus, this recipe can fit into any holiday by swapping in seasonal M&M colors!
What makes these the BEST M&M brownies?
Texture texture texture! I'm such a stickler for texture when it comes to brownies and when I created this recipe, I knew I wanted these brownies to be dense and chewy with loads of M&M's in each bite. It's safe to say…mission accomplished.
These brownies are so chewy with that signature thin crackly crust on top. BUT some chewy brownies can lean cakey and these definitely do NOT! They're so moist and so chocolatey thanks to a few secret ingredients.
And to make sure each bite has the perfect ratio of M&M to brownie, a mix of chocolate chips, regular M&M's and mini M&M's are folded into the batter. This mix allows the M&M's to really come through without overwhelming the brownies. It's just the right amount!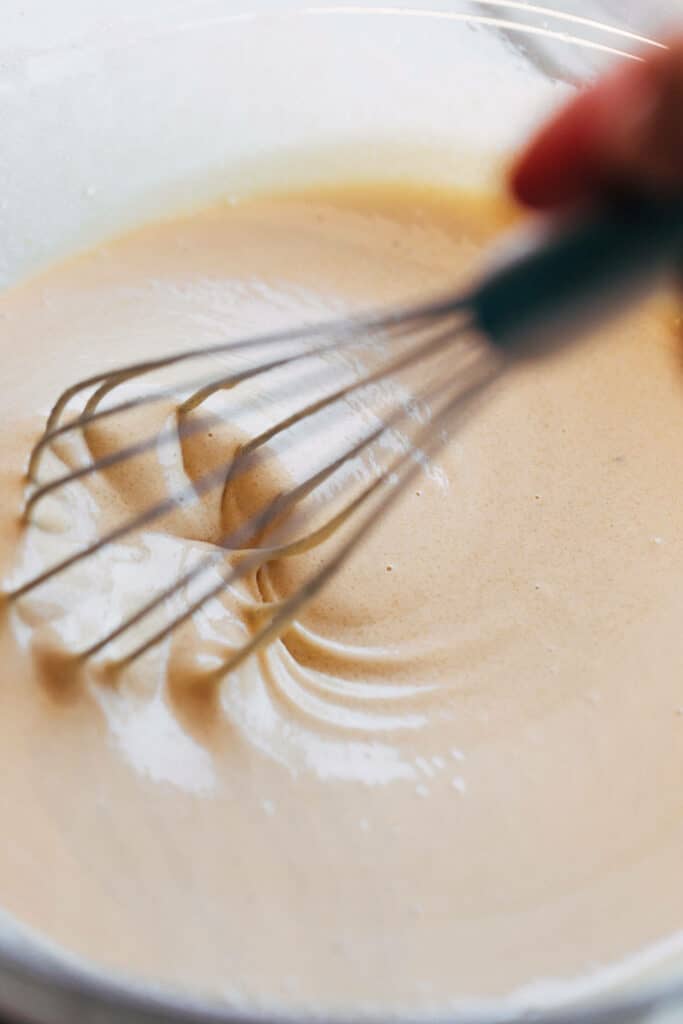 How to make chewy M&M brownies
The difference between chewy brownies and fudgy brownies narrows down to one major factor: fat.
Fudgy brownies have much more fat than chewy brownies, but it's still important to have the right amounts and types of fats in chewy brownies in order to create a moist (not dry) brownie.
One of the key ingredients to creating chewy brownies is unsaturated fats, or vegetable oil. For this reason, this recipe calls for an even split of butter and oil. Butter still adds delicious flavor, while the oil creates that moist and chewy consistency.
The types of sugar also play a role in the chewy factor. Dark brown sugar is mixed in to the batter due to its rich molasses flavor. This added molasses lends a chewy texture that sugar alone cannot provide.
Last but not least, just a tiny bit of baking powder takes these brownies from dense and fudgy to light, moist, and chewy.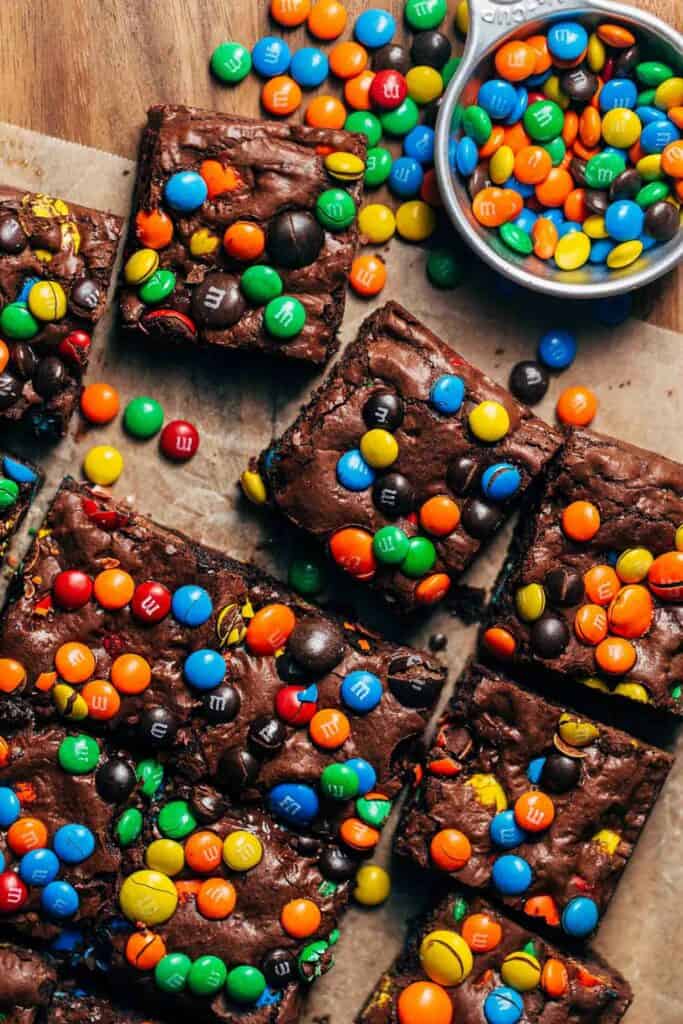 Tips for baking chewy brownies
Flour – I say this in every post, and for good reason. It's the number one reason why most recipes fail. If there's too much flour, the brownies will turn out dry. If possible, measure the flour with a food scale. Otherwise, to ensure the exact amount, gently spoon the flour into the measuring cup and level it off with a flat edge. If scooped directly into the flour container, the flour becomes packed down into the cup which could leave you with 1/4 cup or more of added flour. Same goes for the cocoa powder!
Butter – When melting the butter, make sure to mix in the oil and cocoa right when it's melted. Do not brownie or allow the butter to bubble on its own as this will release and evaporate its water content.
Eggs & Sugar – When whisking the eggs and sugar together, really get in there and whisk vigorously. It's important to break down the sugar granules to create a smooth brownie with a glossy surface.
Mixing – Once the dry ingredients are added, switch to a rubber spatula and gently fold the batter. Over working the batter can lead to a tough brownie, so take this last step slow and steady.
Baking – The brownies are done when a shell forms on the surface and the brownies are slightly puffed. If you're unsure, it's best to pull them when they're a bit underdone rather than over baked. Then, tap the pan on a hard surface when they're fresh from the oven. This will help create a closed chewy consistency.
M&M Brownies FAQs
Can I substitute light brown sugar for dark brown sugar?
You can, but stick with dark brown sugar for the best flavor and texture.
What can I use in place of the vegetable oil?
Use any mild flavored oil or, if you don't mind the flavor, olive oil could also work great in these brownies.
Can I skip the mini M&M's?
Yes, feel free to sub more regular M&M's in place of the minis.
Can I use dutch process cocoa in place of the regular unsweetened cocoa?
You can, I just prefer the more traditional flavor of regular cocoa powder paired with the sweet M&M candies.
How long do the brownies keep?
Store the brownies in an air tight container at room temperature and they'll keep tasting fresh for about 4-5 days.
How can I double this recipe?
I haven't tried baking these in a 9×13 dish, but if you decide to double the recipe that's the pan size I recommend. Try baking for about 10 extra minutes, or until the center becomes slightly puffed.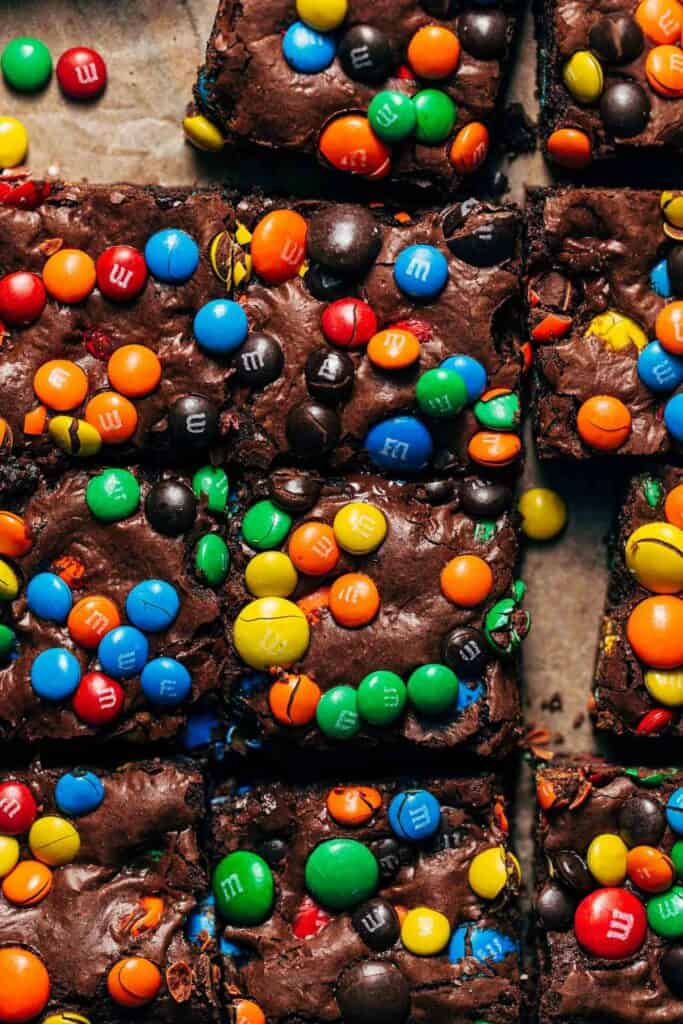 For more brownie recipes, check out my:
Make sure to tag me @butternutbakery on Instagram and leave a review below if you make these M&M brownies. To pin this recipe and save it for later, you can use the button on the recipe card, the buttons above or below this post, or on any of the photos above. Happy baking!
Print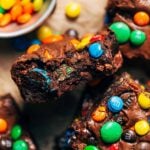 Chewy M&M Brownies
---
Author: Jenna Barnard
Total Time: 40 minutes + 1 hour cooling
Yield: 16 brownies
Description
These M&M brownies are so moist, so chewy, and loaded with M&M's! Mix in traditional colors or seasonal M&M's to fit this recipe into any holiday.
---
M&M Brownies
1/4 cup (55g) unsalted butter, melted
1/4 cup (54g) vegetable oil
1/2 cup (50g) regular unsweetened cocoa powder
3 oz dark chocolate, chopped
2 large eggs
3/4 cup (150g) granulated sugar
1/4 cup (55g) dark brown sugar, packed
2 tsp vanilla extract
1/2 cup (65g) all purpose flour
1/2 tsp kosher salt
1/4 tsp baking powder
1/4 cup semisweet chocolate chips
3/4 cup regular M&M's, plus more for topping
1/4 cup mini M&M's, plus more for topping
---
Instructions
M&M Brownies
Preheat the oven to 350F and grease and line an 8×8 square baking dish with parchment paper.
In a saucepan over medium heat, melt the butter.
Once melted, whisk in the oil and cocoa powder and bubble for about 15 seconds.
Remove from heat and stir in the chopped chocolate to melt. Set aside.
In a medium bowl, whisk together the flour, salt, and baking powder. Set aside.
In a large mixing bowl, vigorously whisk together the sugars and eggs for about 2 minutes. The mixture should become very pale, creamy, and slightly frothy.
Now mix in the vanilla, followed by the chocolate mixture.
Switch to a rubber spatula and fold in the dry ingredients. Right before they're fully mixed in, toss in the chocolate chips and M&M's and fold to combine.
Pour the batter into the baking dish, spread even, and top with a handful of regular and mini M&M's.
Bake for 25-28 minutes.
When you remove the brownies from the oven, tap the pan on a hard surface to deflate the brownies.
Allow them to cool at room temperature for about 90 minutes or in the refrigerator for about half that time.
Then lift the brownies out of the pan, slice, and enjoy!
Equipment
Prep Time: 15 minutes
Cooling Time: 1 hour
Cook Time: 25 minutes
Category: Dessert
Method: Baking
Cuisine: American
Keywords: m&m brownies, m & m brownies, m&ms brownies, brownie recipe, chewy brownies
Recipe Card powered by