This vampire bite Negroni has the sexy smoky flavor of mezcal mixed with bitter Campari, sweet vermouth, spicy chile liqueur, and tart cherry juice. With so many layers of flavor packed into one simple drink, the complexity and color makes it the PERFECT Halloween cocktail.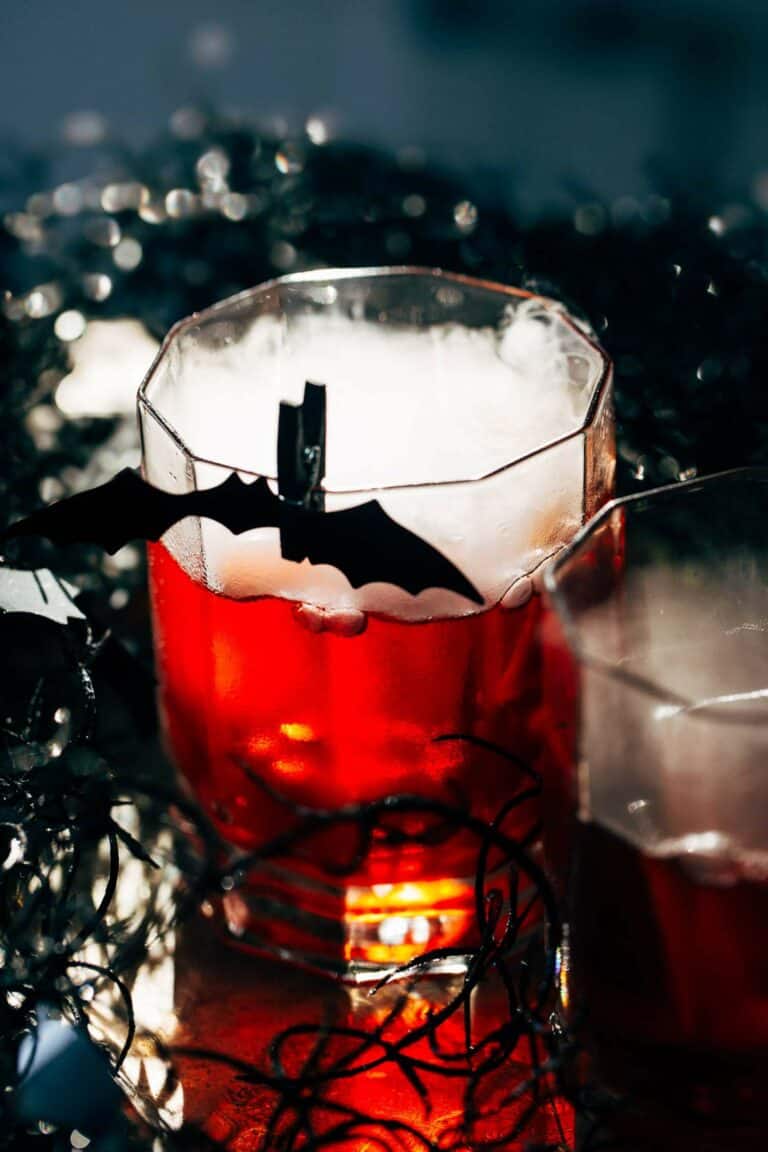 What to Expect From a Mezcal Negroni
A classic Negroni is made with gin but to follow the narrative of a vampire bite, this Negroni is made with smoky mezcal.
Rather than tasting all of the herbal and floral notes of gin, this cocktail has a slight smoky flavor. This is because mezcal is made from agave that has been roasted underground with hot coals. Coming in direct contact with the smoke, the agave absorbs the smoky flavor to create a very unique spirit.
Paired with the bitter Campari, sweet vermouth, chile liqueur, and tart cherry juice, this Negroni will take you on a rollercoaster ride of flavor.
Just like a typical Negroni, the top note is rather bitter due to the Campari. The sweet vermouth and tart cherry juice are there to help cut through that bitterness and the mezcal and chile liqueur add a unique smoky spicy flavor that just feels very mysterious and vampire-esque!
Plus, the combination of chile liqueur, tart cherry juice, and Campari make the most gorgeous deep red color.
The Best Mezcal for a Mezcal Negroni
If you are new to mezcal, different brands contain different levels of smoke. Here are my suggestions based on your preferred level of smoke:
Dos Hombres Mezcal – This is a great intro to mezcal as it has a smooth flavor but isn't too smoky.
Madre Mezcal – A goldilocks and my absolute favorite. Just a enough smoke and is incredibly smooth. (I also like 400 Conejos which is just a tiny bit more smoky.)
Del Maguey Vida Mezcal – If you like your mezcal to taste like a bonfire, this is for you. Incredibly smoky but not overly so!
How to Create a Spicy Negroni
If you are sensitive to spice, don't worry! The spicy flavor from the chile liqueur is very subtle.
But if you want a bit more spice OR can't get your hands on chile liqueur, here's another option:
For less spice – Leave the chile liqueur out completely and sub with more sweet vermouth.
For more spice – Keep the cocktail as is but before pouring in the ingredients, sprinkle some cayenne pepper or chile powder over the ice. As the liquids are poured in, this spices will naturally infuse with the cocktail.
To replace the chile liqueur – Combining the two options above, replace the chile liqueur with more sweet vermouth and add the spices over ice.
Tart Cherry Juice Substitutions
Other juices that would taste great in this cocktail would be anything along a similar tart/bitter flavor profile. This could be pomegranate juice or cranberry juice.
For more cocktail recipes, check out my:
Make sure to tag me @butternutbakery on Instagram and comment below if you make this mezcal Negroni. To pin this recipe and save it for later, you can use the button on the recipe card, the buttons above or below this post, or on any of the photos above. Cheers!
Print
Vampire Bite Negroni
---
Description
This mezcal Negroni is smoky, spicy, bitter, and subtly sweet. The complexity of flavors is (as I imagine based on my addiction to fantasy books) just like a vampire bite.
---
Vampire Bite Negroni
1 oz mezcal
1 oz Campari
1/2 oz sweet vermouth
1/2 oz Ancho Reyes chile liqueur*
1 oz tart cherry juice
Orange peel
---
Instructions
Vampire Bite Negroni
Fill a lowball glass with ice.
Pour in all of the ingredients.
Hold an orange over the cocktail and slice off a peel, allowing those oils to fall into the cocktail.
Stir the cocktail with the orange peel, ensuring to run it around the rim of the glass as well.
Garnish with a paper bat and enjoy! (Cocktail is best after about 10 minutes when some of the ice has melted).
Equipment
Notes
*CHILE LIQUEUR – If you can't get your hands on this, here's how to mimic that spicy flavor. Place ice into your cocktail glass and sprinkle the top with some cayenne pepper or chile powder (or both). Then make the cocktail as is but sub the chile liqueur with more sweet vermouth. The liquids poured over the spices will naturally infuse that spicy flavor into the Negroni.
Prep Time: 5 minutes
Category: Drinks
Method: Stirred
Cuisine: Italian
Keywords: mezcal Negroni, halloween Negroni, Negroni recipe, spicy Negroni, Negroni cocktail recipe
Recipe Card powered by