I already want to make this pecan pie babka again because I love it so much. When I first made babka, I just did it to see what it was all about and I was blown away by how delicious it is. So naturally, I had to make a Fall version! This babka recipe uses pecans, maple syrup, brown sugar, and cinnamon in the filling. I mean come on, how good does that sound?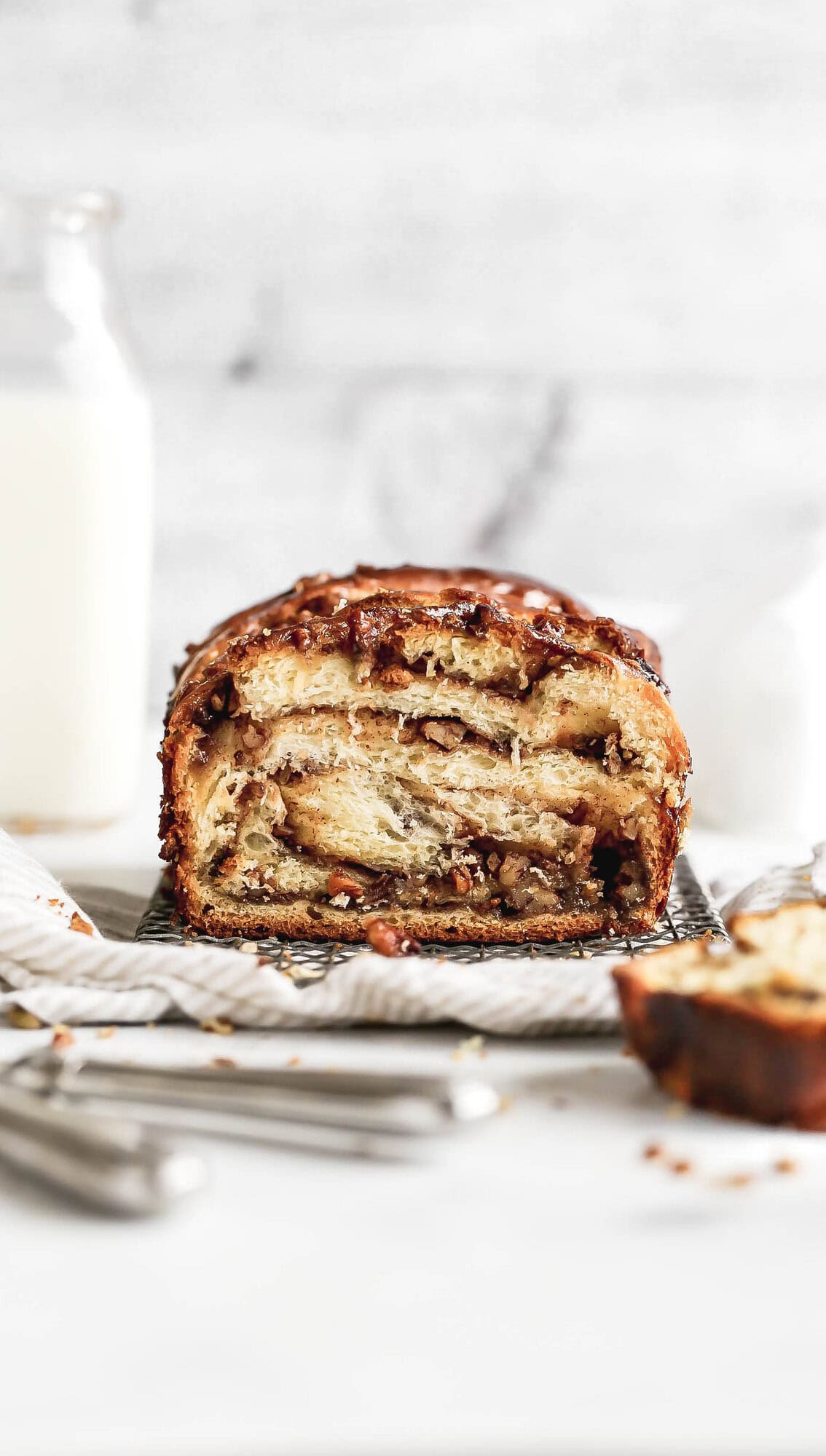 How to shape babka
Seriously, babka is so easy to make but it looks so impressive. If you make this for Thanksgiving, everyone will be in awe of those nutty swirls! Forget pecan pie, pecan babka is where it's at.
So how do you get that signature swirl? It's similar to making cinnamon rolls but instead of making individual slices, you make one big cut down the length of your log to expose all of the layers. You take your two halves and twist them together to showcase the beautiful design on top. This blog post has a great step-by-step guide.
For this recipe, it's especially easy because the filling is fairly stiff. It can get messy when making a chocolate babka because the filling tends to spill out. You can avoid this by leaving a half inch boarder around the edge of your dough when spreading the filling.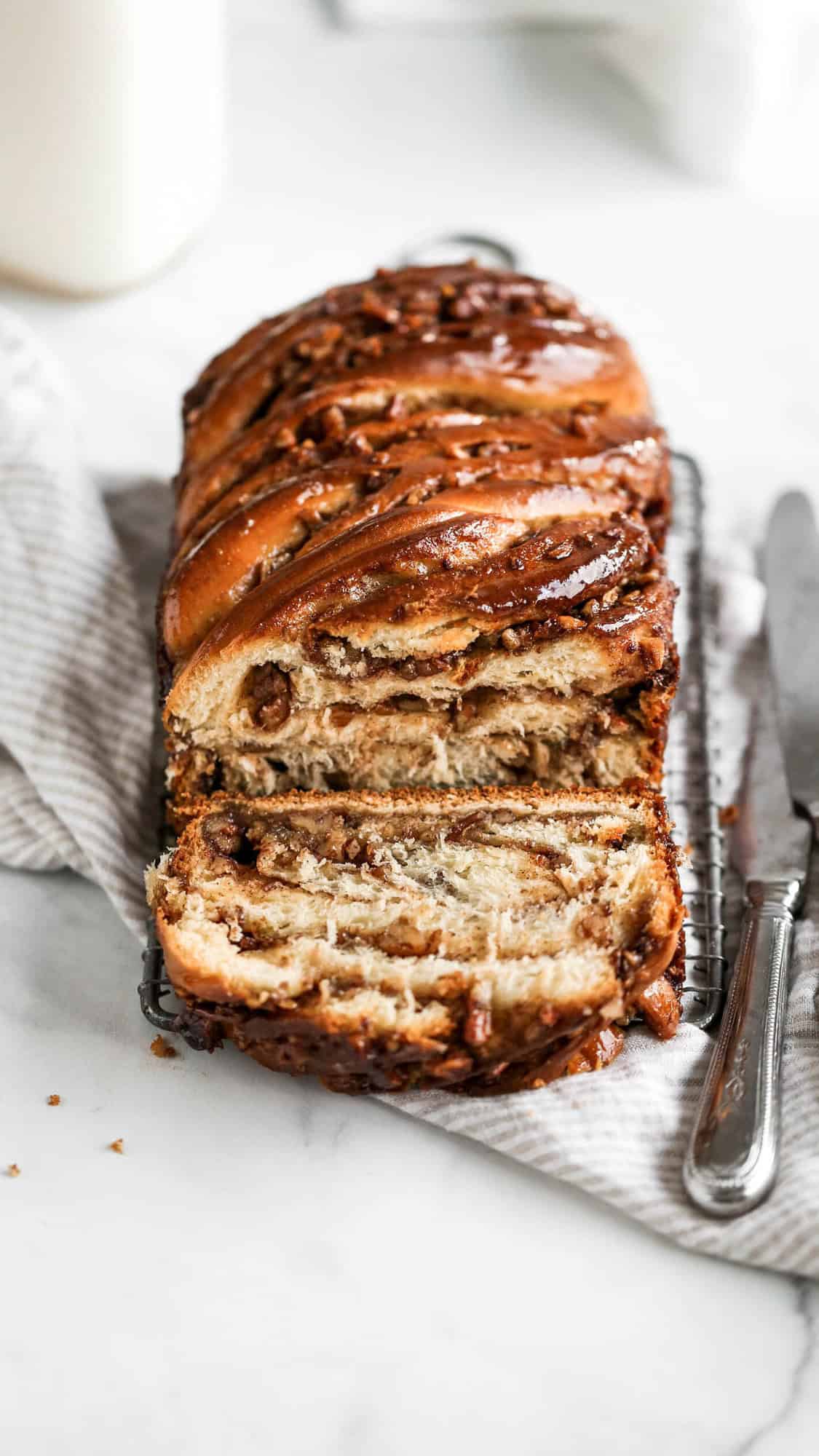 What does babka taste like?
From the ones I've tried, it tastes like a rich buttery dough that just melts in your mouth. It's similar to cinnamon rolls but it's a little bit fluffier and richer. This is due to the amount of butter added to the dough and since it's at room temperature, you get a smooth buttery texture as opposed to a flakey one.
Classic babka is filled with chocolate which pairs so well. The chocolate is slightly bitter which balances out the sweetness and creaminess of the loaf. Plus, chocolate adds a great contrast to those beautiful swirls!
There are endless amounts of fillings you could use for babka. There's chocolate hazelnut, cinnamon sugar, rum raisin, maple bacon, peanut butter banana…I mean the list goes on and on. I'm even getting some more inspiration here!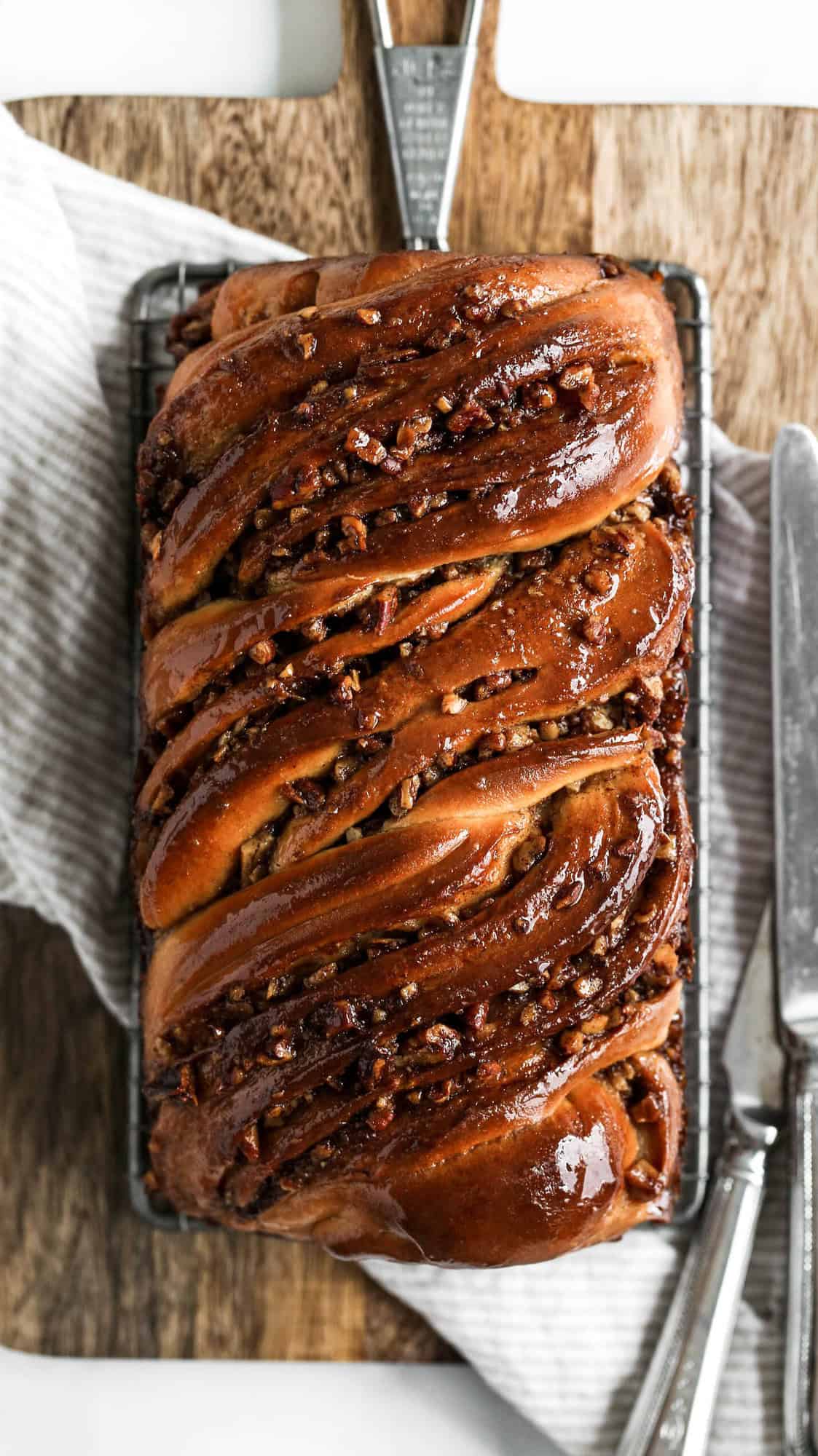 Baking your pecan pie babka
The trickiest part about this recipe is knowing when it's done. I had to bake this three different times just to get the bake right! Since the top turns a rich golden brown, you might think the center is done but you should always double check.
One sign is how much it puffs up. The center should have a nice round dome when it's fresh from the oven. It will even out as it cools. If it starts to sink in the middle, place it back in the oven.
Also peak between each layer. Take a toothpick or fork to gently lift up any loose layers. If the center still looks a little raw and you don't see those nice stringy crumbs, it will need to bake for a little bit longer.
Poking at it is another test you can use. If it springs back, it's fully baked. If it takes a bit for it to come back or if it doesn't spring back at all, then it's not ready.
I just can't resist those babka layers. It's such a gorgeous dessert but takes much less effort than you think. For a classic babka recipe, check out my crunchy chocolate babka.
If you're in need of even more fall or Thanksgiving recipes, here are some of my favorites:
Make sure to tag me @butternutbakery on Instagram if you make this pecan pie babka. I love seeing my recipes come to life in YOUR kitchen! To pin this recipe and save it for later, you can use the button on the recipe card, the buttons above or below this post, or on any of the photos above. Happy baking!
Print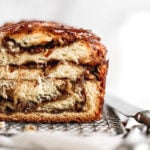 Pecan Pie Babka
---
Description
This babka recipe is filled with a delicious layer of pecans, brown sugar, and cinnamon. It's the perfect Thanksgiving dessert that everyone will love!
---
Babka
2 cups + 2 tbsp all-purpose flour, plus extra for dusting
1/4 cup granulated sugar
1 tsp active dry yeast
2 large eggs
1/4 cup + 1 tbsp whole milk
1/2 tsp salt
5 tbsp unsalted butter, room temp
Pecan Filling
4 tbsp unsalted butter, room temp
2 tbsp maple syrup
1/2 cup packed brown sugar
2 tsp cinnamon
1 cup chopped pecans
Sugar Glaze
3 tbsp water
3 tbsp granulated sugar
---
Instructions
For the dough, combine the flour (just the 2 cups), sugar, and yeast in the bottom of the bowl of a stand mixer.
With the dough hook attachment, mix in eggs and 1/4 cup + 1 tbsp milk until it comes together (2-3 minutes).
With the mixer on low, add the salt then the butter, one tablespoon at a time, until it's fully incorporated into the dough.
Run the mixer on medium speed for about 10 minutes until the dough is completely smooth. Stop and scrape down the bowl a couple times during this process. You want the dough to pull away from the sides of the bowl. If the dough is still too wet, add in the other 2 tablespoons of flour.
Coat a large bowl with oil, place the dough inside, cover it in plastic wrap, and refrigerate overnight. The dough won't double in size so don't worry if it looks like yours hasn't grown much.
Before you take the dough out of the fridge, make your filling. Combine all of the ingredients (minus the nuts) either by hand or with a mixer. Fold in the nuts.
Grease at 9×4 bread pan and line the bottom and short sides with one long strip of parchment paper.
Take the dough out of the fridge and roll it out onto a well-floured surface. It should be 10.5-inches wide (the side closest to you) and 12.5-inches long (away from you). The extra half inch so you can cut off the sides to create perfect edges.
Spread the filling in an even layer over the dough, leaving 1/2 inch all around the outside. Brush the end farthest away from you with water. Roll the dough up into a log (like making cinnamon rolls). You want to make sure the roll it tight enough so that there are no gaps between the layers but also not too tight to where the filling spills out.
Gently cut the log through the middle lengthwise and lay one piece on the top of the other to form an X. Make sure the cut sides are facing up. Working on one side of the X, twist the two pieces together twice, still making sure the cut sides are facing up. Do the same to the other side of the X. You should be left with a fat twisted log with the pecan layers facing up.
Place the babka into the bread pan and cover it with a damp tea towel. Leave it to rise for 1 1/2 hours at room temperature.
To bake, preheat the oven to 350F. Remove the tea towel and bake on the middle rack for 40-45 minutes or until a toothpick in the center comes out clean. You can also peak into the layers to see if the middle is still raw. If it is, bake for an additional 5-10 minutes or until the center is fully baked. If it browns too quickly, you can cover it with foil.
When the babka is almost done baking, make the simple syrup. Bring the sugar and water to a simmer until the sugar dissolves (about 4 minutes). Remove from heat and let it cool for a couple minutes. When the babka is fresh from the oven, brush the simple syrup all over. Don't skimp on this, make sure to use up every last drop.
Let it cool half in the pan, and half on a cooling rack before eating. It's best to eat while it's still a little warm. Enjoy!
Keywords: babka, pecan pie babka, pecan babka
Recipe Card powered by