Having your own little space on the internet is so fun and rewarding. I mean getting to share recipes all day? Sign me up! But where do you even start? What's the best platform to use? How do I even get people to my website?
The first step can feel so overwhelming which is why I'm showing you step-by-step how to start a food blog. I'm talking where to go, how to do it, and what to add to your site so Google knows you exist! Even better, this route is a strong step forward to success for years to come.
How to start a food blog step one: Nail Down Your Niche
Before getting your food blog off the ground, think about what it is that you want to focus on. Finding your niche is so important, especially in blogging, because it's how you build a loyal fanbase that keeps coming back to your site again and again.
Trying to speak to EVERYONE may sound like the smart move, but it would be nearly impossible to stand out amongst the sea of food blogs. Luckily, there are tons of niches you can choose from. The most important thing is to find the one that you absolutely love.
For me, its indulgent dessert recipes. For others, it's paleo recipes, gluten free baking, all vegan recipes…the list goes on and on.
Focusing on one category will not only help you create a successful food blog, but it will also make you an expert at your craft. Honing in on your niche will allow you to provide valuable information to your audience, thus building trust and loyalty to your blog (and to Google).
How to start a food blog step two: Find Your Domain Name
Let's make it official with a dot com website! Sure, you could use a free domain like food.blogging.com, but nothing beats the professional appeal of a plain old ".com" domain.
A couple things to keep in mind when finding your domain:
Keep it short and sweet
Make sure it's easy to spell
Have it match all other social handles (or as close as you can get)
The first two are a given, but the third is important if you're wanting to build a solid brand for your blog. Unfortunately for me, butternutbakery.com was already taken otherwise that would be my website!
Having your domain match your social handles (Instagram, Facebook, Pinterest…etc.) makes your blog more memorable and searchable. Because when they see your name in multiple places, they'll know exactly where to go for your website.
Bluehost includes a free domain name with your hosting signup, making it a seamless transition as we move into our next step.
Search here to see if your domain name is available!
How to start a food blog step three: Pick your hosting platform
We're starting to get into the technical aspects of blogging so hang in there. As someone who is not tech-savvy what-so-ever, Bluehost made this process incredibly simple. It's without-a-doubt the cheapest and easiest option for beginner food bloggers.
To break it down in a way that's easy for me to understand, a hosting service is where all of the backend information of your site is stored…as opposed to the frond end data which is the LOOK of your website.
Without hosting (aka without a server to house your data), your website can't be viewed by the internet because all of your photos, posts, and plugins don't have a designated storage space…AKA a hosting server.
That's why it's important to choose a hosting service that's sizable for the amount of information you share. Inadequate hosting can slow your site down, causing extremely slow load times and high bounce rates.
Bluehost is the service I use and it runs so smoothly. Most importantly, for the technically impaired like me, they have a 24-hour chat service that is super helpful in resolving any issues I run into.
Start by selecting your plan. I recommend starting off with the Basic and upgrading when you feel you need more out of your plan.
You will also be prompted to fill out your information along with selecting a couple "add-ons". I don't think they're necessary but you can purchase whichever ones you think you will need.
How to start a food blog step four: Install WordPress
If you're in this for the long haul, please please please use WordPress. I know it might seem overwhelming at first, especially compared to the other web services out there, but it's so easy once you get the hang of it.
The reason why I push WordPress so much is because of how customizable it is. There are so many plugins and widgets you can add to your site to make it fully functional. There's a reason it's the #1 blogging platform.
I started out using Squarespace and did not like it. I was limited by their templates and it didn't pull my data correctly in order to optimize my site for Google and Pinterest searches. Trust me on this one, GET WORDPRESS so you don't regret it later! Oh, and did I mention it's FREE?
Luckily, Bluehost makes it super easy because WordPress is automatically installed when you sign up. You can jump right into picking your theme and designing your site.
*Make sure you're using WordPress.org NOT WordPress.com as they are not the same.
How to start a food blog step five: Make it look professional
WordPress has tons of beautiful free templates to choose from. I started off with a free option but eventually realized I needed more out of my template. I needed the flexibility of adding a custom recipe index and site layout which is what you can get from a premium template.
I chose The Genesis Framework and Foodie Pro Theme and I absolutely love it. It's clean, simple, and easy to use. Plus, the Genesis Framework allows you to change your colors, fonts, and layout with just the click of a button.
And the two go together. The Genesis Framework is what supports the Foodie Pro Theme so that you can easily edit it. This is definitely one of the cheapest yet functional options for first time food bloggers.
How to start a food blog step six: Make it searchable
Now lets deck your blog out with all the essentials so we can make this a home run. I could get into the technical jargon of it all but in short, you need to make the data of your site structured in a certain way so that Google can easily read it.
There's these "bots" that scan the internet in order to pull relevant sites for certain search queries. Having your data laid out in a way that Google can read will up your chances of ranking higher in the search rankings – bringing your site more traffic!
Tasty Recipes is a plugin you can add to your WordPress website that formats your recipes for you. This is the recipe card you can see at the bottom of my posts. It automatically structures the data for you so Google can read what you're sharing. Plus, they have multiple design options so you can find one that best suites your website.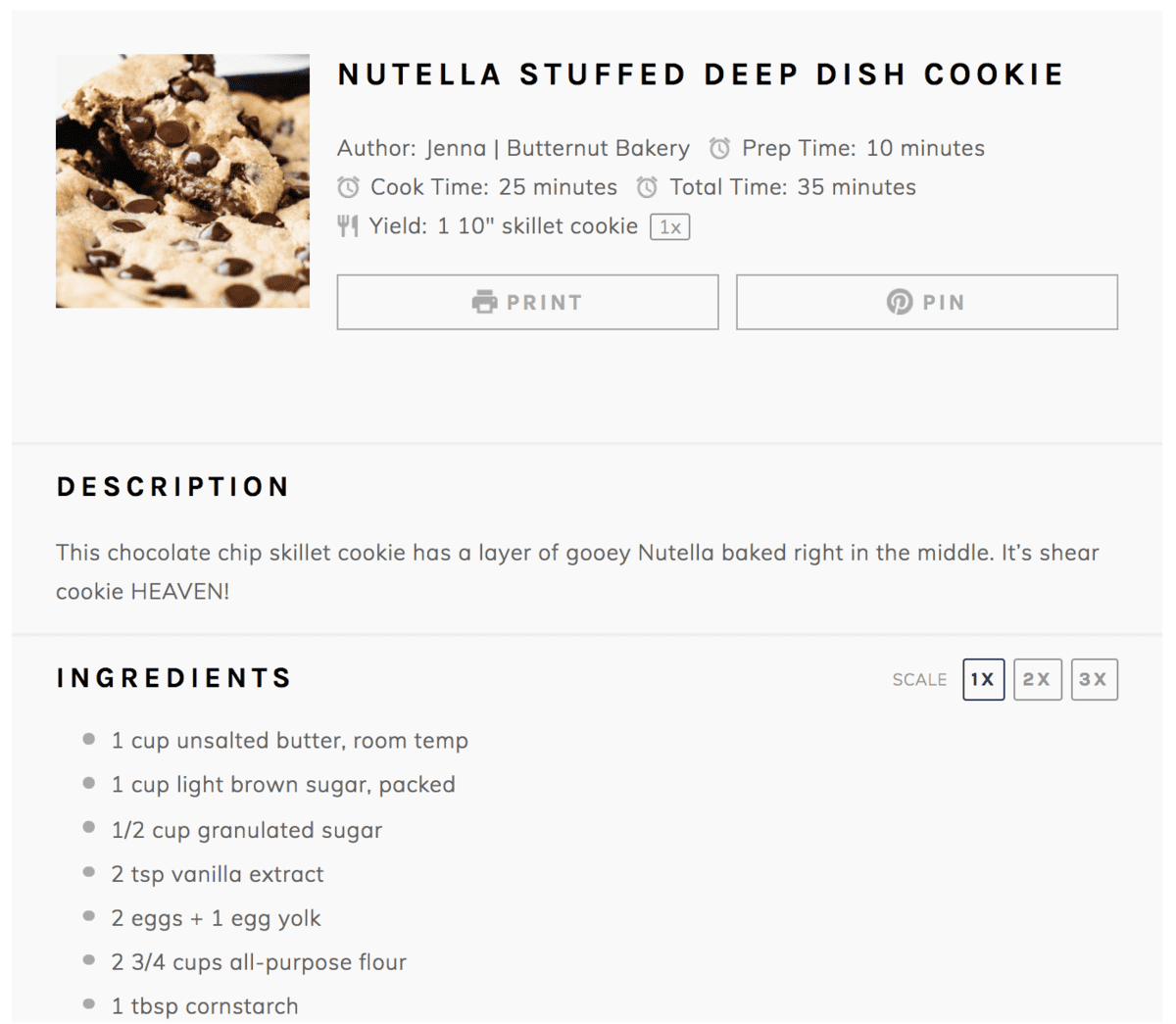 Tasty Pins was a game-changer for me. For Pinterest, you want to optimize your image descriptions so that they pull for relevant search terms within Pinterest. Tasty Pins shows you EXACTLY where to type it so your images pull the correct descriptions every time.
Another plugin to help you rank on Google. It's probably a plug in that every single food blogger, or blogger in general, has on their site. This tool helps guide you through your posts and website, showing you what needs to be done in order to optimize it.
How to start a food blog: in a nut shell
To summarize, you first need to find your niche and be specific. Then, find a domain name that works for you.
Next, join Bluehost which will store your site data. This will lead you to WordPress which, remember, is the only website service you should use!
Finally, download your Foodie Pro template with the Genesis Framework. Make your site searchable with Tasty Recipes, Tasty Pins, and Yoast SEO.
Now that you have a plan in place, you're off to start your very own food blog! Congrats! Now time to start whipping up some recipes.
---
Disclaimer: Some of the links above are affiliate links, which pay me a small commission for my referral at no extra cost to you! I'm sharing these products because I use them, trust them, and cannot recommend them enough. All thoughts and opinions are 100% my own.