These punny homemade chocolate bars are the cutest DIY Valentine's Day gifts! With easy homemade wrappings and a variety of options, there's one for all of your valentine's!
How to make homemade chocolate bars
This homemade chocolate bar recipe makes for the easiest DIY chocolates. Inspired by Compartes Chocolate, each are loaded with toppings that you can find just about anywhere.
Start by picking your favorite type of chocolate. For this recipe, I used semisweet but you could easily use milk, dark, or something even more bitter.
Melt all of your chocolate in a bowl over a pot of simmering water. When that's melted, remove from heat but keep the bowl over the pot so that it doesn't cool to quickly.
Pour the chocolate into your silicone molds.
Adorn them with your favorite toppings and let them sit out for about 15 minutes then transfer to the fridge to fully set. Once they're chilled, they're super easy to pop out of the molds and wrap!
How to wrap homemade chocolate bars
This is my favorite part! These homemade chocolate bar wraps are so easy to make that ANYONE can do it…even if you don't think you're a crafty person.
Start by cutting 3.5×8 inch strips of brown craft paper. You could also recycle a brown paper bag.
Using a roller stamp and an ink pad, stamp on your letters. Try to line them up as best you can. I wasn't perfect at it but I also like that it gives these bars a homemade look.
Take a red sheet of construction paper and fold it in half. Cut out varying sizes of tiny hearts then glue one of the sides on to your brown paper for a 3D affect.
Wrap each bar in clear cellophane bags and tape down any excess, similar to wrapping a present.
Cover each bar in the brown paper and tape it in the back. It's that easy!
customize your DIY chocolate bars
With four different varieties, there's a chocolate bar for just about anyone! From your significant other, to a family member, to your best friend.
I created 4 bars based on these funny love messages:
WE'RE MINT TO BE: Topping the entire bar in broken pieces of mint Oreos (I forgot just how good those are).
DON'T GO BACON MY HEART: A chocolate bar sprinkled with homemade candied bacon. It's the perfect balance of salty and sweet.
I LOVE YOU BERRY MUCH: This bar is covered in dried strawberries and blueberries. This is my favorite one as far as flavor goes!
YOU ARE WAFFLEY CUTE: Crushed up waffle cones and sprinkles top this adorable chocolate bar.
But the options are endless! You could easily make your custom chocolate bar or use different toppings for these same messages – I almost used Crunch Berries cereal for the berry one!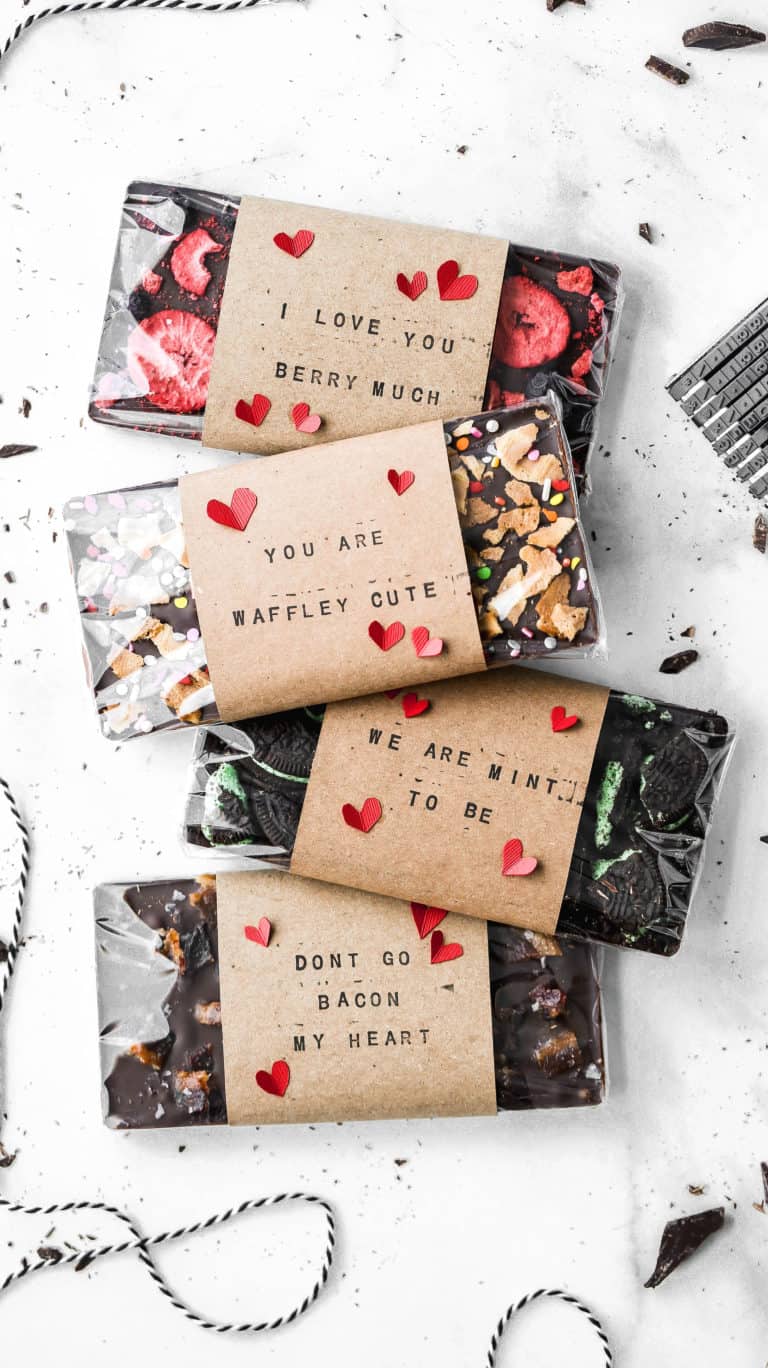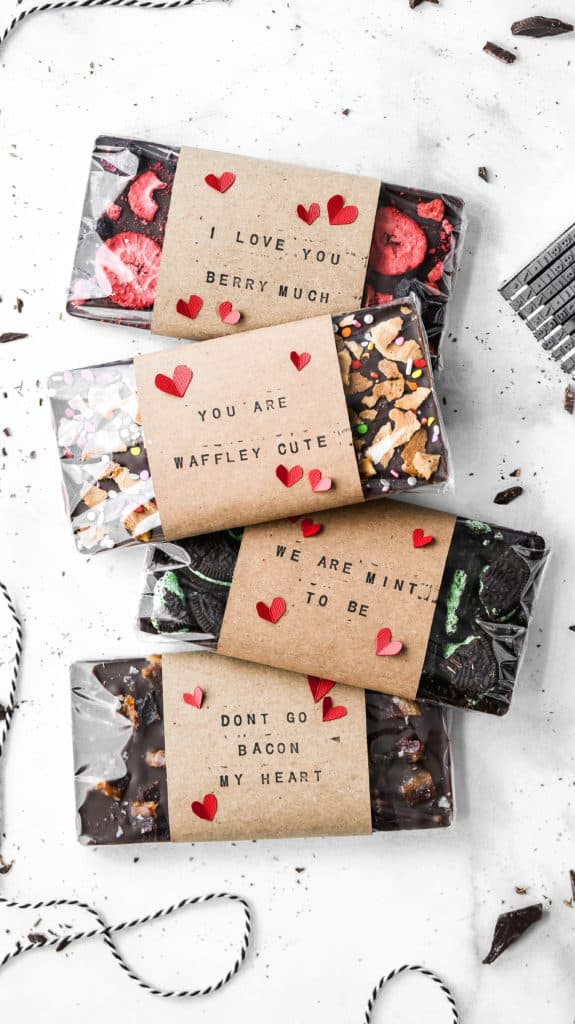 For more easy Valentine's Day desserts:
Valentine's Day Chocolate Sheet Cake
Naturally Colored Heart Shaped Shortbread Cookies
Better Than Boxed Chocolate Fudge Brownies
Make sure to tag me @butternutbakery on Instagram if you make these homemade chocolate bars. I love seeing my recipes come to life in YOUR kitchen! To pin this recipe and save it for later, you can use the button on the recipe card, the buttons above or below this post, or on any of the photos above. Happy baking!
Print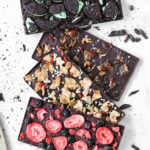 Homemade Chocolate Bars
---
Description
These homemade chocolate bars make for the cutest DIY Valentine's Day gifts – complete with easy homemade wrappings.
---
15 oz your choice of chocolate
5 mint Oreo cookies
3 strips candied bacon + sea salt
1 waffle cone + sprinkles
A handful of freeze dried strawberries and blueberries
---
Instructions
To make the candied bacon, preheat your oven to 350F and place three strips on a cooling rack over a baking sheet. Sprinkle the tops with brown sugar and bake for 15 minutes. Flip, sprinkle more sugar, and bake for another 15 minutes. Let them cool completely before chopping and adding to the chocolate.
Place a heat-proof bowl over a pot of simmering water. Melt all of your chocolate then remove the pot from the heat with the bowl still on top. You'll want to keep it over the pot so the chocolate doesn't start to harden.
Wipe down the bottom of your bowl as there will be some condensation on there. You don't want that to drip into your molds. Pour the chocolate into the molds and level with an offset spatula.
Top each chocolate bar with the designated ingredients. Let them sit at room temperature for about 15 minutes then carefully transfer to the fridge. They should harden within 20 minutes.
Carefully remove them from their molds and wrap. These instructions are listed above. Enjoy!
Keywords: homemade chocolate bars, homemade chocolate bar recipe
Recipe Card powered by
Some of the links above are affiliate links, which pay me a small commission for my referral at no extra cost to you!