These soft buttery cookies are baked with a puddle of strawberry preserves and topped with a dollop of cheesecake. They're the ultimate strawberry cheesecake cookies that have all the taste of a strawberry cheesecake, just bite sized!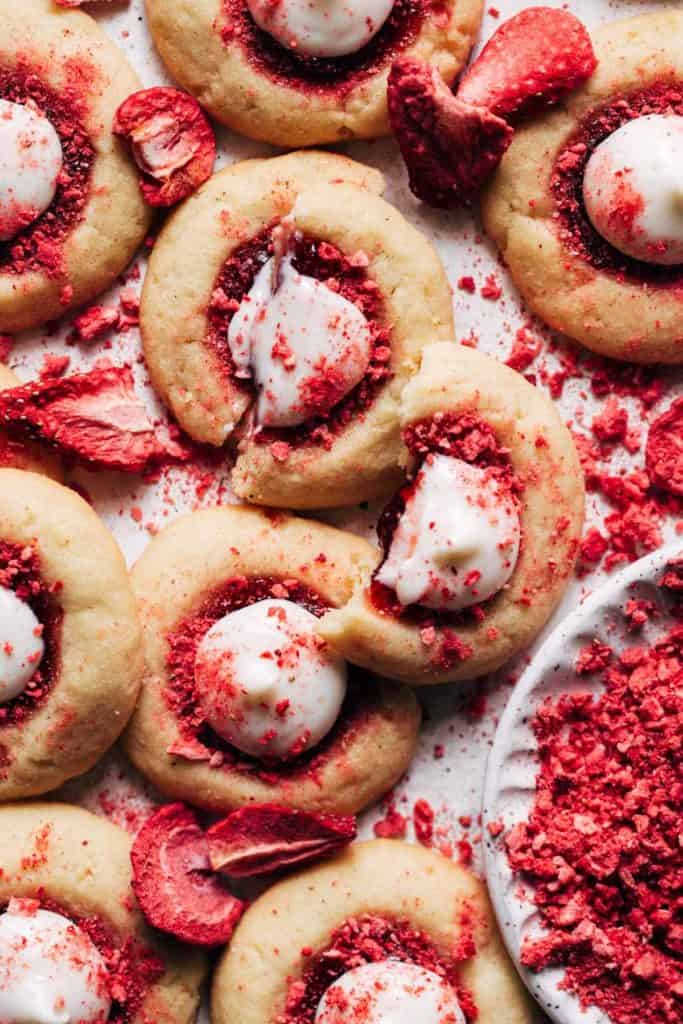 How to make strawberry jam cookies
The base of this recipe is a soft and buttery cookie topped with strawberry preserves. The two together create a delicious texture, with the sweetness of the cookie and slight tartness of the soft jam.
Better yet, making them is so easy! The cookie dough itself consists of pantry-staple ingredients:
Unsalted butter
Granulated and brown sugar
Egg yolk
Vanilla paste or extract
All purpose flour
Salt
All ingredients are combined to create a soft but moldable dough, perfect for creating jam filled cookies.
To prep them for baking, roll the dough into tablespoon-sized balls and place them about an inch apart on a cookie sheet. The cookies don't grow too much once baked so they can be placed fairly close together.
The key here is to roll one cookie dough ball at a time, press, and scoop the next cookie dough ball. Working this way will prevent the cookie dough balls from drying out before you get the chance to press them.
To press, the best and easiest way is to use the back of a round teaspoon. If you don't have one that's perfectly round, you could use the end of a round wooden spoon, rubber spatula, or your thumb. Anything that will yield a look similar the picture below.
Gently press into the cookie, just before you reach the bottom of the pan. If the cookie starts to crack as you press, just use your fingers to mold it back together.
Add 1/2 tsp of preserves to the center of each cookie. Gently spread it so that it touches up against the inner rim of the indents.
Now they're ready to bake! As they bake, both the cookies and them jam will spread. This allows the jam to thicken and releases an even deeper strawberry flavor.
How to make the silky cheesecake topping
To bring this cookie together, we need to add the delicious cheesecake dollop on top.
While the cookies cool, make the topping. This consists of a very short list of ingredients that you can mix by hand:
Room temperature cream cheese
Room temperature butter
Powdered sugar
Vanilla paste or extract
With the cream cheese and butter at room temperature, this makes it much easier to mix and ensures a really smooth texture. Mix all 4 ingredients together to create a thick glue-like consistency.
Before adding it on top of the cookies, it's important that they are completely cooled. Otherwise the cheesecake will melt all over the cookie.
For best results, fill a piping bag with a round tip and squeeze little dollops on top of the cookies. If these tools aren't available, you could also fill a ziplock bag with the cheesecake and snip off a corner to pipe it on top.
Cheesecake consistency
At room temperature, the cheesecake will hold its shape but it's very soft and more like a frosting consistency.
If you prefer a thicker texture, pop the cookies in the fridge for about an hour to allow the topping to thicken and set.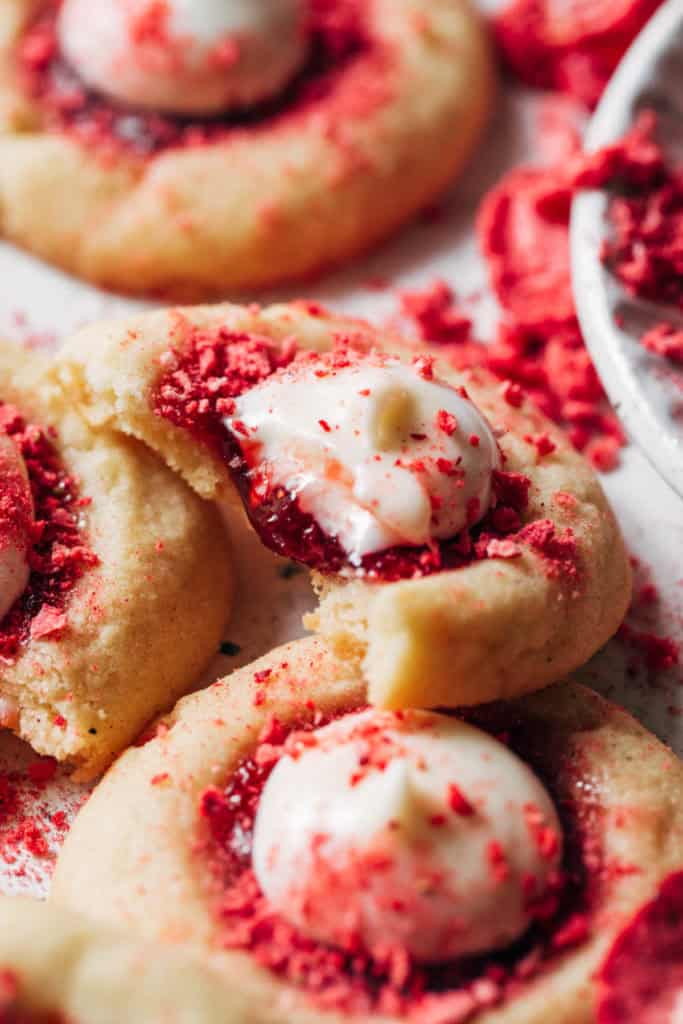 Freeze dried strawberries
This is an optional topping and is really only there for aesthetic purposes. They do add a bit of extra strawberry flavor, but it won't make or break the cookie!
If you do choose to add them, place the strawberries in a ziplock bag and use the bottom of your jam jar to crunch them into sprinkle-sized pieces. They're super easy to break so it doesn't take much effort.
They're also fairly easy to find at your local grocery store, we just never really look for them! Trader Joe's sells them, but you can also find freeze dried strawberries next to the nuts/seeds/trail mixes at most grocery stores. Even Target has them!
What is the best strawberry filling to use?
It's important to use a strawberry filling that's somewhat fluid. This helps to completely fill the cookie and they spread nice and even in the oven.
Try to use strawberry preserves over jams or jellies. Not only is it the perfect consistency, but it also has more chunks of actual strawberries giving you a stronger strawberry flavor. My go-to is always Bonne Maman.
How to store strawberry cheesecake cookies
Since both fruit and dairy are involved, these will need to be stored in the fridge in an air tight container. Since the topping is soft, try not to stack them on top of each other. The longer they chill, the thicker the cheesecake gets. They will last up to 5 days in the fridge.
For more strawberry desserts, check out my:
Make sure to tag me @butternutbakery on Instagram and leave a review below if you make these Strawberry Cheesecake Cookies. To pin this recipe and save it for later, you can use the button on the recipe card, the buttons above or below this post, or on any of the photos above. Happy baking!
Print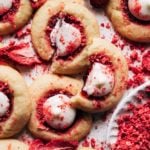 Strawberry Cheesecake Cookies
---
Author: Jenna Barnard
Total Time: 45 minutes
Yield: 17–18 cookies 1x
Description
Buttery cookies baked with a puddle of strawberry jam and topped with a dollop of cheesecake
---
Strawberry Cookies
1/2 cup (110g) unsalted butter, room temp
1/4 cup (55g) granulated sugar
2 tbsp light brown sugar, packed
1 large egg yolk
1/2 tsp vanilla bean paste (or 1 tsp vanilla extract)
1 cup + 1 tbsp (145g) all purpose flour
1/8 tsp salt
2 tbsp strawberry preserves
Cheesecake Topping
3 oz cream cheese, room temp
2 tbsp unsalted butter, room temp
1 cup (120g) powdered sugar
1/4 tsp vanilla bean paste (or vanilla extract)
3 tbsp freeze dried strawberries  (optional)
---
Instructions
Strawberry Cookies
Preheat the oven to 350F and line a large baking sheet with parchment paper.
Cream together the butter, granulated sugar, and brown sugar until light and fluffy (paddle attachment if using electric mixer).
Mix in the egg yolk and vanilla until smooth. Scrape down the bowl and mix again.
Add the flour and salt and mix just until the flour is fully absorbed.
Pop the bowl into the fridge for about 5 minutes while you clear some space to prep the cookies for baking.
Pull the bowl out of the fridge and scoop 1 tablespoon sized balls. Roll them between your hands and place on the cookie sheet.
Work the cookies one by one, so scoop, roll, press, then scoop the next cookie. The cookies can be placed about an inch apart.
Press a round teaspoon into the center of the cookie to create an indent. If you don't have a round teaspoon, you could use the end of a round wooden spoon or your thumb. If the cookie cracks when pressing it it, just mold it back together with your fingers. If your utensil keeps sticking, make sure to wipe it down in between each cookie.
Fill each cookie with 1/2 tsp preserves. Push it up against in the inside rim of the indent to ensure it fulls the hole completely.
Bake for 14-16 minutes or until the edges are barely golden brown.
Transfer to a cooling rack to cool completely while you make the cheesecake topping.
Cheesecake Topping
Mix together the cream cheese and butter. When they're at room temp, they're soft enough to do so by hand.
Mix in the powdered sugar and vanilla.
Pour into a piping bag fitted with a round tip, or pour into a ziplock bag and snip off a corner.
Once the cookies are completely cooled, squeeze a small dollop onto the tops of the cookies.
Sprinkle with some crushed freeze dried strawberries if desired. Just place them into a bag and use the bottom of a jam jar to crunch them into sprinkle-sized pieces.
At room temperature, the cheesecake topping is nice and soft. For a thicker consistency, place them in the fridge for about an hour before serving.
Enjoy!
Prep Time: 30 minutes
Cook Time: 15 minutes
Category: Cookies
Method: Baked
Cuisine: American
Keywords: strawberry cookies, strawberry cheesecake cookies, cookies, strawberry desserts, strawberry cheesecake
Recipe Card powered by