What's better than caramel and chocolate? Oh yeah, when it's layered on top of buttery gluten free shortbread. These millionaire shortbread bars are stuffed with soft SunButter caramel and coated in salted dark chocolate. It's a classic millionaire shortbread recipe with a unique twist!
This post is sponsored by SunButter and all thoughts and opinions are my own. Thank you for supporting the brands that make Butternut Bakery possible!
What is millionaire shortbread (caramel shortbread)
Millionaire shortbread has so many different names. I've heard millionaire's shortbread, millionaire bars, caramel shortbread, caramel slice…the list goes on. But at the end of the day, they're all the same delicious dessert.
A classic millionaire shortbread has a shortbread base layered with soft caramel and milk chocolate. To get the classic layered look, the shortbread is pressed into a pan then baked. Once cooled, the caramel is poured over top and the bars are refrigerated. When the caramel has firmed up, it's time to finish them off with the final layer of chocolate.
The dessert originates from Australia and quickly spread across the world…hence why there are so many different names for it. I was always curious has to how they got their "millionaire" name and with quick trip over to Wikipedia, they claim the name is due to the rich ingredients. With shortbread, caramel, and chocolate all in the mix, that definitely seems fitting.
Since the layers are fairly simple, the dessert is open to customization. Ingredients like coconut, toffee, nuts, and fruit can all be added to these indulgent bars.
For my recipe, I decided to add an extra layer of richness by creating a SunButter caramel center and salted dark chocolate coating. It adds the perfect balance of salty and sweet, all while laying a top of thick gluten free shortbread base.
How to make gluten free shortbread
Shortbread is a delicate cookie made using sugar, butter, and flour. It melts in your mouth and is the perfect blank canvas to add just about anything to.
But I wanted to take a crack at making these gluten free. It seemed a bit of challenge, since it's already a pretty crumbly cookie, but just a few tweaks and it turned out delicious.
If you don't NEED these to be gluten free, you could easily sub out the flour with regular all-purpose flour. I tested both and it worked either way.
To make the gluten free version, I had to make some small adjustments to your standard shortbread recipe. First, I swapped the flour with gluten free all-purpose flour. Make sure to use one with xanthan gum mixed in as this helps bind the shortbread.
I also added a bit of brown sugar to the dough. Brown sugar adds chewiness, which we don't want in a shortbread cookie, but it is something you get from regular flour. Since we're missing those gluten strands that typically strengthen the dough, the brown sugar stands in to help fill that missing piece.
To balance out the brown sugar, I opted for powdered sugar instead of regular sugar. Shortbread is supposed to be buttery and delicate, so too much sugar would make them a bit tough and crispy. The powdered sugar lightens the base to create a delicious gluten free shortbread recipe.
Millionaire shortbread sunbutter caramel filling
You guys, this is quite possibly the EASIEST caramel you will ever make. No need for a candy thermometer or pouring cold liquid into scalding hot sugar. Just mix, heat, pour, and you're done!
But this isn't just any old caramel. Mixing in SunButter adds a somewhat savory flavor to this sweet and rich layer. Paired with the dark chocolate and buttery shortbread, it's heaven on earth.
Not only does it add delicious flavor, but it's also what makes this caramel so easy. SunButter contains less oil than a nut butter, so it's perfect for mixing into caramel. You have much more control over the consistency and color…since it already has a rich caramel hue.
It also gives this caramel a soft but sturdy texture. Once chilled, the caramel sets to that perfectly smooth consistency where it's not too thin and not too chewy. So with every bite, caramel isn't oozing out the sides.
This isn't actually the first time I've made SunButter caramel. I love it so much that I even made a SunButter caramel sauce for my pumpkin bread pudding. It's a winning combo!
Ok but back to this caramel. To make it, all you have to do is add butter, maple syrup, and creamy SunButter to a saucepan over medium heat.
Melt down the ingredients and stir until you reach a smooth consistency. Continue mixing just until it starts to bubble. At that point, remove from heat and stir in the vanilla. Typically you would also add in some salt but since the SunButter already has a bit of salt added, there's no need for extra.
Pour it over your cooled shortbread and place it in the fridge to set for about 30 minutes to an hour. Lightly touch the surface to test it. If your finger doesn't easily sink in or stick to the surface, you're ready to add the layer of chocolate on top.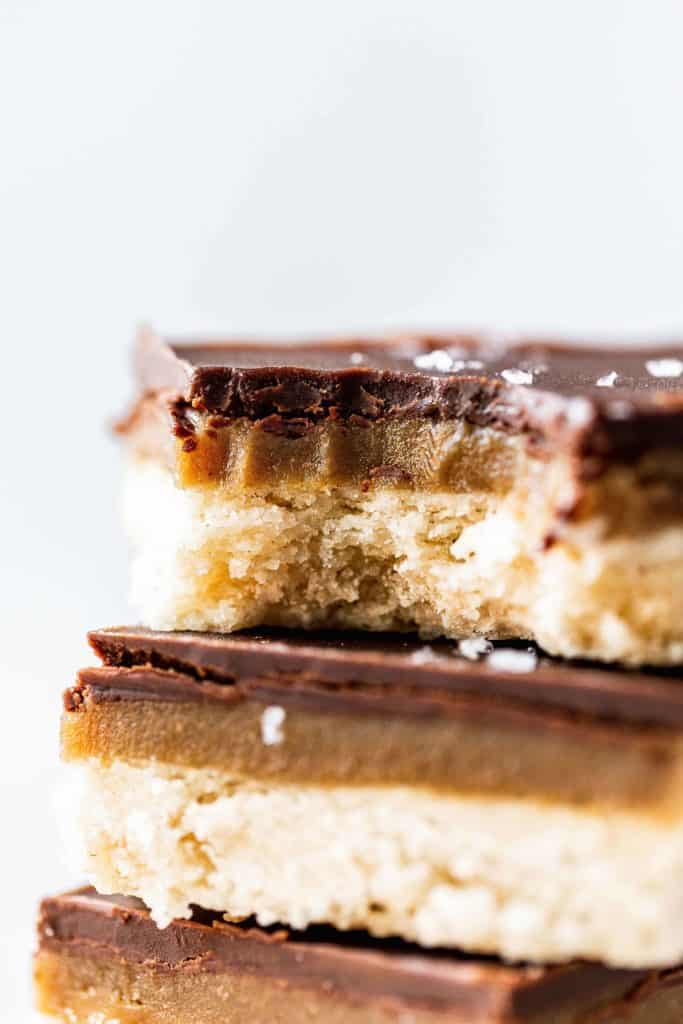 For more sunbutter recipes, check out:
Make sure to tag me @butternutbakery on Instagram or comment below if you make this SunButter Millionaire Shortbread. To pin this recipe and save it for later, you can use the button on the recipe card, the buttons above or below this post, or on any of the photos above. Happy baking!
Print
SunButter Millionaire Shortbread Bars (Gluten Free)
---
Author: Jenna Barnard
Total Time: 1 hour 45 minutes
Yield: 16 bars 1x
Description
Millionaire shortbread bars layered with gluten free shortbread, SunButter caramel, and salted dark chocolate! They're buttery, soft, and so easy to make.
---
Gluten Free Shortbread
1/2 cup unsalted butter, room temp
1/4 cup powdered sugar
2 tbsp packed light brown sugar
1/4 tsp salt
1 1/4 cup gluten free all-purpose flour (with xanthan gum)
1 tbsp water
SunButter Caramel
6 tbsp unsalted butter
1/4 cup maple syrup
1/2 cup creamy SunButter
1/2 tsp vanilla extract
Chocolate
1/4 cup unsalted butter
3/4 cup dark chocolate chips
Flaky sea salt
---
Instructions
Preheat the oven to 350F and grease and line an 8×8 baking pan with parchment paper.
Using an electric mixer, cream together the butter and sugars on medium speed until you reach a paste-like consistency.
Mix in the salt and flour until combined. At this point the dough will look loose and crumbly. Add a tablespoon of water to bring it back together. If still crumbly, add another tablespoon. 
Press the dough into the bottom of your pan and bake for 15-18 minutes.
Let it sit out to cool while you make the caramel.
In a saucepan, add the butter, maple syrup, and SunButter. Over medium heat, melt down the ingredients and stir to combine. Continue stirring just until it starts to bubble.
Remove from heat and stir in the vanilla.
Pour it over the cooled shortbread and spread it even if needed. Place the pan in the fridge for the caramel to set. About 30 minutes to an hour.
Once set, melt the chocolate. Place a heat-safe bowl over a pot filled with about an inch or two of water. Add the chocolate and butter to the bowl and bring the water to a simmer (never a boil). 
Stir until fully melted. Pour over the caramel and spread even. Place the pan back in the fridge for an additional 30 minutes to set. 
Sprinkle some flaky sea salt on top before serving. Enjoy!
Prep Time: 1 hour 30 minutes
Cook Time: 15 minutes
Keywords: millionaire shortbread, millionaire bars, gluten free shortbread, gluten free millionaire shortbread
Recipe Card powered by