What's more summer than a lime and coconut sheet cake? It's bright and fresh and oh so delicious. Sometimes you just don't have time to bake a full on layer cake with the perfect frosting. This is a great alternative to get your cake fix with minimal effort. Who wouldn't want that?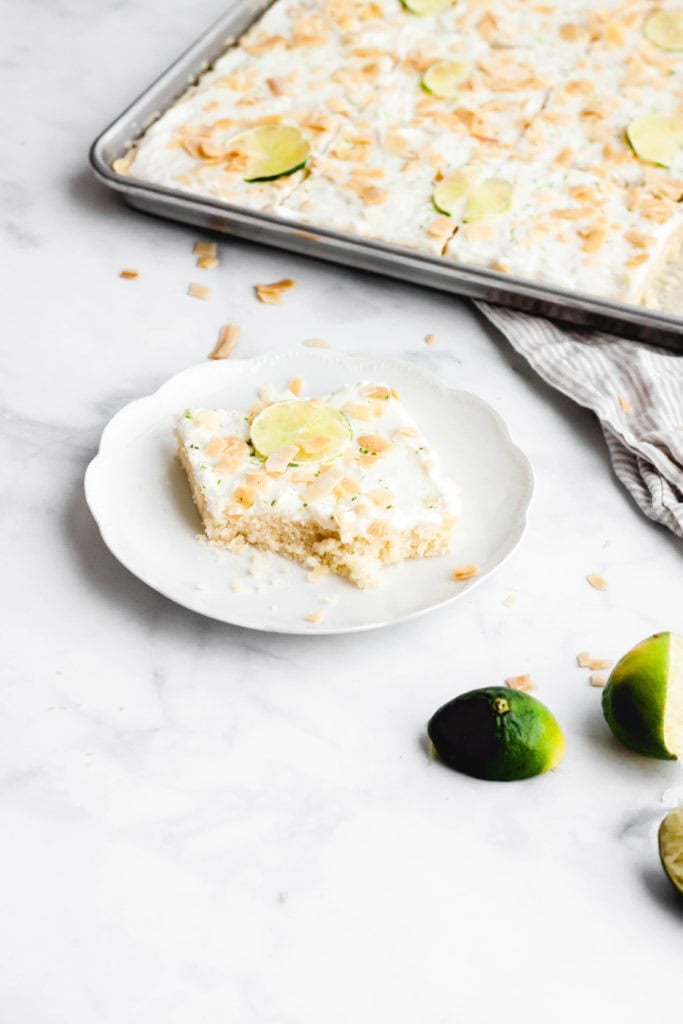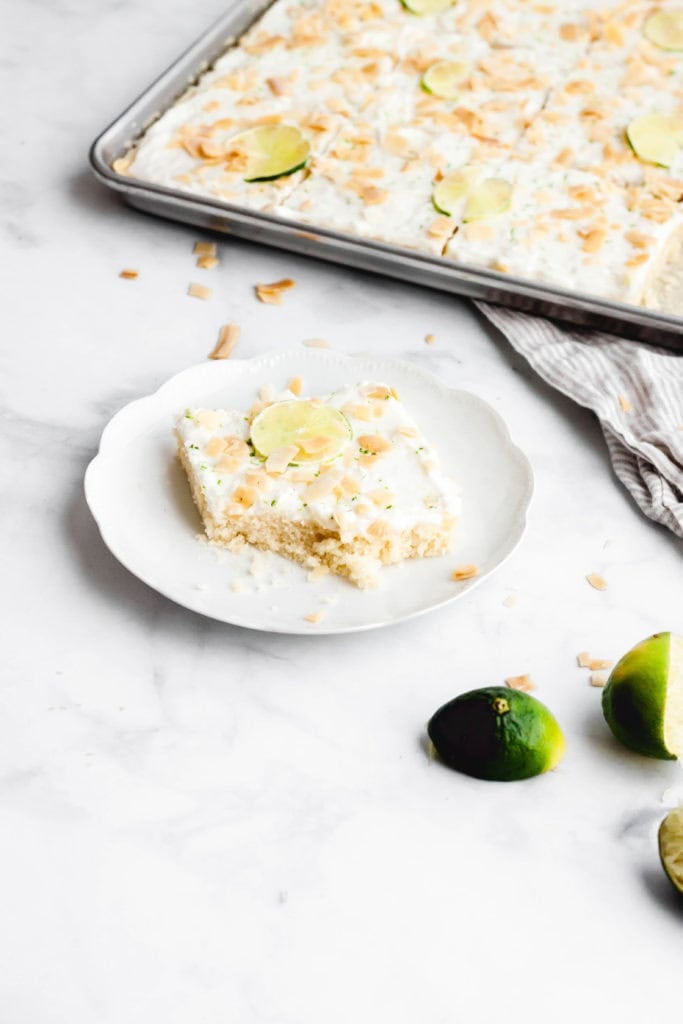 Summer Baking for the Lazy Baker
To be honest, I have been sleeping on sheet cake. I totally forgot it was a form of cake. I'm one of those people that will stay in the kitchen for hours baking a precise layer cake. This time I just wanted the cake without all the work so sheet cake was the natural route. It's like a lazy girl cake because it's crazy how fast it comes together!
Also, I don't think I've ever worked with limes when baking so this is just a new experience all around. I even had to run to Bed Bath & Beyond to buy a sheet pan. But I must say…it turned out pretty dang good for my first time baking one.
I knew I wanted to bake something fruity and fresh since it's the middle of summer. Even though every ounce of my being wants to bake all things chocolate and more chocolate! Citrus runs ramped here in Arizona so fresh limes were the perfect fit. I decided on the lime and coconut sheet cake because I needed something a little creamier to balance out the sharpness of the lime. The two are the classic combo for good reason.
I had my boyfriend take the rest of the lime and coconut sheet cake to work (like always) and he told me his coworker give him a triple fist bump for this cake. I'm not quite sure what that looks like…do you just rapid fire fist bumps? Do you pause between each one? Whatever it is, I'll take it! I definitely think this recipe is up there as one of my favorites and I usually lean more on the chocolate, peanut butter, super indulgent side. I'm trying to explore the more fruity side of baking and this is a great start. Plus those colors of the bright greens and creamy coconut whites is so pretty!
This recipe involves a super duper moist (sorry) and fluffy lime cake. I mean I didn't think I could love lime cake this much. I guess the cream cheese coconut buttercream helps! The two work perfectly together where one flavor doesn't outshine the other. I topped it off with some Dang Coconut Chips and dang is right. The crunchy coconut is the winning touch.
So, if you are looking for a delicious cake but don't want to put forth the effort of a full on layer cake (don't blame you) then this is your go-to! It's much easier to transport if you're taking it to a party, potluck, or just want to bake for your coworkers! Apparently it has their stamp of approval!
Print
Lime and Coconut Sheet Cake
---
Description
Zesty lime sheet cake with a coconut cream cheese frosting. It's an easy cake recipe that is perfect for parties and sharing.
---
Lime Cake
2 ½ cups all-purpose flour
1 tsp baking soda
1 tsp salt
1 ¾ cups granulated sugar
1 cup unsalted butter (melted)
Zest of 2 limes (plus more for topping)
1/3 cup lime juice (freshly squeezed)
2 tsp vanilla extract
2 large eggs
¾ cup buttermilk
Coconut Buttercream
8 oz cream cheese (room temp)
2 tbsp unsalted butter (room temp)
3 ½ cups powdered sugar
3/4 tsp coconut extract
½ cup sweetened shredded coconut
1 cup Dang Coconut Chips (for topping)
---
Instructions
Preheat your oven to 350F and butter an 18×13 sheet pan. Combine all of your dry ingredients into a large mixing bowl (flour, baking soda, salt, and sugar). In a small bowl or measuring glass, whisk together the eggs and buttermilk. Set aside. To the dry ingredients, add in the melted butter, lime juice, lime zest, and whisk together. Pour in the buttermilk and egg mixture and whisk to combine.
Pour the batter into the sheet pan and spread evenly. Bake for 20-23 minutes or until a toothpick comes out with a few moist crumbs. Let it cool completely at room temperature. If you need to store it, wrap it in plastic wrap once it's cooled and place it in the fridge.
To make the buttercream, use an electric hand or stand mixer. Cream together the room temperature cream cheese and butter. Mix in the powdered sugar one cup at a time until you get a smooth buttercream. Mix in the extract then the shredded coconut.
Spread an even layer onto the cooled lime cake and top with the coconut chips and extra lime zest. Serve cold or at room temperature and cut into 12-15 pieces. Enjoy!
Prep Time: 20 minutes
Cook Time: 20 minutes
Keywords: lime and coconut cake, summer recipes, lime and coconut
Recipe Card powered by