It's that time again to share my monthly food blog income report! We're wrapping up July to include my gross income, expenses, and analytics. Make sure to check out my first income report to get a little bit more background on where I started and why I'm sharing these reports.
Traffic
Another strong month hitting above 100K although August isn't looking too promising (womp, womp). You can see there's a spike in traffic mid-July due to, once again, that strawberry cake. Still riding that wave!
But now that we're nearing the end of Summer, strawberry desserts aren't as desirable. Everyone is starting to gear up for fall, meaning all things pumpkin and pecans. Which is bad news for me because all of my fall dessert posts are back when I had no idea what keyword optimization was so I definitely have some updating to do.
One major issue that I'm currently facing is my site speed. Yes, July is still a strong month but I've noticed a slight drop in my ad revenue. In my post about how to start a food blog, I recommend Bluehost (which I still use) but after hitting 100K pageviews, my site has slowed down quite a bit. It's a great option when you're just starting out (and I love how inexpensive it is) but it's time for me to transition to a more robust service.
My plan is to switch over to a cloud-based web server this month…although I've been putting it off because it freaks me out. What if something goes wrong during the switch and my site goes down! But I really have no choice at this point and I'm interested to see how it affects my traffic and revenue. I guess we'll have to wait and see in the September report!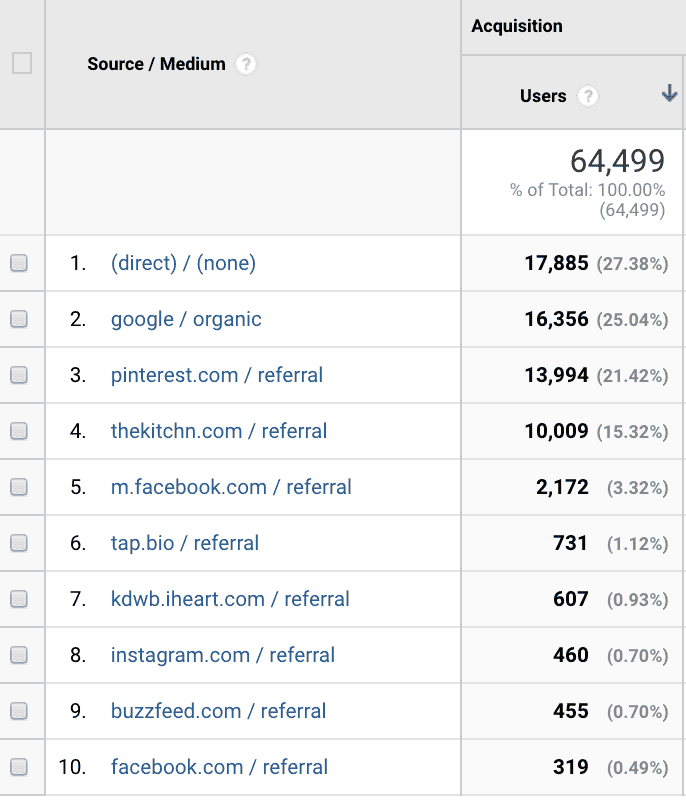 Top 5 Recipes for July 2019
Income
Mediavine (my ad network) – $883.39 at $10.82 RPM
Sponsored Content – $2,900.00
Freelance Photography – $2,200.00
Amazon Affiliate – $39.14
Kickbooster (Replica Surfaces Affiliate) – $27.99
Total Income – $5,700.52
Nothing too major here, although I did pick up a recipe development/photography gig that was actually really fun. It was my first time working with a brand to create a recipe specifically for them, unlike a sponsorship where the content lives on my site. This is lumped into the "Freelance Photography" category.
I hope to land more jobs like that when I go full time with Butternut Bakery. Like I mentioned in my first income report, I'm very strategic about how I spend my time right now because I can only work nights and weekends on BB.
But I must admit, I'm pretty impressed with myself…which actually takes a lot for me to say. I struggle with self doubt, especially when it comes to my blog, but pulling together these reports has shown me just how POSSIBLE it is to earn an honest income doing something you love.
So if I can do it, so can you!
Expenses
Total Expenses – $559.18
Ugh, what an expensive month. Well, for me it is. This may seem like a small amount to some but I like to stick around the $300 range.
One of my major expenses is now SEMrush. I've been pretty indecisive on whether or not I want to go back to it so I finally just bit the bullet…and I'm SO glad I did. I honestly don't know how I created content without it. It's essentially a keyword research tool where you can look up what people are searching for. With that direction, you can create recipes that will actually drive traffic and not float out in internet space.
It's also useful because you can input any URL you like…whether that be your homepage or a specific recipe. From there, you can see exactly how you rank in the Google search results and which keywords you rank for. This is great for SEO because you can update your posts depending on which keyword(s) you're already ranking for…thus pushing your post up in the search results.
Well, hopefully. Sometimes the Google Gods just aren't too kind and there a lot of other factors that go into SEO. But optimizing for keywords is definitely a must.
Another new expense is Tasty Pins. Well, new to you. I've had it for a year now and it's what I use to input my Pinterest descriptions on all of my images. It takes the guess work out of optimizing your content for Pinterest so it's a huge life saver. This $29 charge was my one-year renewal.
Lastly, I joined Food Blogger Pro! Bring out the confetti canon! This is something I've wanted to do for a long time but I always miss the enrollment period. This time, I made SURE to sign up and I'm so happy I did. They have EEENDLESSSS resources on how to run a food blog and I've already learned so much.
If you'd like to learn more about the other tools I use, I explain each one in my May income report.
Net Income – $5,141.34
---
I'd also like to mention that I'm definitely hearing your suggestions! From my last post, I received a ton of questions about SEO so I plan on sharing some of my tips and favorite resources soon.
If you have any other questions or suggestions, don't hesitate to reach out! The best way is to either email me or leave a comment below. I've taken a very slight step back from Instagram and so my messages just keep piling up. I'm spending more time on my computer nowadays so if you need me, I'll be here.